Underwater Photography - Why I love my Focus Light!
I first fell in love with my focus light on a clear star(fish) filled night in Indonesia. Earlier that day, with the assistance of my light, I'd managed to photograph orange pygmy seahorses, ornamental ghost pipefish and a myriad other macro critters I'd anticipated seeing on this first trip to Lembeh Strait. It wasn't until that night though that I came to the realization that my focus light and I were going to become inseparable. Several minutes into the dive I spotted my subject: a flamboyant cuttlefish. I subdued my excitement and focused (literally) on the task. After getting down low, made a few camera adjustments and fired away. The brilliant flash of the strobe, normally especially apparent at night, was absent. All thoughts of the perfect cuttlefish shot were thrown out as I began to consider the possibilities. Did I flood my housing? The moisture sensor was not blinking. On a hunch I decided to raise the ISO setting on my digital SLR from 100 to 400 and shoot again. A very dim review image appeared on the LCD. It became apparent that the camera was functioning fine. The strobes were simply not firing. That night my focus light was doing double duty as my primary dive light. I subsequently found that if I adjusted my ISO to 800 and moved very close the subject I could capture marginally passable images by focus light illumination alone. Imagine the frustration I would have had to endure had I not been able to photograph the second Flamboyant Cuttlefish I encountered later that evening. Post-dive I discovered I had not properly seated the strobe connector to the camera hot shoe. The strobes had not been receiving the signal to fire.
Helping you and your camera see focus
So besides preserving your sanity after having made a camera set up blunder - what is a focus light good for? A focus light's primary utility is to assist an auto focus camera, or if manually focusing, an eye, achieve a maximally sharp image. Supplemental light adds contrast, allowing more accurate focus. Sometimes it's difficult to even relocate a subject without a focus light. When a photographer places his or her eye behind a camera's viewfinder the 3D vision that was used to initially spot the subject drops to 2D. Macro sea life with camouflage capability can suddenly disappear into the background. A focus light adds color and to the subject, making it easier to spot. A focus light may also serve as a primary source of illumination during a night dive.
A focus light provides the greatest benefits while shooting macro. Like a strobe, a focus light's output drops considerably beyond three or four feet. Wide angle subjects are often two large or too distant to effectively benefit by supplemental illumination. While shooting wide I usually give my focus light to my dive buddy/model/wife to use as a prop. An exception would be while shooting wide-angle at night. You'll defiantly need a focus light to shoot Humboldt Squid or the Manta's off Kona.
Focus lights VS. aiming lights
A focus light should not be confused with the aiming light found on many strobes. An aiming light is generally a more focused beam used to assist in strobe positioning. In order to avert backscatter, a strobe, and consequently its aiming light is usually not aimed directly at a macro subject. A focus light, on the other hand, provides a broad beam aimed directly onto the subject. For this reason, a focus light should be mounted so that it may be aimed independent of the strobes.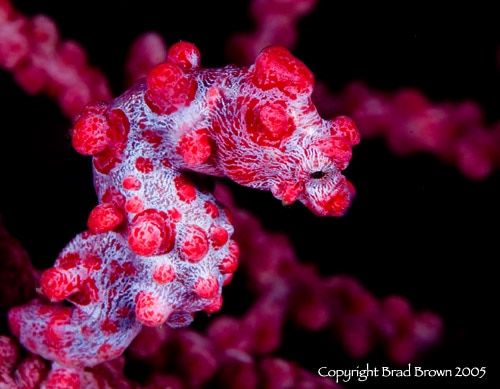 Camoflaged animals like this Pygmy Seahorse can be difficult to differentiate from their habitat without supplemental illumination.
What to look for when choosing a focus light

Ease of use:
A photographer must be able to operate a focus light underwater with one hand. Putting the camera down on the reef or sand bottom to make adjustments is not an option. Dials and switches should be intuitive and simple to operate while wearing gloves.

Simple, intuitive controls are important.

Diffuse beam:
The beam should be wide enough that the photographer does not need re-aim the light for each shot. Additionally a beam that is too narrow may cause hot spots in the final image if shooting slow shutter speeds.

Powerful beam:
More is better, right? Well, not always but in this case a powerful beam will provide more contrast and color, making focus easier to achieve. A powerful beam is also helpful for spotting distant subjects at night when your focus light is also your primary dive light.

Travel Convenience:
With luggage size and weight restrictions becoming tighter, a large, heavy focus light can be a negative. Another travel convenience is a locking power switch that will prevent the light from switching on within your luggage. It's smart and sometimes legally necessary to remove the batteries from a focus light during flight.

Reliability:
Reliability is especially important when you are diving a location hundreds or even thousands of miles from the nearest spare parts source.
Beam Quality Comparison:


Beam characteristics were evaluated by photographing light reflected off of a wall-mounted poster board. A Canon 20D digital SLR with 15 mm fisheye lens was placed on a tripod in front of the board. The camera position was adjusted so that it was aimed slightly upward toward a marked target. Graduated markings were added at two inch intervals to the right of the target. The light being tested was attached to the top of the camera by a ball adapter placed in the hot-shoe slot. For each test the light position was adjusted so that front of the light was twelve inches from the white board, angled slightly downward. The camera's white balance was fixed at 3200K, metering Evaluative and the shutter speed fixed at 1/60th sec. The camera meter's suggested aperture (f-stop) was recorded at the focus light's highest output setting. Photographs depicting each focus light's beam width at 12 inches were also collected.

Click images for larger views

The following chart is an attempt to quantify the results above. Beam intensities are translated from f-stop values with the SLX LED results representing one unit on a geometric scale. Beam width values are also somewhat relative as it's difficult to accurately determine the border of a diffuse circle.

Bulb's Rated Power

Max Power Ouput

Color Temp

Est. Beam Width at 1 ft.

Fisheye FIX Light HG20DX

20 Watt

25 Watt

3400 K

9 inch

Hartenberger Mini
Electronic

20 Watt

25 Watt

3600 K

7 inch

Hartenberger Mini
Compact

20 Watt

25 Watt

3600 K

8 inch

Nocturnal SLX LED

NA

NA

5500 K

9 inch (w/diffus)

Sea&Sea LX-15

15 Watt

15 Watt

3100 K

7 inch

2xMiniQ 40 w/bracket

4.2 Watt (2.1x2)

4.2 Watt (2.1x2)

~3600 K

2 inch
Size and Weight Comparison

Size and Weight
Keeping the size and weight of our underwater equipment low has become more important than ever. I don't know a single underwater photographer who travels with an ounce less than their maximum allowed baggage weight. Adding one new item often means removing another. Compromises need to be made. Perhaps, for example, a heavier light is worth the extra hassle if that light contains a larger battery and you could use the longer burn time that battery provides.
Some of the AA battery powered lights may be especially appealing to the weight constrained because they can be run on disposable Lithium batteries, which weigh next to nothing.




Sea&Sea LX-15

2x

UK MiniQ 40

w/ Ultra Light Control Systems (ULCS) bracket

Relative Size Comparison
Click image to enlarge

Length

Max Diameter
Excluding Mount


Weight
w/batt


Construction Material

Max Depth

Fisheye FIX Light HG20DX

6.0 inch

2.4 inch

1.0 lbs

Plastic + Aluminum

250 feet

Hartenberger Mini
Electronic

7.7 inch

1.9 inch

1.3 lbs

Aluminum

1640 feet

Hartenberger Mini
Compact

7.1 inch

2.7 inch

2.0 lbs

Aluminum

NA

Nocturnal SLX LED

5.5 inch

2.8 inch

1.4 lbs

Aluminum

328 feet

Sea&Sea LX-15

6.1 inch

2.9 inch

0.9 lbs

Plastic

200 feet

2xMiniQ 40 w/bracket

5.8 inch

3.1 inch

1.0 lbs

Plastic

500 feet
Batteries:
The Fisheye and the two Hartenbergers use purpose-built rechargeable batteries while the other three lights take standard over-the-counter AAs. Assuming you will be diving more than once a day it's smart to buy a secondary battery or battery set. Often times this secondary battery can be charged while you are underwater draining the primary battery. Owners of lights utilizing AA batteries have the option of using rechargeable or disposable AAs


Consider your requirements for burn time when selecting a light. If you do many 1+ hour night dives the 85 minute burn of the Hartenberger Mini Compact may suit you. If you spend days away from the nearest battery charger the six-hour burn of the Nocturnal SLX LED may be the best bet. If you want something compact yet powerful the Fisheye HG20DX may appeal due to it's charge-dense Li-Ion battery.

Bright focus lights make good props during daylight wide-angle dives.


Other Features:
Several lights feature additional bonus features. A battery power indicator can be as sophisticated as the four indicator LEDs on the Fisheye or as simple as the three blinks provided by the Hartenbergers warning of imminant power loss. An SOS mode will flash the morris code for either Save Our Souls or Save Our Ship (debatable) which is internationally recognized. Travel saftey locks prevent lights from being switched on accidently.

Burn Time at 100%

Battery Type


Recharge Time


Variable Output?

Battery Power Indicator?

SOS Signal?

Travel Safety Lock?

Fisheye FIX Light HG20DX

55 min

Li-Ion

2 hour

Yes

Yes

Yes

Yes

Hartenberger Mini
Electronic

70 min - 10w
35 min - 20w

NiMH

2-3 hour

Yes

Yes

Yes

Yes

Hartenberger Mini
Compact

85 min

NiMH

3-4 hour

Yes

Yes

Yes

Yes

Nocturnal SLX LED

240 min

6xAA

NA

No

No

No

Yes

Sea&Sea LX-15

40 min

4xAA

NA

No

No

No

No

2xMiniQ 40 w/bracket

300 min

8xAA

NA

No

No

No

No
Editor's Note:
I failed to provide Brad with a 10w lamp for this review, but always recommend a 10w lamp for focus light use. I added the 10w burn time in the chart above. We've not had a single problem report or return on this light.... impressive! - Berkley 5/10/2006

Individual Reviews:

Fisheye FIX Light HG20DX

The HG20DX benefits from the fact that it was specifically designed as a focus light first and a diver's flashlight second. This light produces the most diffuse beam in the group and it's a close second to most powerful. The controls are very easy to operate with one hand. The power level is infinitely variable through the use of a dial. At one end of the power dial is a setting that causes and SOS signal to flash. Beside the power dial is another dial with positions for ON, OFF and LOCK. The lock position prevents the light from accidentally switching on at inappropriate times. Four green lights indicate remaining battery level. Two red lights indicate leaks and bulb status. The bracket on the bottom of the light will accept a Ultra Light Control Systems (ULCS) ball adapter or an included pistol-grip handle. The rear cap includes a one-way overpressure relief valve.
A removable lithium-ion battery powers the HG20DX. This battery provides approximately 55 minutes of light at full power. The battery is charged in around two hours in a charging stand that provides lighted charge status lights.

Price:
Body: $420
Extra Battery: $120
Extra Bulb: $38
Click here for product details.





Positives:
- Very diffuse beam
- Very powerful beam
- Intuitive yet easy to operate controls
- Status lights, which allow the user to lower output as battery power nears depletion.
- Pressure relief safety feature prevents explosion that could result from a flooded battery compartment.


Negatives:
- If the switch gets left in the LOCK position it can be difficult to unlock while wearing heavy dive gloves and may require use of two hands.
- The rear cap can be difficult to remove.
- The battery charger is a little flimsy and has been problematic for some.
- The bulbs are expensive and may burn out in as little as 15 hours.
- High price.

Conclusion:
The HG20DX is perhaps the best light of the bunch due to its combination of high output, high diffusion and intuitive controls. To be safe on a trip bring two extra bulbs, one extra battery and one extra charger.

Editor's Note: Some HG20DX lights shipped in 2005 had problematic batteries and/or chargers. Fisheye recognized the problem and instituted new testing procedures. Since January of 2006, we have experienced very few issues, but still agree with Brad's back-up recommendations above. - Berkley 5/10/2006
The Mini Electronic is an extremely tough yet elegant focus light constructed of anodized aluminum. Its beam is very diffuse and powerful. The mini's single control is a single push button switch along its side. When the light is not in use this switch can be locked into the off position by siding a cover over it. A ball adapter can be screwed directly into the light 135 or 270 degrees from the switch. This allows the user to choose on which side of the light the switch should reside at the top-left or the top-right. The single switch function is unique. Depressing the switch 1/3 of its throw for 2 seconds results in a flash, at which time you can remove your finger while the light remains at 1/3 power. A similar procedure results in 2/3 and full power levels. A brief (less than 2 second) press shuts the light off.
The Mini Electronic is powered by a removable nickel metal-hydride battery. With the standard 20 watt bulb installed this battery provides approximately 35 minutes of light at full power. An optional 10 watt bulb is available that will double the burn time. The battery is charged in 2-3 hours using the multi-voltage charger.

Price:
Body: $400
Extra Battery: $125
Extra Bulb: $16
Click here for product details.





Positives:
- Very diffuse beam
- Very powerful beam
- Tough aluminum construction. Rated to 1640 feet!
- Interchangeable spot reflector included


Negatives:
- Burn time at 20 watts is short (35 minutes)
- No status lights
- The switch's power level adjustment is a little awkward at first.
- It is impossible to lower the light level without first shutting the light off.
- Due to its length, If the light is mounted to the housing's hot-shoe connector a photographer may bump his forehead on the light as he approaches the viewfinder.
- High price.

Conclusion:
The beam qualities combined with this lights small size make it appealing. The burn time while using the standard 20 watt bulb is short though. If you intend to make this your primary night dive light install the optional 10 watt bulb. The extra burn time is worth the 1/2 stop in output you will loose.
The Mini Compact is constructed of the same anodized aluminum as the Mini Electronic. It therefore shares top honors for most durable exterior construction. I've no doubt I could run these lights over with my car and it would survive with just a few scratches for wear. The Compact's control is a very large rotary dial on its end. This dial snaps into OFF, 50%, 75%, 100% and 125% positions. A diver should have no problem operating this dial while wearing any thickness of glove. While in the OFF position, a pin can inserted into the dial to lock it in place. Burn time for this light is an amazing 85 minutes at full power. With a little conservation a diver could get two dives in on a single charge.
A removable nickel metal-hydride battery powers the Mini Compact. The battery is charged in 3-4 hours using the multi-volt charger.

Price:
Body: $450
Extra Battery: $165
Extra Bulb: $16
Click here for product details.





Positives:
- Very diffuse beam
- Very powerful beam
- Tough aluminum construction
- 85 minute burn time. Two dives on one charge possible
- Interchangeable spot reflector included


Negatives:
- Relatively large and heavy
- No status lights
- A hole must be drilled in the handle so that a ball adapter may be added
- High price.

Conclusion:
Ideal beam qualities, long burn and simple controls are this lights strong points. If your dives are regularly much longer than one hour and you don't mind carrying heavy equipment this may be the light for you.

Editor's Note: I recommend the optional flood reflector for focus light use. This light is heavy, but my personal model has seen 4 years of rough use without a single problem. Don't tell anyone, but I've only cleaned the o-rings once. A totally reliable, long-burning light, but many people do find it too heavy and bulky. - Berkley 5/10/2006
The SLX, like the Hartenbergers, is a very tough, well-constructed aluminum bodied light. The major difference between it and the other reviewed lights is its use of LED's instead of traditional bulbs. Three powerful LED's are mounted behind individual reflectors in the light head. The color temperature of the light produced by these LED's is higher than that produced by halogen or xenon bulbs. The resultant blue-tinged light supposedly penetrates water further than cooler temperature (red-tinged) light. An optional plastic diffuser placed over light head results in diffusion equal to the best in the group. The single control is a simple on/off switch on the rear of the light. A lock on the switch prevents the light from being accidentally turned on or off unintentionally. Burn time is four hours on six Alkaline AA's.

Price:
Body: $350
Optional Diffuser: $16
Click here for product details.






Positives:
- Very diffuse beam when optional diffuser used
- Tough aluminum construction
- 4 hour burn time
- Ball adapter is included
- Utilizes common AA batteries.


Negatives:
- Weak beam
- Optional diffuser is an afterthought. It is very difficult to add or remove the diffuser while the light is above the water. Underwater addition would be near impossible.

Conclusion:
The SLX has wonderful feel to it. Pick one up and you'll want it. Unfortunately the output is weak compared to most lights reviewed here. If this light suits your budget then it's possible the output may suit your requirements. Try before you buy.
Sea&Sea LX-15

The LX-15 is a plastic-bodied light sporting a 15 watt bulb. A roughened reflector results in a fairly diffuse beam that is well matched to the bulbs intermediate-level output. The LX-15 is switched on and off using a single push button on the rear. Burn time is forty minutes on four Alkaline AA batteries.

Price:
Body: $190
Extra Bulb: $12
Click here for product details.





Positives:
- Diffuse beam
- Accepts standard Sea&Sea strobe adapters for mounting
- Utilizes common AA batteries.


Negatives:
- Single control: On/Off. No variable output.
- Short 40 minute burn combined with lack off variable output makes the LX-15 unsuitable for use as a primary night dive light.

Conclusion:
The Sea&Sea LX-15 is a medium performance, medium featured light with a medium price tag.
2xMiniQ 40 w/bracket

The configuration reviewed consists of two UK Mini Q40's saddled together within a Ultra Light Control Systems (ULCS) bracket. The Mini Q40 is a small plastic light that utilizes a 2.1 watt xenon bulb. Light output is intense and focused due to the reflector shape. The Q40 is turned on or off by twisting each light head. Burn time is four hours on four alkaline AA batteries (per light). The Ultra Light Control Systems (ULCS) bracket is simple to set up. Two Q40's are placed in two parallel U-shaped saddles. A flat bar is lain between the lights and secured by a screw in the top center of the bracket.

An LED version of the Mini Q40 called eLED is available but was not tested here.

Price:
Body: $102
Extra Bulb: $9
Click here for product details.





Positives:
- Small size
- Bracket features standard ball mount
- Two lights offer some redundancy
- Utilizes common AA batteries.


Negatives:
- Beam is narrow (almost laser-like)
- Beam week
- Single control (per light): On/Off. No variable output.

Conclusion:
The beam produced by the 2x UK Mini Q40 configuration is not diffuse enough to qualify this combination for use as a focus light. At best, the Q40 kit could serve as a hands-free light for night dives or possibly an inexpensive backup to a more qualified light. It's better than no light at all.
Final Thoughts

Clearly adding any focus light to your kit will provide you with improved macro focusing capability. The decision as to which focus light to purchase is complicated. If you have the funds I'd recommend either the Fisheye HG20DX, the Mini Compact or the Mini Electronic (with 10 watt bulb) dependant upon your size and burn time requirements. If your budget is more constrained consider the Sea&Sea LX-15 or the Nocturnal SLX LED. The dual Mini Q40 setup should be excluded from consideration as a primary focus light. Choose one of the recommended lights and you'll wonder how you ever got along without it.

Focus light being used as a prop for a daytime wide-angle shot