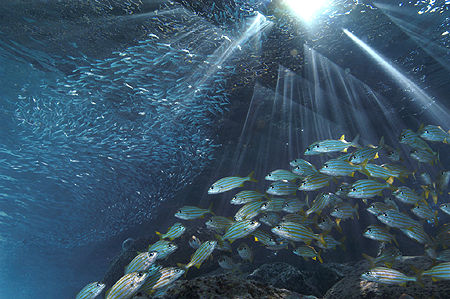 Under Capt. Don's dock in Bonaire during the Digital Shootout.
Nikon D100
with Sea & Sea
DX-100
Housing and
YS-90DX
Strobes. Exposed for highlight detail. Nikkor 17-35mm set to 17mm, 1/250th, f6.3.
Film vs. Digital Overview
For background information on the advantages and disadvantages of shooting digital over film, please see our previous article . While digital might not be the solution for 100% of underwater shooters, my personal experience with underwater digital stills leads me to the following conclusion.
Digital is the best solution for all new shooters that are remotely comfortable with computers. The value of instant feedback is priceless. Experienced shooters that have a working knowledge and a high success ratio with film techniques will need to evaluate their options more closely. For myself, the new digital SLR's offer me the user interface and exposure control that I have been looking for and are only inhibited with their inability to capture extreme highlight detail at the same quality as film. Based on my experiences detailed below, digital, specifically the
Nikon D100
is about to become my choice for 90% of my underwater work.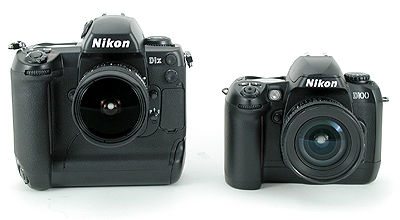 The 5.3 megapixel Nikon D1x and 6.1 megapixel
Nikon D100
digital SLR cameras
Digital SLR's (DSLR's)
Single Lens Reflex (SLR) cameras offer the ability to view directly through the primary lens while shooting. This allows you to see exact composition and focus prior to squeezing the trigger. The new Digital SLR's (DSLR's) are creating quite a buzz due to their high-resolution sensors and affordable price tag. Prior to 2002, a digital SLR would run you somewhere between $6000 - $60,000. The new
Nikon D100
DSLR is priced at a more affordable $1999 Underwater housing manufacturers will begin shipping D100 models in December 2002 and most should have full production by spring of 2003. Sea & Sea will be shipping a Canon D30/D60 housing in December 2002. Additional housings for Canon and Fuji DSLR cameras will also trickle in, however the majority of manufacturers will limit their production to Nikon models. Since the D100 will be best supported DSLR for underwater use, I am limiting the majority of the DSLR details to features relevant to this popular underwater model.
Feature
Compact Digital Cameras
Nikon D100
Size
small
large
Shutter delay1
1 2.0 ' 0.1 sec.
imperceptible
Resolution
4 ' 5 Megapixel
6 Megapixel
Media Types
various / limited
Compact Flash Type II
Battery Life
typically poor
good
Lens Selection 2
limited
large
Sensor Dust Problem
no
yes
Strobe Exposure 3
manual / auto
manual / TTL
Highlight Detail
poor
good
RAW file 4
no
yes
Macro Focus Accuracy 5
poor
good
Viewfinder Size
none
small
Camera Cost
$200 - $1000
$1999
Housing Price
$250 - $1100
$1950 - $2900
Housing Options
large selection
limited selection

Please read further for an expanded discussion on these footnotes.

1Once the shutter is depressed halfway and focus is captured, further depression of the shutter release will then record the image within 0.1 seconds. A full press will produce a 2.0 second delay (Olympus 4040).

2Although compact cameras have a limited lens selection, special underwater lenses are available that will produce greater wide-angle coverage than Nikon's widest lens (16mm) on the D100.

3TTL requires the use of a dedicated land flash in a housing. Most systems are shot using manual strobe technique, however, the Coolpix 5000 does offer an auto strobe feature that produces reasonable results.

4The Nikon Coolpix 5000 does offer limited RAW capabilities.

5When shooting with compact digital camera you compose and verify focus with the LCD screen. When using a DSLR you shoot through the optical viewfinder. When shooting macro (close-up) it is much easier to visually confirm critical focus through the viewfinder of a DSLR.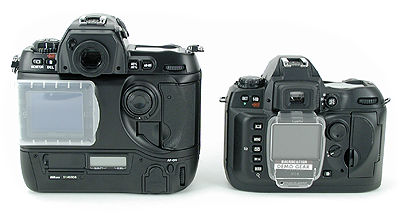 Digital stills can be captured with a variety of cameras including compact digitals and even video cameras. While these cameras allow you to compose images through the LCD screen, DSLR's require you to shoot through the viewfinder and use the LCD for image review only.
Compact Digital Cameras vs. DSLR's
I have shot film for many years, but gave digital imaging some well-deserved respect when housings became available for the three and five megapixel compact cameras. These cameras offered good resolution and file sizes capable of printing 8" x 10" photo-realistic prints. Certain images even printed well at larger sizes. Mostly driven by housing availability, I chose to use the Olympus 3040 and 4040 series cameras. I found the Olympus line to be very user friendly and their compact size was easy to travel with.
Faster focus and no shutter delay
While I thoroughly enjoyed shooting these compact cameras, I knew they would never replace my film system due to a few drawbacks. First, was the frequently aggravating shutter delay. Upon pressing the shutter release, the camera slowly went through the steps of focusing and then captured the image almost two seconds after depressing the button. While it is possible reduce this delay to 0.1 seconds by first pressing the shutter halfway to perform a pre-focus, the delay is a significant obstacle when trying to capture the moment.
The new DSLR's offer shutter delays that are only microseconds and are perceptibly instantaneous. The faster focus speeds of these cameras also quicken their response and tend to function well even in lower light. Unfortunately, the
Nikon D100
doesn't have the powerful focus motor of the D1x or even the F100 since it is built around the N80 entry-level film SLR. I found the D100 to perform well except for the longer macro lenses such as the Nikkor 105mm Micro. I would recommend a manual focus ring when using this lens for extreme close-up work. To help the camera focus and minimize your frustration I recommend the use of a housing mounted focus light when shooting any type of close-up lens.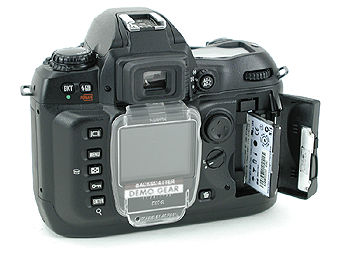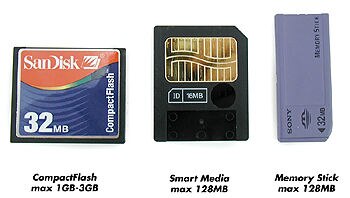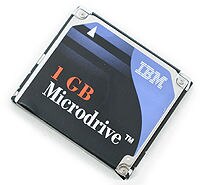 All digital cameras use removable media for image storage. The new DSLR's use CompactFlash Type II cards featuring the highest capacities on the market. The IBM Microdrive is a compact hard drive with tiny moving parts.
Media Types
Many types of removable digital media are on the market. The type of media in use varies from camera to camera and each type has a maximum storage capacity. Smart Media and Memory Stick cards are used by many of the compact cameras and are limited to a maximum of 128MB. Compact Flash cards are also used in compact cameras and all DSLR's. Compact Flash is a serious advantage as it allows capacities up to 3GB. These cards can store hundreds and even thousands of images depending on file type and resolution settings.
When shooting the Olympus 4000 in SHQ mode (highest JPEG quality) you can store approximately 50 images on the largest available card (Smart Media 128MB). When shooting the
Nikon D100
in fine mode (highest JPEG quality) you can store over 300 images on a 1GB Compact Flash Card. These larger sized cards do come at a premium price, but offer great flexibility for multiple dives.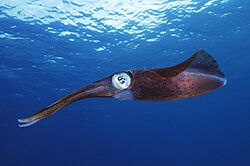 Bonaire reef squid at Capt. Don's house reef.
Nikon D100
with Sea & Sea
DX-100
Housing and
YS-90DX
Strobes. Nikkor 17-35mm set to 17mm, 1/160
th
, f11.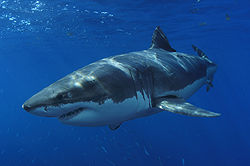 Great White Shark off Guadeloupe Island.
Nikon D100
with Sea & Sea
DX-100
Housing.
Nikkor 16mm
, 1/125th, f8.
| | | | | | | | | |
| --- | --- | --- | --- | --- | --- | --- | --- | --- |
| 35mm Film Lens | 16mm | 17mm | 20mm | 24mm | 35mm | 60mm | 105mm | 200mm |
| D100 Crop | 20mm | 25mm | 30mm | 36mm | 52mm | 90mm | 158mm | 300mm |
Lens Selection
As a general rule, most underwater housings for compact digital cameras use externally mounted wide-angle lenses. These lenses are actually quite good for their low price and offer 100 degree wide-angle coverage and macro down to 1:1 (life-size) reproduction. Since these cameras have built-in zoom lenses, they are quite flexible and can be used for a large variety of subjects. As if this wasn't flexible enough, most of these lenses can be added or removed while underwater and thus allow one to be ready for anything.
DSLR systems are designed for interchangeable lenses mounted directly to the camera body. These lenses are much higher quality than those found on compact cameras and also command a higher price. While most shooters will find that two or three lenses will meet their underwater needs, many will want to use their DSLR on land and will have a plethora of lenses to choose from.
The D100 is built around a CCD sensor that is smaller than the standard 35mm film format. For this reason, angles of view are cropped by a factor of 1.5x. This cropping effect has some advantages and disadvantages. If you're into small subjects, your macro lens will now effectively produce larger images. The 105mm Micro lens becomes a 160mm. While this is fantastic for skittish or tiny subjects, it requires you to back up a considerable distance to capture the full body of a reef fish. Maximum versatility is best with the 60mm Micro lens. It will allow you to more easily work with medium sized subjects, but still get tight for a good macro shot.
Unfortunately, cropping becomes a disadvantage when shooting wide angle. I use the
Nikkor 16mm
full frame fisheye lens to get the maximum coverage possible. It produces the equivalent of a 20mm lens on a film rig. Normally I prefer the full coverage of the 16mm, but this reduced coverage is perfectly adequate for most shooting. For medium sized critters, the Nikkor 17-35mm zoom works well at pulling tighter frames.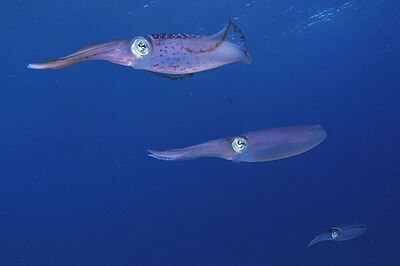 Three reef squid off Capt. Don's house reef.
Nikon D100
with Sea & Sea
DX-100
Housing and
YS-90DX
Strobes. Nikkor 17-35mm set to 26mm, 1/160th, f11
| | |
| --- | --- |
| Bonaire sponge and sun. Note slight loss of detail and color shift in sunball. This image is also a good example of debris on the CCD sensor. This hair was on every shot. Nikon D100 with Sea & Sea DX-100 Housing and YS-90DX Strobes. Nikkor 16mm 1/250th, f22. | Great White Shark off Guadeloupe Island. I was surprised to see this much detail in this sunball. Far superior to the compact digital cameras. Nikon D100 with Sea & Sea DX-100 Nikkor 16mm, 1/125th, f5.6 |
Sensor Dust Problem
When removing interchangeable lenses on DSLR's you open the sensor area to the hazards of dust and moisture. Although the sensor is hidden behind a light-tight shutter, tiny bits of dust and lint can find themselves attracted to the statically charged sensor. Since a fresh section of film is not moving along the focal plane, these annoying little particles show up on every picture until you clean them off. Be very sure to follow the manufacturers cleaning instructions or have it done professionally. Compact digital cameras don't suffer these problems as the sensor is sealed behind a fixed lens.
Strobe Exposure - TTL vs. Auto vs. Manual
Digital cameras are unable to run the TTL automatic strobe technology used by most film cameras. Each digital camera manufacturer uses one of a variety of strobe exposure systems. Olympus compact digital cameras flash the built-in strobe twice using the first flash as a test and the second as a corrected final exposure. Most Nikon compact digital cameras use a light sensor on the camera body to judge proper exposure. While effective, both of these systems are not as accurate as the latest technology in use by advanced SLR film cameras.
The
Nikon D100
uses a system called D-TTL. This system requires the use of a dedicated Nikon land flash such as the SB-80DX. A D100 owner wishing to use D-TTL is thus required to place a SB-80DX land strobe in an underwater housing. Strobe housings are available from Seacam and Aquatica. A preferred configuration is to use one of these housings as the primary strobe and a wireless TTL slave such as the Sea & Sea YS-90 as a second strobe.
Most users, like myself, have embraced the use of manual strobe technique. Since the camera displays the image immediately you can simply evaluate the image, make corrections, and shoot again. This is the primary reason I choose to shoot digital. Instant feedback is incredibly powerful. Just simply follow the digital shooters mantra, "Shoot, review, adjust, shoot." All you need to know is how to adjust your exposure. The easiest method is to simply adjust your strobe power. The Sea & Sea
YS-90DX
strobe provides a 12 power level adjustment dial on the back of the strobe. This dial is effectively a brightness ' darkness control. Most of our students just don't turn the dial enough. Just keep adjusting until you get the desired results.
Wide Angle Backgrounds
I knew the D100 would perform well for standard macro and close-up work, but I was most interested in its capability to record smooth-toned blue water gradients, light rays, and sun balls. I find the compact digital cameras limited in their ability to reproduce nice backgrounds when the sun peeps into the picture.
I was very impressed with the D100's ability to hold detail in the background. While it still will not reproduce the highlight detail of film, it is far superior to the compact cameras I have used. Blue water gradients are smooth and the shadow areas are full of detail. In fact, I feel that many of my test images produced more detail in the shadows than I would normally see on a similar film exposure. Even if a film exposure recorded this detail, it would be incredibly difficult to capture it on a scan. This makes shooting a digital original a real advantage since the majority of underwater wide-angle images include subtle details in the shadows.
When shooting directly into the sun, the highlight detail suffers. I found best sun detail was captured when shooting in deeper water and at high f-stops. Sun balls were certainly not reproduced with the same detail as film, but were far superior to my previous attempts with the compact cameras. Best results are still found by excluding the sun just outside the frame our framing in silhouette. Light rays are maintained in great detail when this exclusion technique is followed.
Raw Files
Most DSLR's have the ability to record images in the RAW format. This format offers maximum flexibility by allowing you to modify some image options at any time, even weeks after the shoot. When set to RAW mode the camera records the raw data from the CCD sensor and tags the file with your camera settings. In JPEG mode the camera would record the same raw data, but permanently apply your camera settings to the image and then compress the file to a smaller size. The beauty of the RAW file is that you can change your mind or correct for errors by applying the camera setting after the dive. Since RAW files are full size files, you maintain maximum quality by avoiding the potential image degradation incurred from JPEG file compression. RAW files are also in 12-bit color, which offers a greater color depth than regular 8-bit JPEG files.
Most people use the RAW format for the freedom of adjusting white balance settings post dive. You can think of white balance as an electronic filter that adjusts image color to best suit your shooting environment. For example, colors appear different when viewed under a light bulb or when outdoors under a bright sky. The camera's auto white balance system attempts to make your colors as accurate as possible, but the underwater environment is not something a camera engineer was thinking about when they designed the system. It usually performs well, but is not always perfect. Since the RAW format lets you modify these settings after the dive, you can tweak the control to maximize the richness of blue water or the punch of a bright red subject. Experienced film shooters will appreciate this control, as it is similar to changing from Provia to Velvia films.
Unfortunately, there are a few drawbacks to the RAW format. Since RAW images are not compressed by JPEG, they are sizable and slow things down. These files take longer to write to memory cards and occupy more space. D100 RAW files are 9MB and will quickly bog the camera down if you attempt to shoot more than three images in quick succession. These files also require special software to view and convert them into something a photo-editing program can work with. While this requirement is not a major obstacle, it does increase workflow time.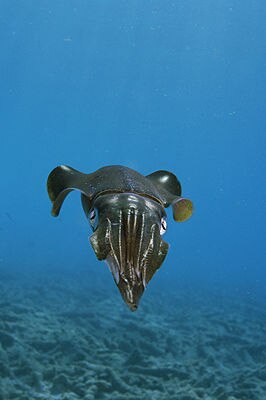 Bonaire reef squid.
Nikon D100
with Sea & Sea
DX-100
Housing and
YS-90DX
Strobes. Nikkor 17-35mm set to 35mm, 1/250th, f11.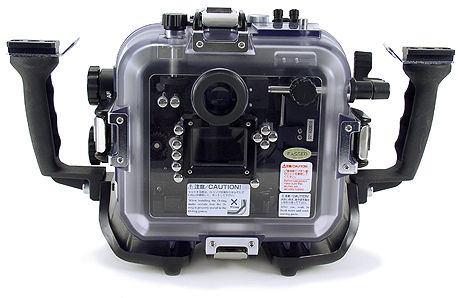 Sea & Sea
DX-100
Housing.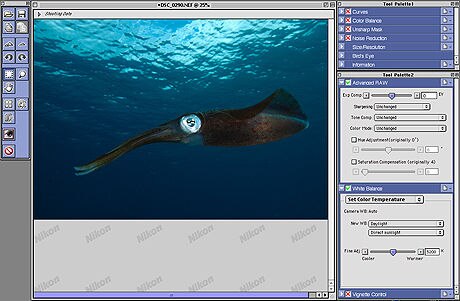 Simple versions of Nikon Capture and Nikon View software ships with the
Nikon D100
for viewing and converting RAW image files. You can purchase upgrades for expanded capabilities or use third party software.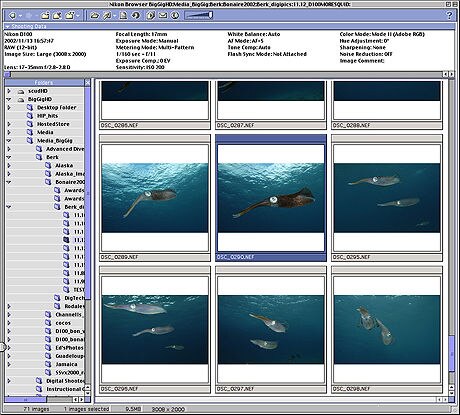 Macro Focus Accuracy
When shooting with compact digital camera you compose and verify focus with a LCD screen on the back of the camera. When using a DSLR you shoot through the optical viewfinder and the LCD screen is only used for image review. Shooting through the viewfinder forces you to keep the camera at your face and not at arms length. While it is nice to hold a camera out in front of you, built-in LCD screens are not capable of displaying critical focus when shooting close-up images of small subjects. It is much easier to visually confirm critical focus through the viewfinder of a DSLR. These optical viewfinders are much sharper and a necessity when shooting at the limits of a macro lens.
DSLR Viewfinder Size
The high end D1x features a bright full-size viewfinder. The less expensive DSLR's such as the
Nikon D100
are built on lower end camera bodies. As such they tend to have slower focus motors and smaller viewfinders. These small viewfinders are more difficult to view through an underwater housing especially when you have a mask full of snot. Housing manufacturers will hopefully recognize this problem and invest design time on more capable housing optics.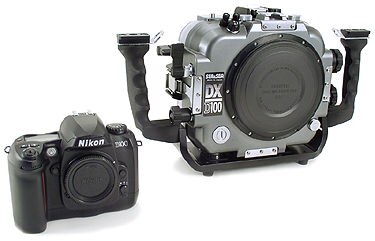 The
Nikon D100
and Sea & Sea
DX-100
Housing. The
DX-100
began shipping in December of 2002. Other manufacturers are expected to release models by spring of 2003.
Housing Options and Availability
Just as most underwater video manufacturers limit their design efforts to Sony cameras, the majority of still housing systems are built around the Nikon line. Although Canon has increased in popularity with topside professionals, few underwater housings are offered for Canon systems. Certainly this will continue to change as new Canon shooters enter the underwater market, but it will be a slow evolution.
Conclusion
Digital is a reality and has now achieved marketable quality. Instant feedback is the Holy Grail for a shooter pressed for time in a unique environment. While DSLR's lack the capability to record highlight detail as well as film, they open the door to an entirely new set of underwater shooting rules. DSLR's record an incredible amount of shadow detail while avoiding the time consuming and costly art of scanning. The underwater environment is filled with low contrast shadow detail and these cameras record these details beautifully. If you are looking to go digital, DSLR's offer the best performance available, but come at a higher price and travel weight. They are faster, more accurate, higher resolution, and more versatile than any compact digital camera on the market.
DSLR camera bodies are analogous to computers. Every six months new models will overshadow the predecessors with higher pixel counts, faster processors, and larger formats. To make matters worse, housings for these cameras will almost always be a generation behind. As with computers, you just have to select the best model, take the plunge and not look back. Otherwise you'll find yourself always waiting for that next big feature rather than jumping in and getting your digital workflow established.
Selecting a System
If you are experiencing difficulty selecting the best system for your needs I highly recommend giving both a try. Backscatter offers trips and classes complete with demo gear and instruction. Please check our Trips and Classes section for schedules and pricing. As always you can give us a call seven days a week.