It is important to always think about your camera and what settings it's in before jumping into the water. Below is a setting checklist you should follow before and at the beginning of every dive. It should be the mantra you chant each time you enter the water. If your camera is set to these specifications you will be ready to capture great footage in almost every situation.
1. Turn on Zebra striping
Turn on your camera's zebra setting prior to putting it into the housing. You will know the zebra striping is on when blinking diagonal lines appear over the highlights.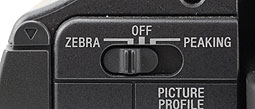 2. Turn manual gain on and set to 0 dB
Gain is an artificial low light function that boosts brightness at the sacrifice of image quality. If you can not get enough light by opening your iris and slowing your shutter speed, gain can salvage a scene. If used, however, your image will appear grainy. Unless you are shooting surveillance footage, leave the manual gain at 0 dB!

3. Turn Shutter Speed to Manual
Keep the shutter between 1/90 and 1/125 frames per second. A setting slower than 1/60 will blur the motion in the image.

4. Choose your White Balance
Choose either automatic or manual WB.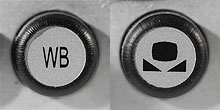 5. Set and Lock your focus
Always manually focus. Make friends with the momentary autofocus button or feel the wrath of seeking!!!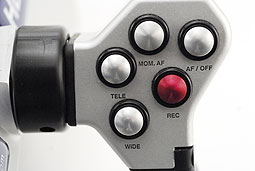 Below is how your LCD or viewfinder should look when you properly set your Jump Settings. The settings you inevitably choose may differ from the ones below, but they will always appear in these locations on your LCD or viewfinder. If you do not see an icon in the same location as shown below your camera is not properly set up.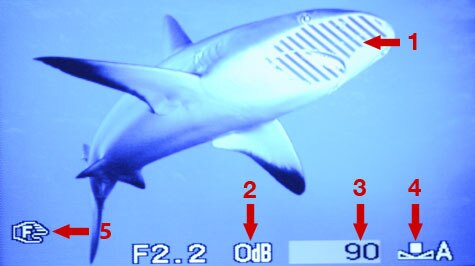 1.
Zebra Stripes appear on the over exposed highlights.
2.
0 dB indicates that manual gain is on, but set to zero and not effecting your image. An icon showing 16 dB or 8 dB means gain is on manual, but it is affecting your footage by adding light sensitivity and lots of noise. The higher the number the more noise.
3.
This number indicates you are in manual shutter and the speed is set appropriately at 1/90. A speed of 1/90 allows more light and flexibility with the aperture.
4.
This symbol shows the white balance setting.
5.
This symbol indicates the manual focus mode.