Expedition to Halmahera aboard the Dive Damai II, April 28-May 9
Dive Damai
has pioneered exploration of the waters around the large Indonesian island of Halmahera, and has found some amazing dive sites in this new hotspot. Join us as we explore a variety of habitats including muck diving, spectacular hard coral gardens, and wild waters filled with schools of fish and pelagics.
Backscatter owner Berkley White will be available for photographic support, and internationally recognized wildlife photographer
Jeff Yonover
will also participate in this expedition. In addition, we have a very special guest, Dr. Mark Erdmann, head of Conservation International Indonesia's Marine Program. Dr. Erdmann has made Indonesia his home for over 20 years and is one of the world's experts on its biodiversity, having discovered and described numerous species of crustaceans and fish. He is also one of the foremost conservationists working to protect Indonesian waters. This is a once in a lifetime opportunity to travel with some of the world's experts in underwater photography, marine biology and conservation! This expedition leaves immediately after the
Backscatter Lembeh trip
and Dive Damai is offering 30% off the liveaboard portion to customers who book both trips!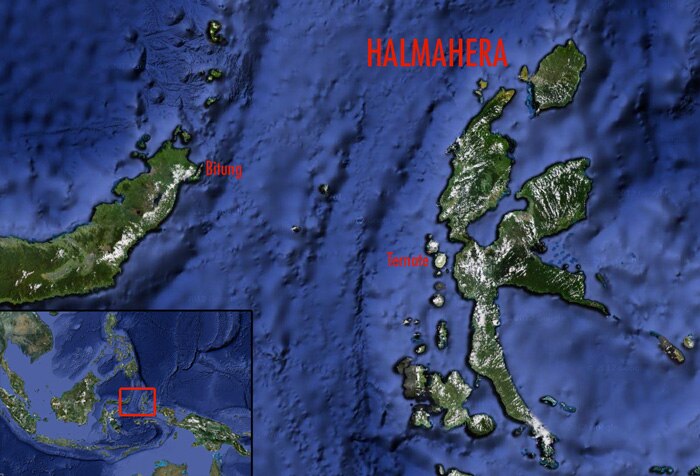 A tentative itinerary is listed below:
Day 1: Embark in Bitung. Dive in Lembeh.
Day 2: The islands in between Sulawesi and Halmahera, including Pulau Tidore which has a great schools of jacks, barracuda, and some sharks.
Day 3: We will explore an island north of Tidore that is currently unknown to us.
Day 4: Goraici - an archipelago west of Ternate, with great hard coral gardens and good fish life.
Day 5: More diving in Goraici.
Day 6: Pasir Karo - a beautiful atoll with a combination of sandy bottom and hard coral, with fantastic bommies and great fish life.
Day 7: Bacan - the south point of this island is very good for schooling action, specially there is a very big school of barracuda.
Day 8: Bacan - inside there is a great muck area, featuring everything from Rinophias to hairy octopus.
Day 9: North of Kasiruta. Deep dives with pinnacles, featuring some of the biggest fish we have seen in Indonesia.
Day 10: Makian - a day dedicated to macro. Very good muck diving with lots of critters.
Day 11: Palongi: the last day is again coral reef and great fish life, white and black tips.
Day 12: Disembark in Ternate.
Dive Damai II is one of the world's most luxurious liveaboards, and a great way to tour the islands of Indonesia in style. Dive Damai specializes in catering to intimate groups of 10 or less, as well as creating the most varied itineraries in the industry. The Dive Damai II has single, twin, and master cabins available.
There is extremely limited space on this charter. Please contact us for more details on the expedition including pricing and cabin availability.