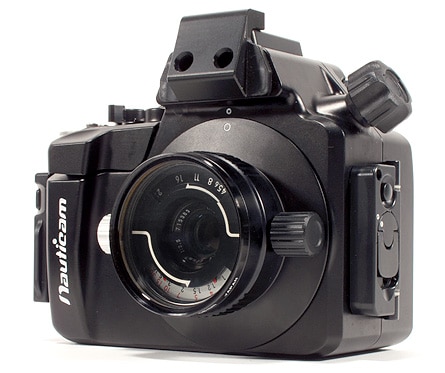 Nikonos lenses find a new home with Nauticam
Nikonos lenses were a cornerstone of underwater photography for over 30 years and unfortunately faded away in the digital age. Unlike land lenses placed into waterproof housings, Nikonos lenses are considered "wet lenses" which are mechanically waterproof and perfected for the unique optical challenges of underwater imaging. Many photographers (myself included) consider these lenses the sharpest underwater optics ever designed. Nauticam, a new manufacturer in Hong Kong, is soon to deliver a solution to use these stellar optics with the new
Sony NEX-5
digital camera. Hats off to Nauticam for demonstrating their dedication to underwater imaging by investing the engineering hours to bring this product to market.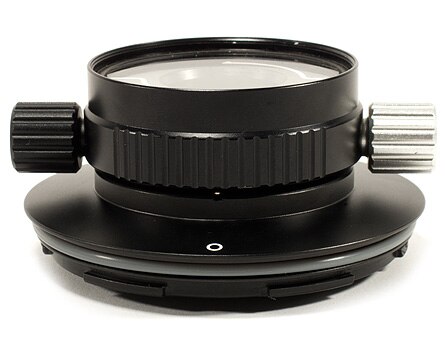 Nikonos 35mm Lens on Nauticam NEX5 Nikonos Lens Adapter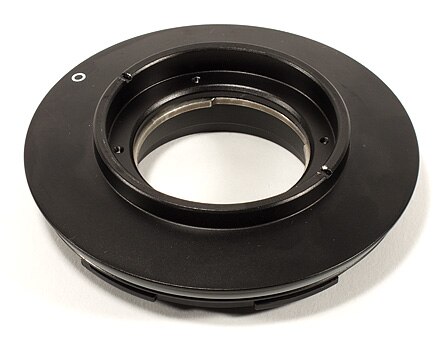 Nauticam NEX5 Housing Adapter for Nikonos Lenses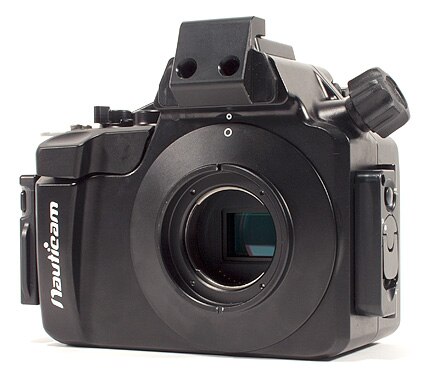 Nauticam NEX5 Housing with Nikonos Adapter Installed
More than a tool for Nikonos lenses
I'd not rush to eBay and purchase all the Nikonos lenses you can find. Most users will prefer the automation and flexibility of the Sony NEX lenses, but Nikonos fans and optical tinkerers will likely love the flexibility. Nikonos lenses were designed for rangefinder cameras and lack auto iris control. Thus, a Nikonos lens user will find challenges with focus and composition at higher f-stops and will likely need to temporarily open up the aperture to allow the camera enough light. Nikonos lenses were also designed for full frame 35mm and the Sony NEX5 has a crop factor of 1.5x. Thus a Nikonos 15mm lens will get cropped down to be more like a 20mm. Regardless of these issues, the
Nauticam NEX5
is likely to spark some innovation.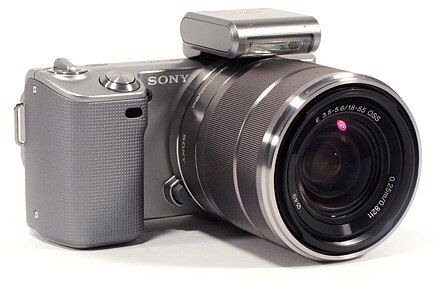 Sony NEX-5 Camera and Sony 18-55mm Lens (27mm-82.5mm equiv.) with 9.8" minimum focus distance.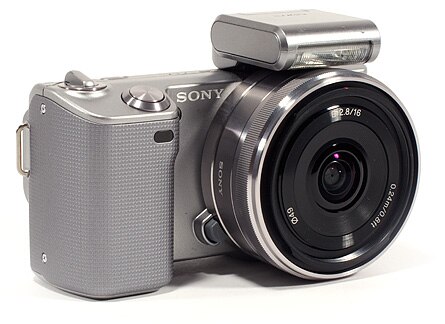 Sony NEX-5 Camera and Sony 16mm f2.8 Pancake Lens (24mm equiv.) with 9.4" minimum focus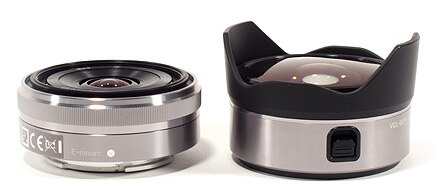 Sony 16mm Pancake Lens and stackable VCL-ECF1 Fisheye Adapter provides close to 180 degree coverage.
Digest of interesting camera specs with summary:

General Specs:
Imaging Sensor :
APS HD CMOS sensor (23.4 X 15.6mm)
Effective Picture Resolution :
Approx. 14.2 megapixels
Focal Length Conversion Factor :
1.5x
Dimensions (Approx.) :
Appx 4-3/8 x 2-3/8 x 1-9/16" (110.8x58.8x38.2mm) (W/H/D)
Lens Compatibility :
Sony E-mount lens, (Sony Alpha lenses when used with LA-EA1 lens adaptor)
Summary:
Same size sensor as
Nikon D300
and
Canon 7D
, but in a tiny camera. Larger sensor means less noise than standard point & shoot cameras. Small size means just as travel friendly as most point & shoots.
Photo Specs:
Burst Buffer :
JPEG (unlimited to card capacity) RAW (8 shots) RAW+JPEG (5 shots)
Continuous Shooting Speed :
Continuous (2.3fps) Speed Priority (7fps)
Flash Sync Speed :
1/160 seconds
Auto High Dynamic Range :
Yes, (Auto Exposure Difference, Exposure difference Level (1-6 EV at 1.0 EV step), off)
Sweep Panorama :
Horizontal, Vertical, and 3D Panorama
Flash Bracketing :
3 frames, 1/3, 2/3EV steps selectable
Flash Modes :
Autoflash, Fill-flash, Rear sync., Slow sync., Red-eye reduction
Recycling Time :
Approx. 4 sec
Still Image Mode :
JPEG (Standard, Fine), RAW, RAW+JPEG
Summary:
Bye, bye shutter delay and hello burst mode to shoot action. Flash sync speed is a bit slow for shooting sunballs, so keep the sun at your back. If running underwater strobes on TTL, the 4 second recycle time could cause a delay between shots, but offers user friendly automation. Sweep Panorama is just a blast to use and can auto stitch images for up to a 170 degree panorama. Raw capture maintains significant quality when fixing bad exposures after the dive.
Video:
Video Format :
AVCHD / MP4 (MPEG-4 AVC (H.264))
Video Resolution :
AVCHD: 1920 x 1080/ 60i MP4 HD: 1440 x 1080/ 30p MP4 VGA: 640 x 480/ 30p
Summary:
Great high definition resolution at 1080, but advanced shooters will be slightly aggravated with the interlaced and AVCHD format. Advanced users prefer progressive and straight H.264 format. However, this will be one of the smallest and most versatile photo / video systems available today for the new to intermediate shooter.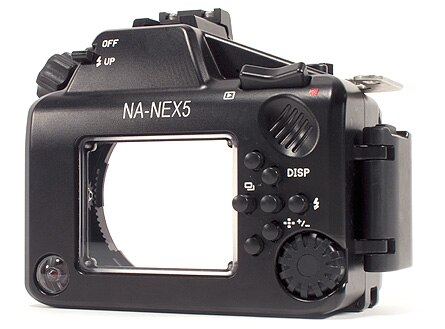 Back Control Detail - Nauticam NEX5 Underwater Housing for Sony NEX-5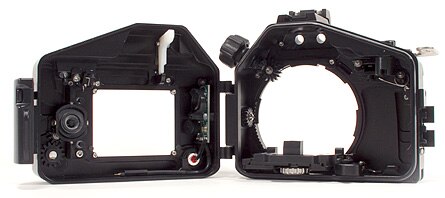 Open Detail (note the click lock camera tray, an unusual feature on a compact housing) - Nauticam NEX5 Underwater Housing for Sony NEX-5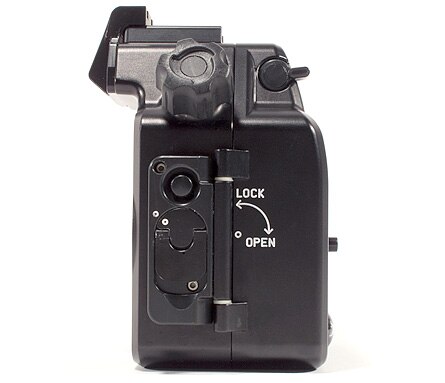 Port Latch Detail (with a nostalgic design reference to the Nikonos V body latch, very nice touch) - Nauticam NEX5 Underwater Housing for Sony NEX-5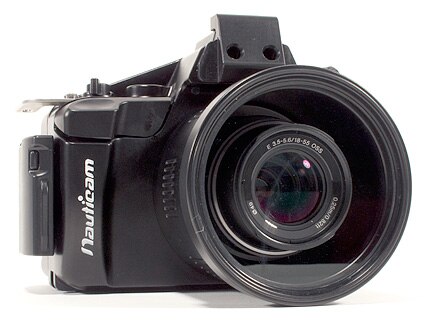 Flat Port for Sony 18-55mm Lens - Nauticam NEX5 Underwater Housing for Sony NEX-5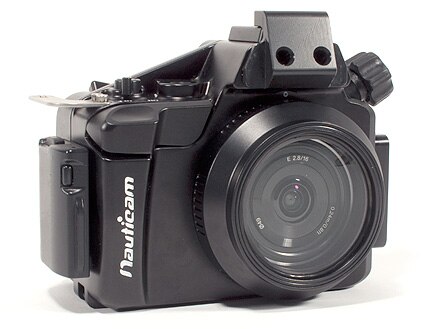 Flat Port for Sony 16mm Pancake Lens - Nauticam NEX5 Underwater Housing for Sony NEX-5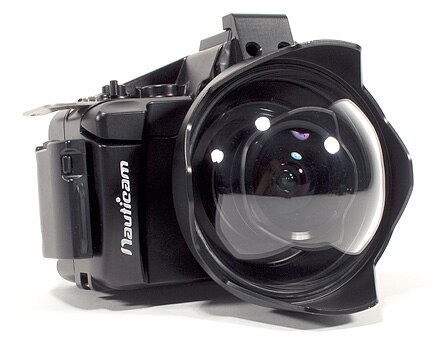 Dome Port for Sony 16mm Pancake Lens plus Fisheye Conversion Lens - Nauticam NEX5 Underwater Housing for Sony NEX-5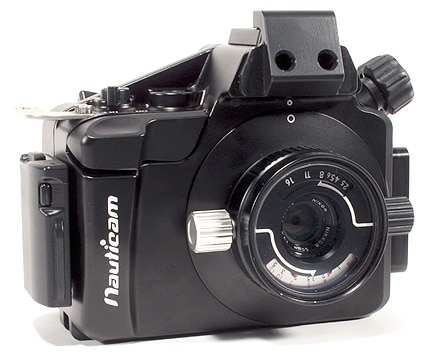 Nauticam NEX5 Underwater Housing for Sony NEX-5 - Nikonos Lens Adapter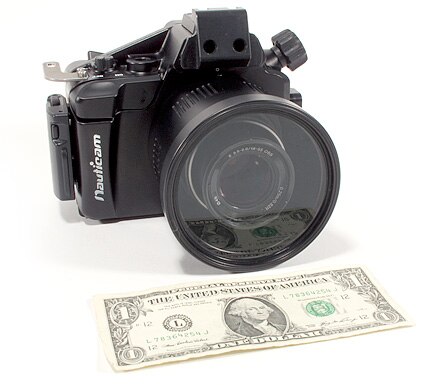 This is one tiny HD video and photo system!
Shipments to begin late September 2010

Questions? Want the latest tech details from a fellow diver? Give us a call!
This is just a sneak peek on this new housing and camera. Since technology is always changing, please don't hesitate to give us a call for the latest updates and discuss a custom package to best suit your needs. Our phone staff dives, shoots, and services everything we sell.
All Backscatter purchases include free lifetime tech support!