Every time before I dive, there is a strict method I follow to ensure my success with my system. This is the fun part, right before I am getting into the water, after I have planned my story, my destination, my purpose for shooting. What I am talking about now is how we must become a bit AR, dare I say the words 'anal retentive' about our equipment and our diving. Have you ever heard someone talk about the most amazing dive they ever had in their life, with nine whale sharks in one dive but nothing to show because their port was dirty? I have seen people get in the water without charged batteries in which case your housing and camera becomes a useless lead weight. To prevent this and help you with success, I have compiled a few golden rules to think about while on your next dive!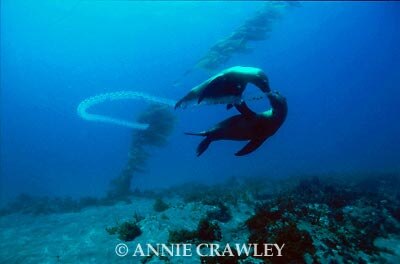 1. Plan what you want to shoot before getting into the water. Visualize it, see it even before you make a splash.
2. Make sure your lens and port is clean, check how much tape you have left and make sure your batteries have a full charge. Verify full operation by working all essential controls: on/off, zoom, record, focus lock, white balance.
3. As soon as you get in the water and set up your system, don't forget to look at your port and wave your hand in front of it dislodging any bubbles or particles from the surface of the port.
4. Look up and figure out where the sun is. Shoot with the sun at your back unless you purposely plan a silhouette shot. Silhouettes can be extraordinarily dramatic in the right circumstances with enough distance between the camera, subject and sun, yet the golden rule in lighting keeps the sun at your back.
5. Compose your shot before hitting record, use the rule of thirds and ensure you leave 'fish' room for your subjects. You want to hold the system as steady as possible, use a tripod for macro shots. Think of the camera angle and what is pleasing to your eye. Avoid shooting down at subjects unless you are going for a specific look.
6. Compose, Record, Stop, Move'. Wide, Medium, Close-up' repeat' Think before you roll tape and shoot for the edit. You'll need more than just one shooting angle if you want this subject to have maximum time in the final edit.
7. Shoot 4-6 seconds of handles on the front and end of every shot. You want to make sure your camera is rolling before the action takes place and have extra on the end of your clip when action is finished.
8. Video is all about motion, so think about how you are going to get motion from your ocean. You can allow your subject to swim in and out of your shots or you can create the motion by swimming with the camera. You want to combine reveals, tracking and over the shoulder shots to completely tell your story and make your life easy at the edit station. Try and avoid the subject just popping up in the middle of the frame! Start with a pan left or right, or a tilt up or down that will introduce your subject to the frame.
9. Take the last 5 minutes of the dive to try something new! Shoot 30 seconds of a wild camera angle, pan, or manual exposure control. Watching these tests might inspire your next creative technique.
10. Once you exit the water, take care of your equipment and dry off your port to avoid water stains. Take the time to review and log your tape everyday! This way you know immediately how to make corrections or if your day was successful!
And of course I recommend carrying my DVD,
Your Guide to Creating Underwater Video
, with you into the field for reference.
Warm regards,
Annie