We at Backscatter all fondly remember the excitement (and trepidation) we felt as we purchased our first underwater camera system. This guide is diligently compiled each year to eliminate the hassle and headache often associated with shopping for underwater camera gear. Whether you are just getting started with underwater photography, an intermediate shooter looking to upgrade his/her system or an advanced image-maker looking to assemble a more compact rig for travel to combat those ever-rising baggage fees, this BEST UNDERWATER COMPACT CAMERAS article is for you!

We've searched and tested dozens of compact cameras to find the best match between portability, price and the goals of aspiring and experienced underwater shooters. From our own waters of Monterey, to the Caribbean, to the Coral Triangle, and Micronesia, we've spent hundreds of hours shooting compact cameras underwater. These top performers will enable you to capture stunning images underwater. Here are our picks for 2015.


As the field of compact cameras is changing extremely rapidly, we will update this article on a continuous basis. Last updated in July, 2015.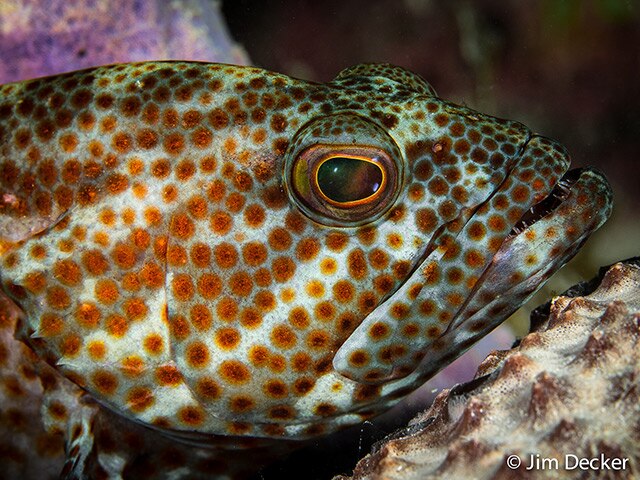 Today's compact cameras are now able to deliver high quality photos and video that come closer than ever to matching that of higher end SLR systems. All underwater imagery in this article was taken with compact cameras.
In 2015, we've studied a landscape that has changed considerably from previous years. Point and shoot options are fewer and further between, but exciting new low-cost options such as the GoPro and interchangeable lens mirrorless cameras like the Olympus PEN now provide alternate options for the shooter who is not interested in traveling with a bulky SLR system. This year, rather than restricting our review to just the point and shoot class, we looked at a broader range of cameras that include everything from the GoPro, point & shoots, Micro 4/3 cameras, and the Sony A7 series. With this roundup, we've put together options for every budget and every shooter from novice to pro.
Summary of Our Top Picks for 2015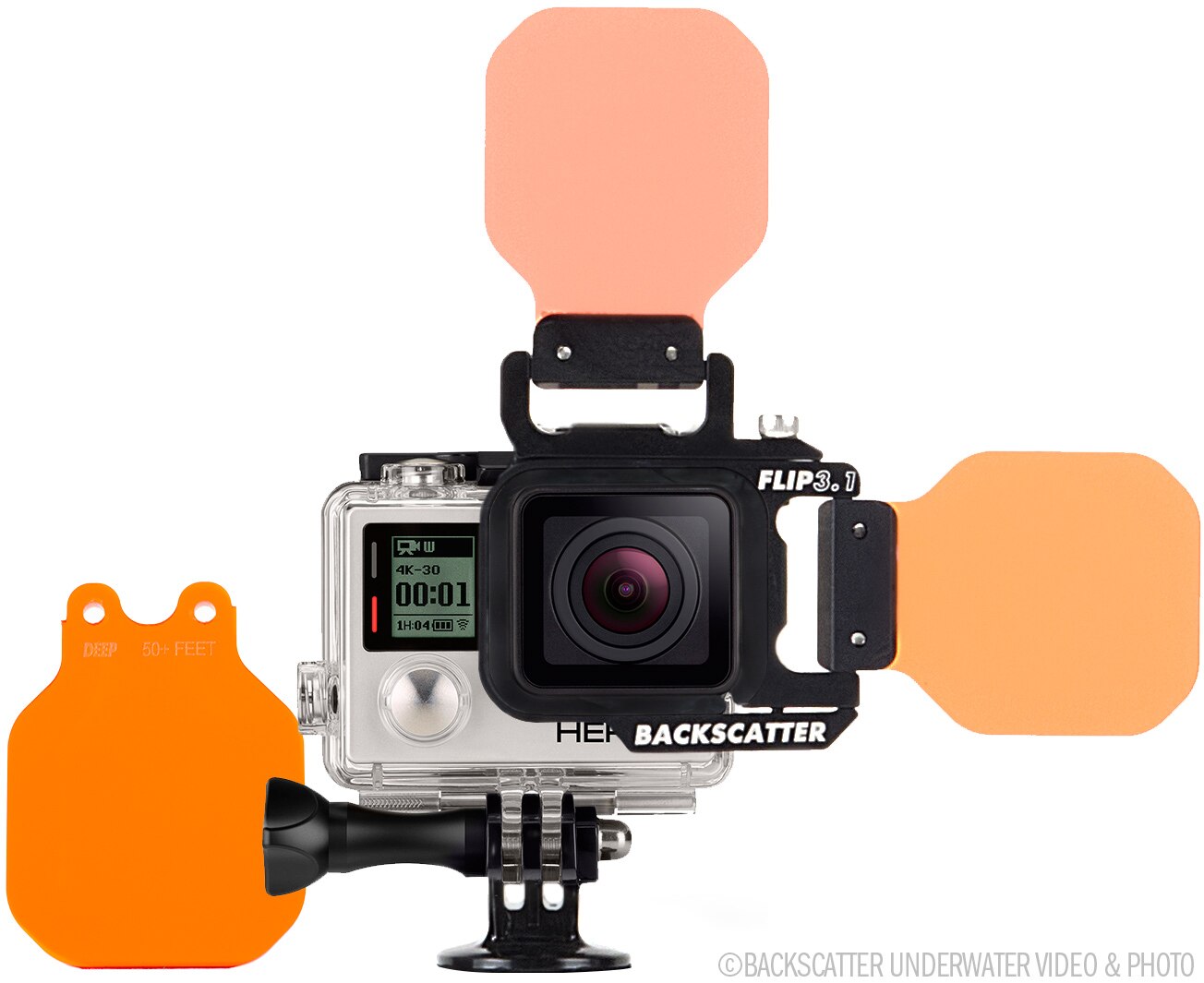 Best Entry Level Camera
The GoPro Hero 4 Silver & Black Edition
Camera & Housing starting at $399

In the past few years, the availability of solid point and shoot systems available for less than $500 has diminished, which GoPro was ready to quickly fill and maintains this year as the top pick in this category. You won't need to break the bank to get started with a GoPro system, and it will deliver high quality video unimaginable even just a few years ago, for the price. The Backscatter Flip3.1 Filter System is essential for getting good results with this camera, as it makes a dramatic difference in restoring color and contrast as well as image sharpness.
GoPro Hero 4 Black Edition
$499
GoPro Hero 4 Silver Edition
$399
FLIP3.1 Underwater Color Correction System with DIVE
$69
FLIP3.1 Combo Package with SHALLOW, DIVE, and DEEP
$134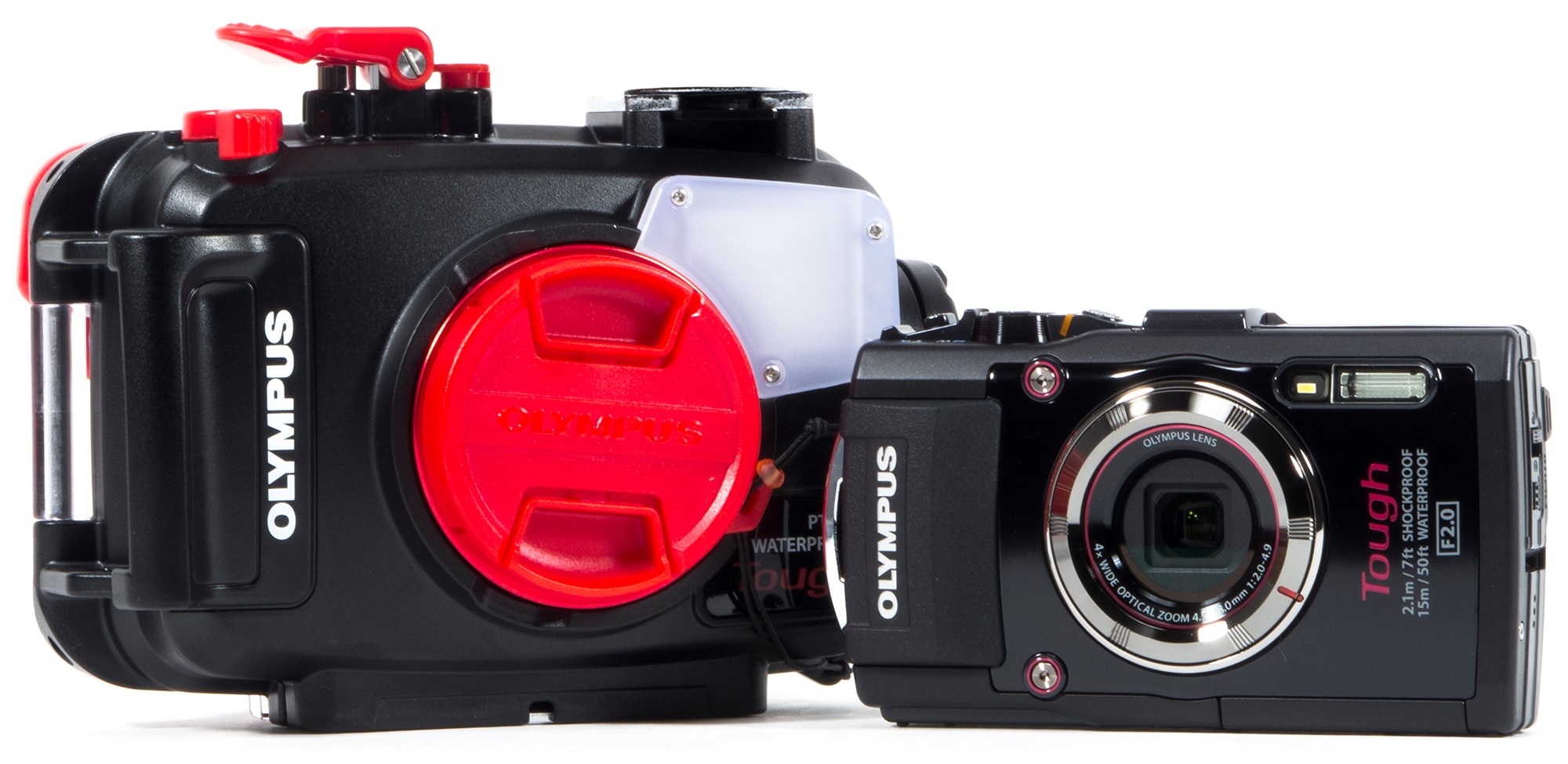 Best Waterproof Camera
The Olympus Tough TG-4
Camera & Housing starting at $678
The Olympus TG-4 is a fantastic splash-proof pocket camera, one that you can take snorkeling on its own, or take it deeper while diving using the PT-056 Underwater Housing. In addition, the TG-4 Tough lives up to its name, as it is shock-proof, crush-proof, freeze-proof and dust-proof. With a fast f2.0 lens, and an impressive depth rating of 50 feet (without a housing), the Olympus TG-4 is a great camera to keep with you on the boat, and take with you while swimming, or in any damp environment without any concern for it getting wet. And it takes incredible macro! In microscope mode, you can get crazy close up macro with no other accessory lenses needed.
Olympus Tough TG-4 camera $379
PT-056 Underwater Housing $300
The Olympus TG-4, PT-056 Underwater Housing and GoBe 700 Package $979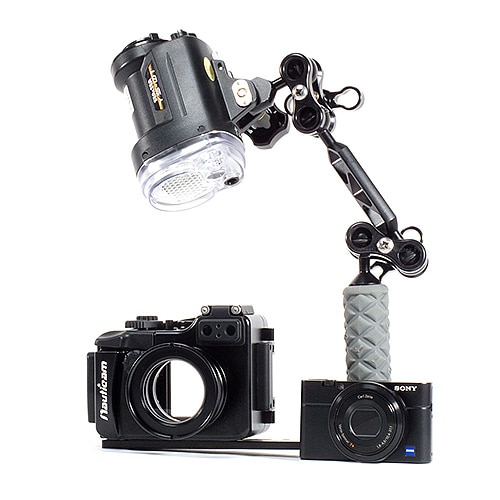 Best Point & Shoot Camera
The Sony DSC-RX100 III
Camera & Housing starting at $1330
Sony has created one of the most exciting compact cameras in years with the RX100 III. This diminutive camera is a remarkable piece of engineering that delivers outstanding stills and full 1080p video in a sleek, elegant package. Featuring a very large sensor size, the RX100 III has the best of all worlds, with class leading performance and extremely high image quality. The RX100 III sports a stunning resolution of 20 megapixels and still maintains great low-light performance. For the shooter that wants to go as streamlined as possible, with manual control, and the best quality available today, the RX100 III is our top pick.
Sony RX100 III camera $800
Ikelite RX100 III Housing $550
Fantasea FRX100 III Housing $550
Recsea RX100 III Housing $920
Nauticam NA-RX100 III Housing $995
Sea&Sea MDX-RX100III Housing $1000
Recsea CWS-RX100 MkIII $530
Backscatter Sony RX100 MkIII Underwater Housing Package Builder - starting at $1920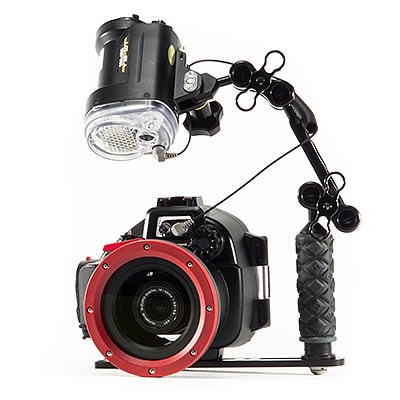 Best Entry Level Mirrorless Camera
The Olympus PEN Series
Camera & Housing starting at $1347
Olympus changed the underwater compact camera landscape forever with their launch of the PEN series of cameras with underwater housings which we first
reviewed in 2010
. Now in its fourth generation, the PEN is better than ever with a more advanced
E-PL5
. This camera offers a step up in terms of flexibility, image quality, and growth potential, all at a point and shoot price point. After shooting the
E-PL5
early in 2013, we think it's the best value in underwater photography today.
Olympus
E-PL5
PEN Camera with 14-42 Lens $600
Olympus
PT-EP10
Housing for the
E-PL5
$747
Backscatter PEN and Sea & Sea Strobe Package
$2118

Best Advanced Mirrorless Camera
The Olympus E​-M1
Camera, Housing & Port starting at $3060
In a class of its own, the Olympus OM-D
E-M1
brings professional level quality in a tiny package. Don't want to lug around an SLR, but must have the best possible image quality and camera performance? Then this camera is for you. With outstanding ergonomics thanks to a full set of physical dials, friendly menus and automated shooting modes, and featuring deep customization for the most advanced user, this camera has something for everyone. The
E-M1
has even made professionals sit up and take notice.
Olympus O​-MD E​-M1
$1400
Olympus PT​-EP11 Housing
$1260
Aquatica AE​-M1 Housing
$1699
Nauticam NA​-EM1 Housing
$1850

How We Selected:
Our 2015 Test Criteria
Target Users
1) New underwater photographer wanting an easy point & shoot camera with growth potential.
2) Advanced underwater photographer wanting a compact camera solution.
Camera Feature Requirements
1) Great to excellent image quality.
2) Camera must be compact and lightweight when used topside.
3) Camera must be point & shoot easy, but offer intermediate to advanced controls.
4) Underwater housing must offer wide angle potential.
As in last year's review, more cameras seemed to meet our minimum criteria, and the best cameras quickly bubbled to the top of the list. To help you understand our criteria, please review the following concepts.
Wide Angle Lenses:
We eliminated many cameras because they were incompatible with underwater wide angle lenses. Most of these cameras featured a 5X or greater zoom lens. While this might be attractive for topside photography, long zoom lenses require underwater housings designs with long lens ports. Accessory wide angle lenses must mount to the end of these ports and suffer from severe vignetting (dark corners) when the camera is zoomed wide. You can zoom in the camera lens to clip out the dark corners, but an extreme zoom will negate any benefit. Our point & shot camera finalists in this review offer great wide angle lens solutions by the original manufacturer or a high quality third party solution.
In recent years we have seen more cameras have a 28mm equivalent (to film) lens and some even having a 24mm equivalent lens. As the lenses on the cameras get wider, optically it becomes harder to design an underwater wide angle lens. While 24mm may sound wide to a land based shooter, we generally consider an angle of over 100 degrees to be the starting point for an underwater wide angle setup. This will allow the photographer to get very close to the foreground subject, but still maintain an expansive background. On most 24mm lens cameras, you may need to zoom to 28mm for use with a wide angle lens to avoid vignetting.
Some manufacturers have resorted to an air dome on these wider lens cameras to bring back the above water angle of coverage. If you remember from your basic scuba class, your mask reduces your field of view by about 25 percent. The same thing happens with your camera lens behind a flat lens port. The air dome will restore the angle of coverage to what it is above water. However, the angle for a 28mm is 75 degrees, and a 24mm is 84 degrees, making it harder to photograph very large objects like large reef scenes and shipwrecks.
Finally, the new class of mirrorless cameras offer a whole new dimension of wide-angle photography, similar to what's available in SLRs. These advanced compact cameras offer interchangeable fisheye and wide lenses on the camera which can be matched up to a dome port for some seriously wide coverage up to 180 degrees. While these lenses can't be changed underwater, they offer optically the best solution for wide angle photography.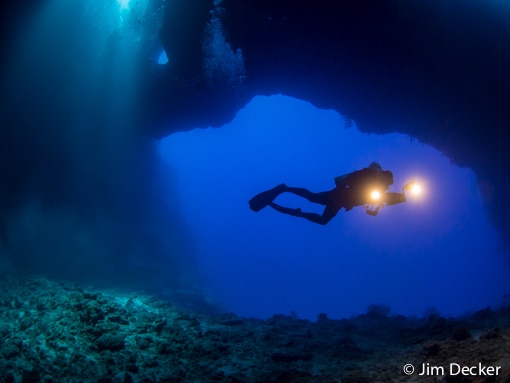 To capture the big picture or a unique perspective, compact cameras require an accessory wide angle lens. The image above was taken with an Olympus PEN E-PL5 and a Panasonic 8mm fisheye lens, and a custom dome port from Zen Underwater.
Manual vs. Auto Exposure:
We remain surprised (and aggravated) with the lack of manual exposure control on the many low priced cameras. We applaud automation, but even a new user will benefit from the creative options of manual exposure controls.
Cameras with manual exposure allow the photographer to independently control shutter speed and aperture. This might sound complicated to a new photographer, but with a little guidance most new shooters quickly pick-up the rewarding technique of manual exposure. Cameras without manual controls can still produce good results with (+/-) exposure compensation adjustments. We recommend auto shooters try out (-1) or (-2) exposure compensation settings to get richer color on upward angle shots.

All cameras in this review are point & shoot easy, but a few offer more growth potential. Auto exposure cameras can take great snapshots, but adding a strobe and selecting a camera with manual exposure options will provide more rich and saturated colors.
Highlight Warning and Histograms:
It's disappointing to download photos from a great dive only to learn they are too dark or too bright. Better to be warned of errors while we're still in the water and able to correct our mistakes. Professional SLR cameras offer highlight warning and histogram feedback displays to help pro shooters dial in their exposure on the spot. A few of the point & shoot cameras in this review also feature a simplified version of these essential exposure guides. The Highlight Warning will blink a warning color in areas that are overexposed. The Histogram is simply a bar graph of the tones in the image and provides refined feedback to help you on the ultimate digital exposure goal--to make the exposure as bright as possible without losing too much detail in the highlights.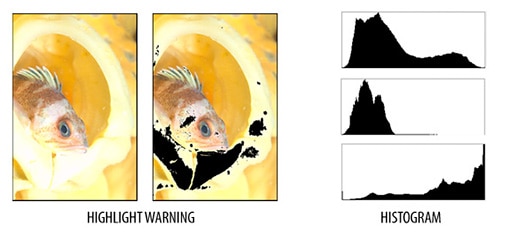 Highlight warnings alert the photographer of over exposure. Histograms are a bar graph of tones in the image and can guide the photographer to the ultimate goal of a proper exposure.
Slave TTL Strobes:
In recent years strobe manufacturers have developed what is called slave TTL. When set to slave TTL mode, the underwater strobe simply mimics the camera's built-in strobe to produce an automatic strobe exposure. While no automatic system will yield perfect results 100% of the time, this system works reasonably well and can help someone who is just starting out to get some good shots in the can on their first trip. Understanding how TTL systems work, how to judge exposures, and working within a camera system's limitations will be a photographer's best tools for getting the picture you want.
HD Movie Mode
One of the most important trends in recent years is the advent of HD video in virtually all of the serious contenders. All of our favorite cameras saw their video clips receive a much needed bump up to 1080p HD resolution with some of the cameras receiving full 4K Ultra HD resolution addition. While on some cameras the video quality is not that of a dedicated HD camcorder, on others the quality of the footage easily surpasses all but the highest end camcorders for professional use. Many of the cameras in our lineup produce video that is surprisingly good for the cost and what is a secondary feature of a camera. However, great video requires great white balance, something that is not easily achieved on all point and shoot cameras. Also, camera ergonomics and menus are designed for the still shooter, not the videographer, making an HD camcorder still a good choice for the dedicated video shooter. We hope that the addition of HD video to most cameras will inspire more shooters to take a try at video.
Custom White Balance
In order to shoot good looking video, getting an accurate white balance is crucial. A custom white balance is the user telling the camera what area of the picture is white and the camera building the rest of the colors off of that baseline recording. Correct white balance makes the video look more natural, and helps to bring back colors that are filtered out by water when shooting at depth. Even when using a color correction filter such as
Magic Filters
, a custom white balance setting can yield superior results. Unfortunately, getting an accurate white balance is not a given on a point and shoot camera. On some cameras it is a convoluted process, on others an accurate reading is not even possible underwater. Choosing a camera that makes it easy to get an accurate reading is a must if you're planning to use it for shooting video. We gave additional points to cameras that have an easy to set and accurate white balance. White balance in video is so critical in natural light shooting that it is more important than what video resolution the camera is capable of. The best resolution doesn't matter if the colors look bad.
We looked at five main categories, and picked one top option for each. We looked at these cameras in terms of their ability to deliver good results underwater. What kind of housings can we use? What kind of manual control will we get? Are the underwater ergonomics good? Do we have the right optics to shoot underwater? Are we getting the best bang for the buck considering our budget? These are the questions we asked ourselves as we conducted this review.
GoPro Hero4 Silver or Black with Flip3.1 Filter (starting at $534)
Olympus TG-4 and Olympus PT-056 Housing ($650)
Sony RX100 III and Ikelite Housing (starting at $1350)
Olympus PEN ($600)
Olympus O-MD E-M1 ($1400)
Entry Level Camera In Depth
GoPro Hero 4 Black Edition Vital Statistics
Model
Silver Edition
Black Edition
Image Resolution
Popular Movie Resolutions & Frame Rates

4K/up to 15 fps

2.7K/up to 30 fps

1080p/up to 60 fps



Full 4K/up to 30 fps (3840x2160)

2.7K/up to 50 fps (2704 x 1520)

1080p/up to 120 fps (1920 x 1080)



LCD Size

1.75" Integrated Screen

Not Integrated

2" - (requires purchase of

LCD Touch BacPac

)

*Only use the Standard BacPac Backdoor. DO NOT use the Touch BacPac Backdoor, or the Skeleton BacPac Backdoor as these are not waterproof.

Raw Format
NO
NO
Camera + Housing Price
$399.99
$499.99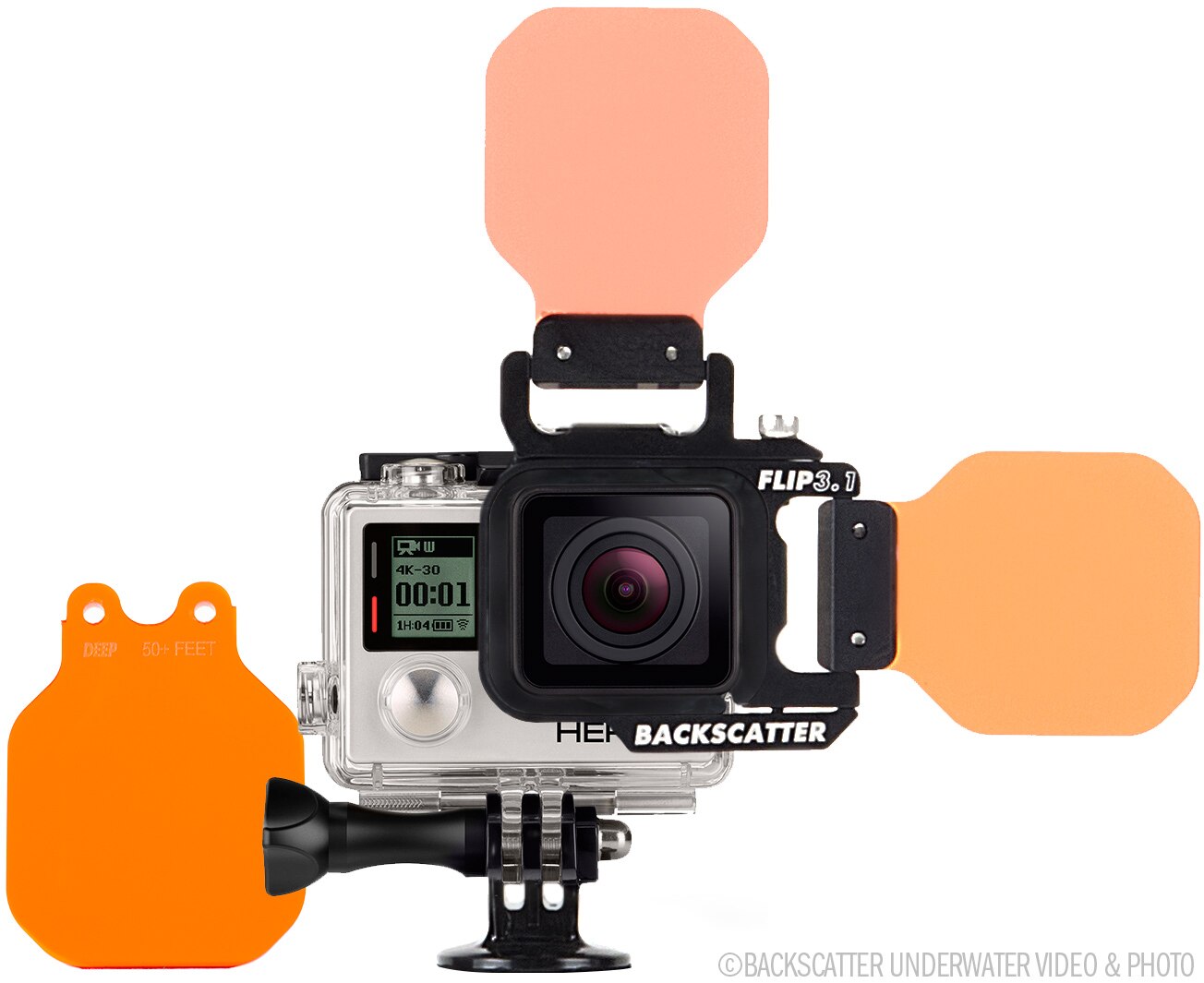 The GoPro Hero​4 Silver & Black Edition
Camera & Housing starting at $400


Now in its fifth generation, the GoPro Hero 4 remains top on our list for an excellent choice to take with you on your dives to capture the perfect underwater video or photo.

The GoPro is a great system for the novice shooter who wants to start taking video and pictures underwater, and doesn't want to fuss with settings or lugging a bulky system around. It's also an awesome option for the still shooter who wants to dabble in video, and can easily attach the GoPro to their housing using an Ultralight ball mount.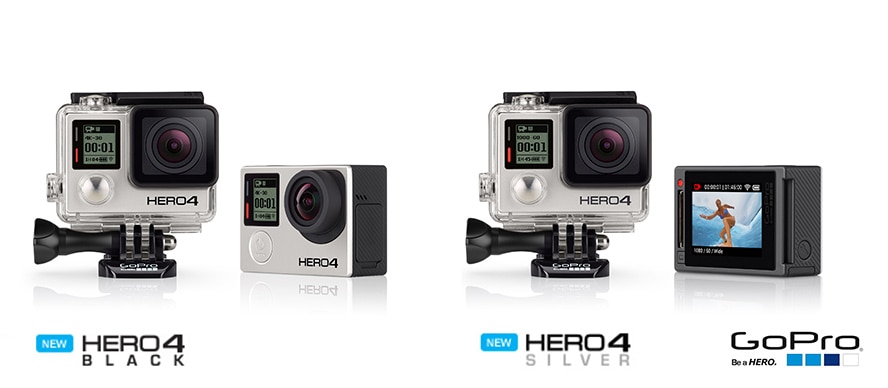 The latest lineup of cameras by GoPro are the
Hero4 Black
and
Hero4 Silver
.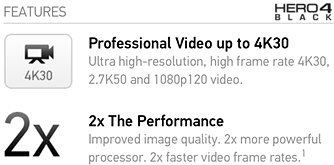 Hero⁠4 Black $499.99
If you need the highest resolution possible in broadcast and film frame rates, the
Hero4 Black
is the camera for you. The
Hero4 Black
also comes with increased frame rates on the 2.7K and 1080p modes. For example, in 1080p mode, you'll be able to shoot up to 120fps with the Black edition. The Black edition has gone up another $100 from the Hero3+ version. For underwater use, you will also want to buy the LCDBackpac for accurate framing which will cost another $80.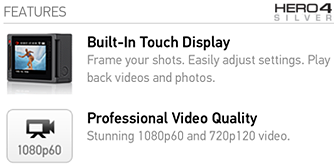 Hero⁠4 Silver $399.99
If you don't need/want 4K frame resolutions at 24fps or 30fps, 2.7K resolutions along with the ability to shoot 1080p resolution of 120fps the
Hero4 Silver
edition might be the better choice. The
Hero4 Silver
includes a newly integrated LCD touch screen and costs $100 less than the
Hero4 Black
. When you include the price of the touch screen you're talking about almost $200 in savings. It will shoot 1080p resolution up to 60fps, which is still decent for buttery smooth underwater footage.

The quality of video that GoPro delivers in the right conditions is astonishingly good. However, manual controls are limited, and an LCD Touch BacPac is highly recommended in order to see your framing of the footage for the Hero4 Black.

As hardcore GoPro users, we discovered that capturing the best underwater color requires the use of multiple filters. After hundreds of hours of testing, we've perfected a multi-filter system and integrated it into our world renowned FLIP design. The Backscatter FLIP3.1 gives you multiple filters at the flip of one finger. There are SHALLOW, DIVE, and DEEP filter options. Additionally, we've developed a GREENWATER filter, a yellow filter for fluorescence night diving, a 55mm threaded adapter for our +10 Close-up lens, the all-new Macr​omate Mini underwater macro lens and other topside filters. The FLIP3.1 offers the best color and most rugged design of any filter system on the market. In our testing, we've found that turning video lights on anytime you're using the camera can really make colors pop, even when using a filter. Typically, it's been a rule never to use lights and a filter at the same time, but the GoPro has proven to be an exception.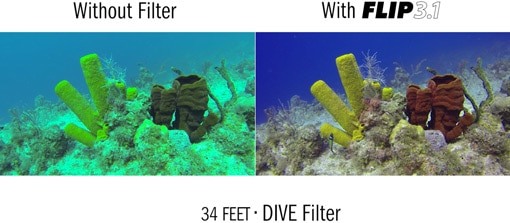 Above is an excellent example of restoring perfect underwater colors when simply using the DIVE Filter.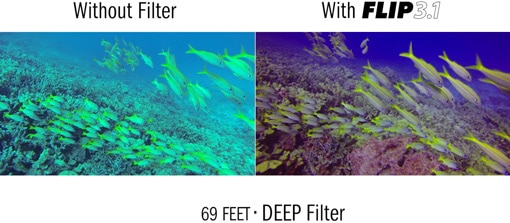 The deeper you go, the more red correction you'll need to get accurate color. Use our DEEP Filter for depths beyond 50+ feet.
Watch the video below to see the examples of the GoPro Camera WITHOUT our color correction filter and WITH our Flip3.1 Color Correction System while diving at various depths: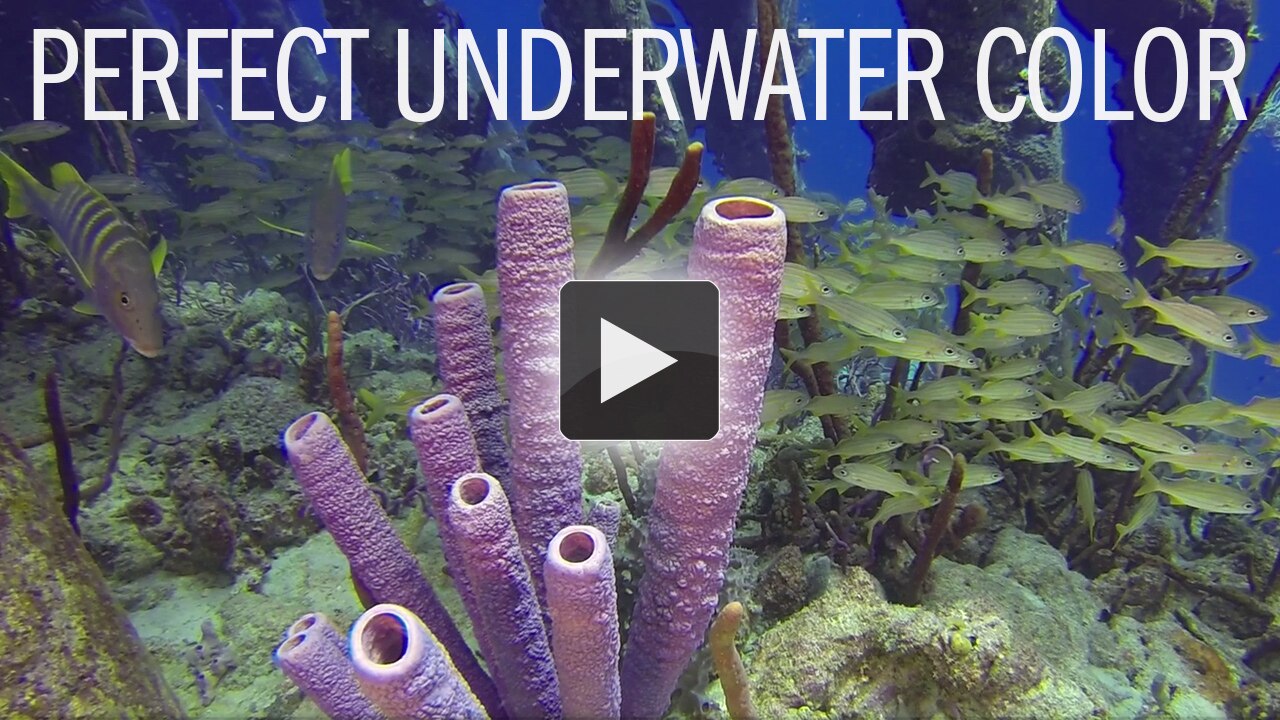 The FLIP +10 Close-Up Lens works great for shooting subjects sized from soccer balls down to golfballs that are roughly 8-12 inches from the camera. However, the Macromate Mini brings your focus to about 3 inches allowing you to fill the frame with subjects as small as a golfball. The video frames below were shot with a GoPro in narrow video mode and illustrate the difference between the lenses. The scorpion fish head was about the size of a softball. The camera was moved closer to the subject to get the Macromate Mini image. Our staff favorite macro configuration is a FLIP3.1 with both a Macromate Mini and +10 Close-Up Lens so we're ready for all subjects.



Use FLIP Macro Lenses for Stunning Macro Photography
The sample photos below were taken with a GoPro camera set to medium photo mode. The first image is without lens and the second is with the
Macromate Mini
.

Use FLIP Macro Lenses to Bring Tiny Action to the Big Screen
The video below was shot with a GoPro Hero3 camera set to narrow video mode and a
Macromate Mini
lens. While the Macromate mini works in wide, medium, and narrow video modes, the narrow mode gives you the sharpest edges and the most stunning results. Watch this video to see how the
Macromate Mini
has revolutionized GoPro for underwater.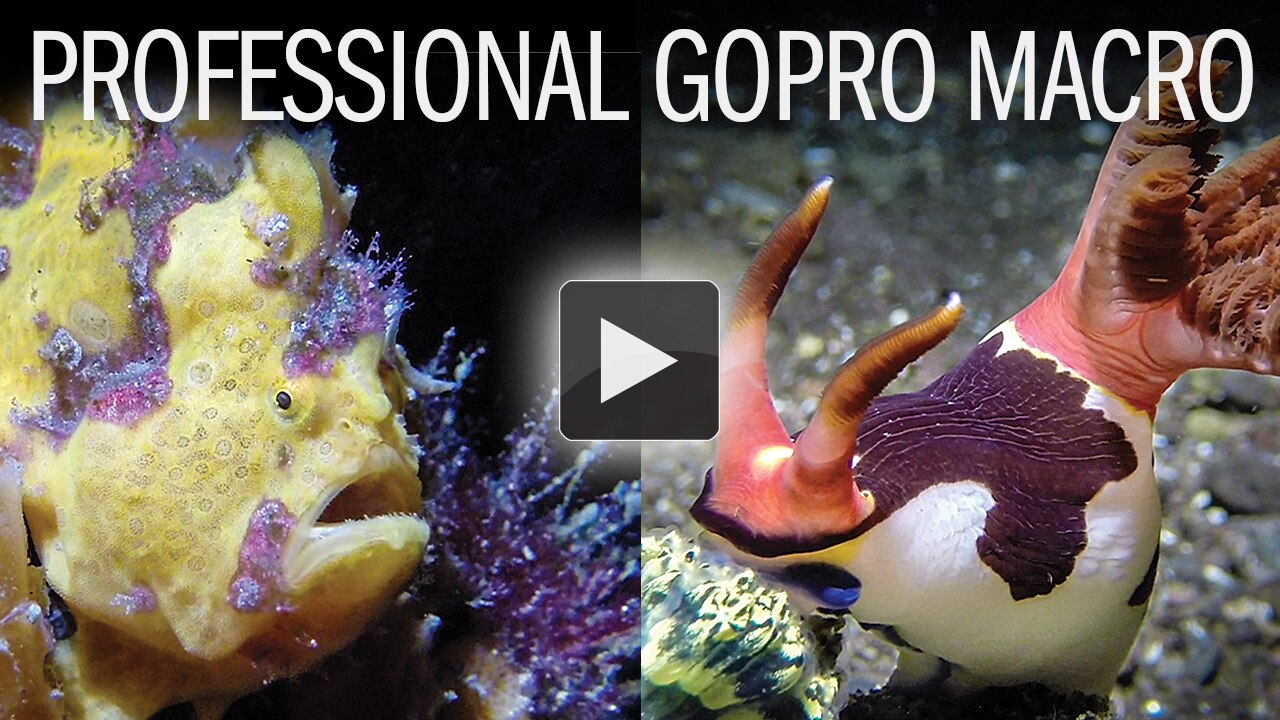 While the GoPro can shoot decent stills, if photography is your main goal, we suggest looking at options in the next category as the GoPro has limited capability for stills, especially since there are only minimal semi-manual adjustments. There is also no way to attach a strobe, which is important for taking high quality photographs underwater. So if your primary goal is underwater photography, then it is probably worth stepping up to a more sophisticated point & shoot camera that offers manual control. But for just grabbing some great footage of your dive adventures at an entry-level price, the GoPro can't be beat.

Pros
Most inexpensive underwater UHD & HD camera system on the market today
Wide angle lens a standard feature
Tons of accessories to mount the camera in creative ways
Comes ready in the box to dive to 131 feet
Backscatter Flip3.1 Filter System restores color and contrast
Cons
Minimal manual controls (still no control over shutter speed)
No ability to connect a strobe
Video quality not as good compared to higher end cameras, especially in low light
Point & Shoot Cameras In Depth
Point and Shoot Vital Statistics
Olympus TG-4
Sony RX100 III
Resolution

20.1 MP

12.1 MP


Image Size
3968x2976
5472x3080
4000x3000
Sensor Size

1/2.3" (6.17x4.55mm)

1" (13.2x8.8mm)

1/1.7" (9.5x7.6mm)

Lens (35mm equiv.)

24-70mm
f1.8-2.8

24-120mm
f1.8-5.7

ISO Range

100-6400

80-25600

80-12800

Frame Rate (Stills Burst)
5 fps
10 fps
9.4 fps
Movie Resolution

1080p

1080p

1080p

Movie Frame Rate in full HD
30p
60p
60p
LCD Size

3"
460K px

3"
460K px

3"
461K px

RAW Format

NO

YES

YES

Closest Macro Focus

.39" / 1 cm (telephoto)

1.97" / 5 cm (wide)

1.2" / 3 cm (wide)

Camera + Housing Price

$650

Starting at $1350

Starting at $775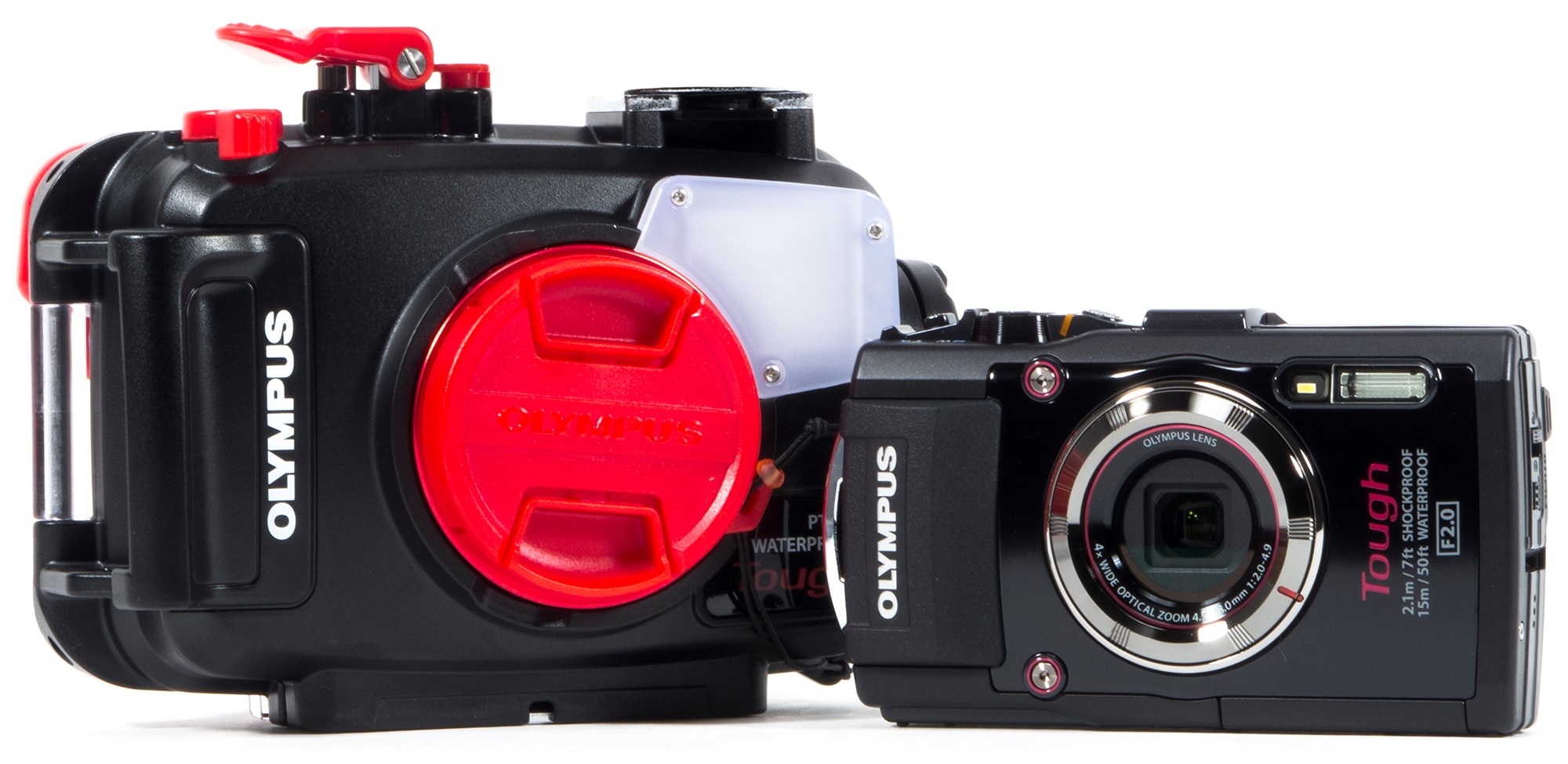 Best Waterproof Camera:
The Olympus Tough TG-4 Camera
Camera & Housing starting at $679
The Olympus TG-4 is an update to the previous Olympus Tough series line flagship, the TG-3. The TG-4 is a splash-proof pocket camera, one that you can take snorkeling on its own, waterproof to 50 feet, or take it deeper while diving using the PT-056 Underwater Housing, making it waterproof to 150 feet. In addition, the TG-4 Tough lives up to its name, as it is shock-proof, crush-proof, freeze-proof and dust-proof.

The only major difference with the TG-4 over the TG-3 is the addition of RAW shooting capability instead of JPEG. This is a major step forward in image quality with RAW being an uncompressed format compared to JPEG. It even fits in the same PT-056 Underwater Housing as the TG-3.

The greatest feature of the TG-4 is its ability to capture macro and super macro images without adding an accessory lens. Microscope mode will allow you to get crazy close to those small subjects, filling the frame with tack sharp images. This camera will focus so close in microscope mode that if you have any lint or debris on the inside of the housing lens, it will focus on that instead of the subject, so make sure your lens port is clean! You can get super close up shots of blennies, so much so that you can see their teeth and their need to floss. All of the photos shown are completely uncropped from the camera.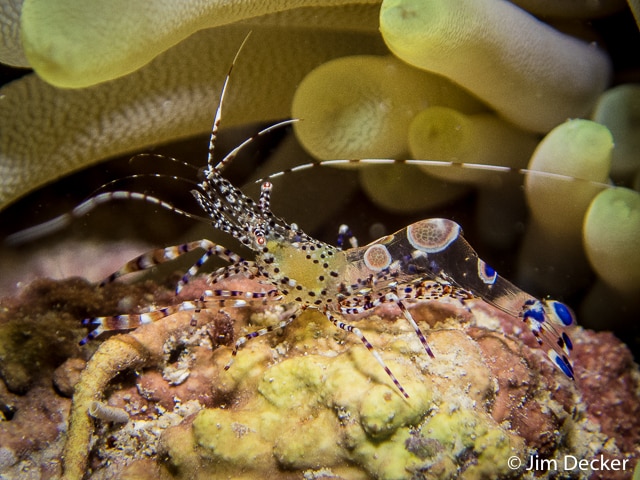 In microscope mode, the TG-4 gets crazy close-up super macro. This shrimp image was taken with NO additional macro accessory lens, and continuous light from a Sola 2000. © Jim Decker | TG-4 | ISO 125 | 1/400 sec at f / 4.9
Snorkelers will be intrigued by the relatively inexpensive FCON-T01 Fisheye Converter Lens that will mount directly onto the camera for use underwater. But for most diving, you will be better off using the PT-056 housing; in addition to increasing the depth rating to 150 feet, it also allows for the easy attachment of strobes or lights, making this a full-featured rig.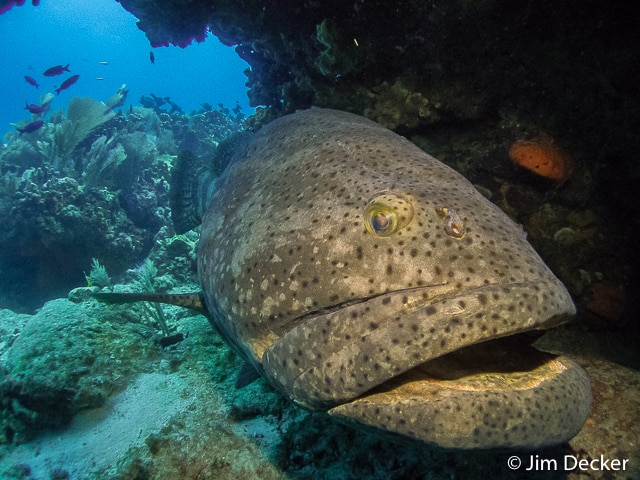 The TG-4 becomes a great wide angle setup when paired with a lens like the UWL-04 fisheye lens which threads directly on to the housing. No strobes were used in this shot only a single Light & Motion Sola 3000, making for a very compact wide angle shooting rig. © Jim Decker | TG-4 | ISO 800 | 1/100 sec at f / 9
The video from the Olympus Tough TG-4 has great looking color due to a custom white balance feature being added to the Tough series. It works best in the shallows. Any deeper than about 40 to 50 feet will benefit from a color correction filter. Unlike some compact cameras, the TG-4 has live focus like a camcorder, and it's super fast. This occasionally led to a small amount of focus hunt from time to time like a camcorder, but was not enough to outweigh the benefits of live focus.

Aperture priority is a big help in shooting wide angle scenes over Program mode. Getting consistent results was much easier with shooting strobes on manual exposure. This also allows for controlling depth of field and makes it easier to get darker backgrounds in macro. Another benefit to stopping the lens down is sharper corners when using wide angle accessory lenses.

For the price, the TG-4 is unbeatable, and we love having a camera that we can bring anywhere without fear. This camera is going to survive your adventures.
Pros
Microscope mode has the largest reproduction ratio of ANY camera without a macro lens
Super fast focus even in macro mode
True "point and shoot" performance when lighting with a video light
Now shoots RAW!
Cons
No manual exposure mode
Focuses so close that you need to make sure the inside of the housing is clean otherwise it will focus on lint on the port
Default minimum shutter speed for flash is a slow 1/30 second

Top Pick for Point & Shoot Camera:
The Sony DSC-RX100 II
Camera & Housing starting at $1150
We're excited that Sony has taken their already fantastic RX100 compact to the next level with the Mark II. The difference in low light performance is noticeable, but it's the new hot shoe that has us excited about taking this camera underwater. At last, the compact shooter doesn't have to rely on the camera's own flash to recycle, and can have truly instantaneous shot-to-shot performance when using an electronic sync connection for their strobes. We're happy to see that the new NA-RX100II housing accommodates this feature. Easily grabbing your latest underwater photos off of the camera to share with the world on Facebook and Instagram is also a welcome bonus thanks to the new WiFi feature on the RX100 II.
This diminutive camera is a remarkable piece of engineering that delivers outstanding stills and full 1080p video in a sleek, elegant package. Featuring a very large sensor size, the
Sony RX100 II
has the best of all worlds, with class leading performance and extremely high image quality. Thanks to that large sensor size, the RX100 II sports a stunning resolution of 20 megapixels and still maintains great low-light performance. Ergonomically, the
Sony RX100 II
resembles the tried and true designs from the Canon S series, featuring a ring around the lens that can be programmed to control aperture, zoom, focus, and more. Similar to the S120 (our alternate pick described below), the camera also has a rear dial that can control other functions, so the shooter can independently control shutter speed and aperture in manual mode. Unlike the S120, TTL flash exposure is available while shooting the camera in manual exposure mode. The lens is 28mm equivalent at the wide end making it a great match for accessory lenses such as the outstanding
FIX
UWL-28
Compact Wide Lens. This lens allows an extremely wide angle 165 degrees of coverage, and is quite sharp across the frame. Three housing options are available for the RX100 II, from
Ikelite
,
Recsea
, and
Nauticam
. The Ikelite housing represents an affordable option for housing this camera, and the Nauticam is our favorite for its balance of price and outstanding ergonomics.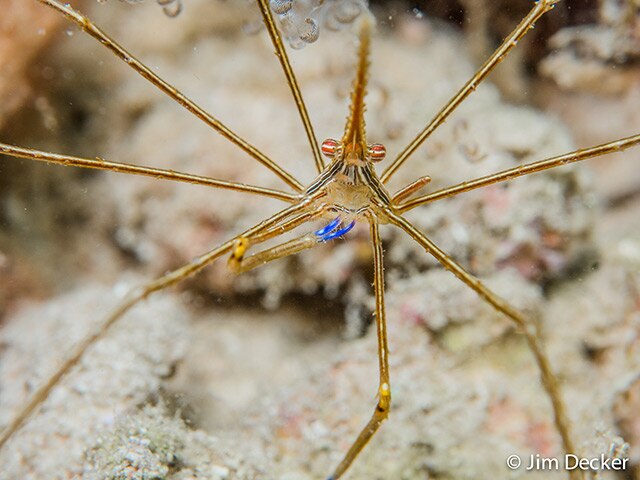 The native macro capabilities of the Sony RX100 II are limited. To pull off this shot a Subsee +10 close up lens was needed. ISO 200 F11, 1/125
The
Sony RX100 II
does not have a dedicated Macro mode, and must be zoomed all the way wide in order to achieve close focus. This provides a reasonable option for shooting small critters, but most users will find themselves hitting up against the limits of the camera's internal magnification. Fortunately, accessory lenses such as the
Subsee +5
and
Subsee +10
can be added to the front of the housing in order to achieve closer focus. One downside of the RX100 II's large sensor is that focus must be much more precise. But the RX100 II makes it a simple matter to switch between auto and manual focus, so it's possible to lock focus and then move the camera in order to achieve maximum sharpness. Fortunately, the high resolution screen makes it easy to see critical focus. The camera's front ring can also be configured to drive "fly by wire" manual focus adjustments, but this requires long turns in order to cover the camera's full focal range. Like Sony mirrorless cameras such as the NEX​-5N and
NEX-7
(discussed later in this article), The RX100 II features focus peaking which can be a useful aid when dialing in manual focus. In general, sharpness in the corners when shooting macro is a bit disappointing. But given the RX100 II's incredible 20 megapixels, there is plenty room to crop.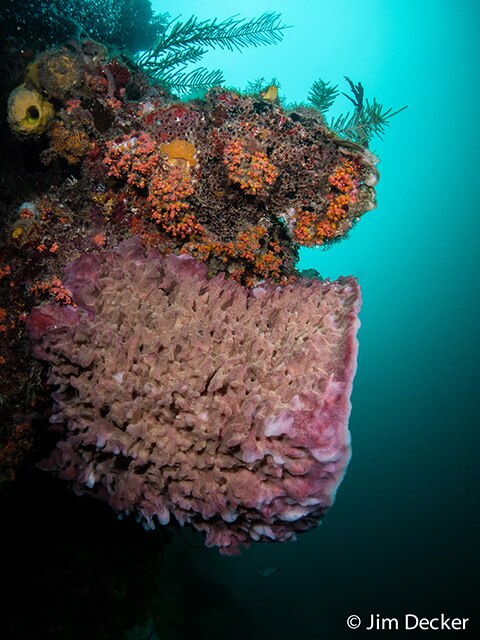 Wide angle is where the Sony RX100 II shines. Even in low light and low vis conditions, you can get smooth gradations on the background water color. Shot with the Fisheye 28M52 168 degree lens. ISO 200 F8, 1/60
On the video side, the
Sony RX100 II
is an extremely interesting camera. With a class-leading 60p frame rate at the full 1080p resolution, the camera's specs make even an SLR shooter jealous. The footage can be slowed down to half speed at 30p, and with in-camera optical stabilization, the RX100 II can deliver some extremely smooth looking footage. Video capture can be initiated when shooting in any still camera mode, but the RX100 II reverts to Program mode and picks the best settings for the current situation. A dedicated movie mode allows complete manual control of shutter speed and aperture, though this must first be configured in the menu. Unfortunately, not only is one-touch white balance missing, custom white balance must be executed while the camera is in a still mode, and then can be assigned once back in movie mode, which is a bit cumbersome. One of our favorite ways to set white balance is to dial in the Kelvin temperature to the maximum of 9900, and then customize the tint based on the depth we are shooting. This worked pretty well, and delivered good colors, especially with lights. The
Sony RX100 II
's video performance is so exciting, that Nauticam developed a special version of their housing, the
NA​-RX100V
, to allow the attachment of an
external monitor
to allow a larger and more detailed feed from the camera.
The Sony RX100 II delivers impressive results when shooting video, especially when used with a powerful light source like the Keldan Luna 8 Video Lights. Built in optical image stabilization paired with a 60p frame rate makes for a powerful combination.
All in all, the
Sony RX100 II
is one of the most interesting cameras of the year, its main downside being its relatively high price. Considering the performance it offers though, we think it's the breakthrough the compact camera market has been waiting for. For the shooter that wants to go as streamlined as possible, with manual control, and the best quality available today, the
Sony RX100 II
is our top pick.
Pros
Exmor® R 1.0 CMOS sensor provides twice the amount of low-light performance from its predecessor
Built in Hotshoe for faster strobe firing and less camera battery drain
Stunning 20 Megapixel Resolution
Class-leading 1080/60p video with optical image stabilization
Cons
In camera macro is limited; doesn't focus as close as other cameras in its class
Large sensor leads to shallower and less forgiving depth of field
No way to execute custom white balance in movie mode, must jump to photo modes

Best Point & Shoot Camera:
The Sony DSC-RX100 III
Camera & Housing starting at $1330
Sony's incredibly popular RX100 series had an upgrade this year to the Sony RX100 III, keeping all of the great features found in its predecessors, with notable improvements for underwater shooters, adding improved low light performance and a wider, faster 24-70mm lens. Movies on the RX100 Mk III now have a higher bit rate option of 50mbps at 60p in the Sony XAVC movie format. Individual clips can be directly accessed unlike the dreaded AVCHD format of previous models.



The RX100 III Camera has housings available from Ikelite, Recsea, Fantasea, Sea & Sea and Nauticam.
Ikelite RX100 III Housing
$550
Fantasea FRX100 III Housing
$550
Recsea RX100 III Housing
$920
Nauticam NA-RX100 III Housing
$995
Sea&Sea MDX-RX100III Housing
$1000
Recsea CWS-RX100 MkIII
$530
Backscatter Sony RX100 MkIII Underwater Housing Package Builder
- starting at $1920

Our very own Sean Boone recently took the Sony RX100 III in a Nauticam housing to Florida's Blue Heron Bridge to capture some video of the tiny critters that call the BHB home. Read his article with shooting tips and video.
If macro and super macro are your preferred style of shooting, as Sean recommends, you'll want to add an accessory lens to your system. A +10 close up diopter lens from Aquatica or ReefNet SubSee will have those small sea critters filling the frame. If you want to bring the tiniest of tiny to the big screen, Sean recommends the Macromate Flip Lens for incredibly sharp 2:1 macro images (twice life size) or the Nauticam Super Macro Converter (SMC) alone or with the addition of the Nauticam SMC Multiplier Lens to get the headshot of the pygmy seahorse. For those who love shooting the big picture, the RX100 III's native 24mm will provide fairly wide coverage of the underwater scenics; however, if you want up to 168 degrees of ultra-wide shooting, add an iTorch M52 UWL-04 to your system. 
For macro video, a a tripod, like the one Sean used, is a MUST for acquiring stable footage.


Below are some more images shot with the Sony RX100 Mk III underwater.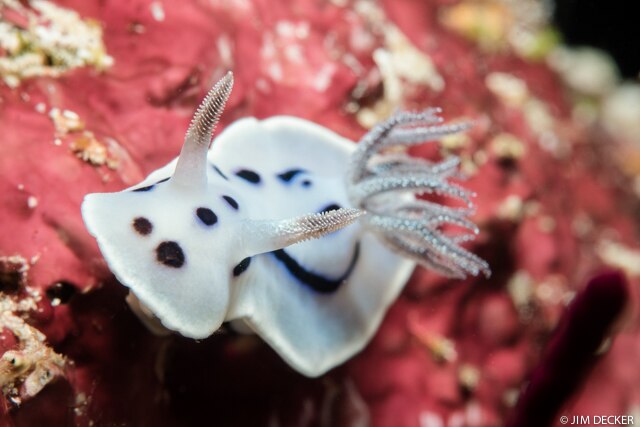 Without a macro mode, the Sony RX Mark III requires very strong external macro lenses to get close up shots. Shot with the Nauticam SMC super macro converter and SMC multiplier lens. © Jim Decker - Sony RX100 MKIII, 1/250, F11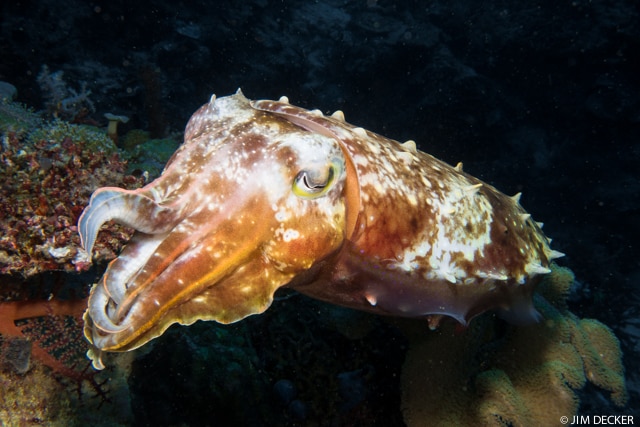 Getting close with a wide angle lens is the best technique for getting shots with good contrast. Shot with the UWL-04 wide angle lens. © Jim Decker - Sony RX100 MKIII, 1/250, F11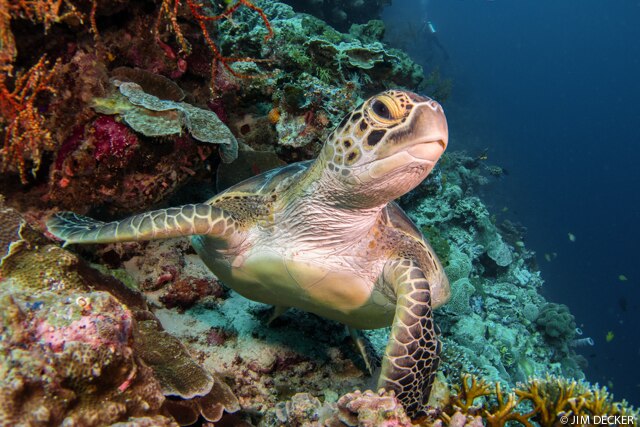 With only being able to take 2 shots of this turtle before it took off from the reef, TTL automatic flash form the Sony RX100 Mark III was the key to get appropriate foreground exposure with the limited time given. Shot with the UWL-04 wide angle lens. © Jim Decker - Sony RX100 MKIII, 1/80, F8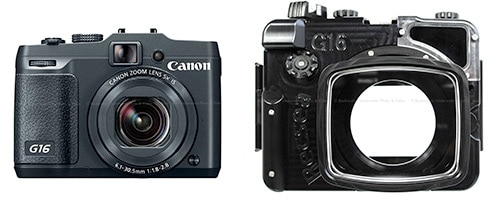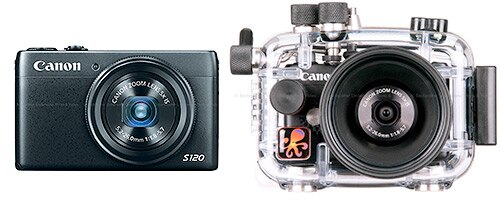 Runners Up:
The Canon G​16 and Canon Powershot S​120
Camera & Housing starting at $775
With RAW shooting, a relatively large sensor, great premium 3rd party housing options, and lots of great macro and wide angle lens options, it's easy to justify these cameras among our top pics. The
Canon G16
and
Canon S120
will, for the most, part take the same picture. Both share the same sensor, processor, shooting features, and menu system. The G16 features a larger size, slightly longer zoom lens, and more dedicated buttons. A major improvement from previous models is a much needed update to 1080 60p in video mode.

Both the Canon S120 and the Canon G16 Cameras have housings available from Canon, Ikelite, Recsea, and Nauticam.


The greatest feature that none can match is the ability of Canon to take an excellent custom white balance at depth, a crucial factor in delivering good quality video footage. The G16 and S120 both have assignable buttons making it very easy to assign a true one touch white balance function button. In fact, these are the only cameras in this review that allows one touch custom white balance execution in both photo and video modes. And it takes more accurate white balances at all depths compared to any other camera in this review.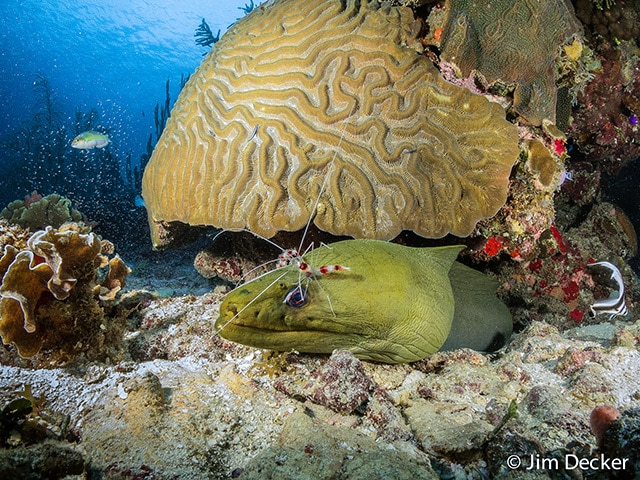 With a 165 degree wide angle lens, the G16 can take fantastic wide angle shots. The lens was only inches from the moray when this shot was taken, resulting in great color and contrast by being so close. ISO 200, F8, 1/60

The G16 has good ergonomics due to its larger size and more dedicated buttons for direct access to controls. However it's not very "pocket" friendly when walking around topside. The S120 is a smaller camera that easily fits in a pocket for a night out on the town, but still has enough dedicated buttons and dials to make quick adjustments. The menu system is simple and easy to navigate.
For years the Canon G series and S series cameras ruled the top of the roost in our annual review. While we really like the G16 and S120, unfortunately we have not seen much development in some key areas. Still, there is no TTL in manual mode. Movie mode, while being updated to 1080 60p, still only offers exposure compensation. While image quality has continually improved in the G and S series, the Sony RX 100 and Sony RX 100 II with their much larger sensors edge out the Canons and relegate the Canon G16 and S120 to runner up/alternative option status.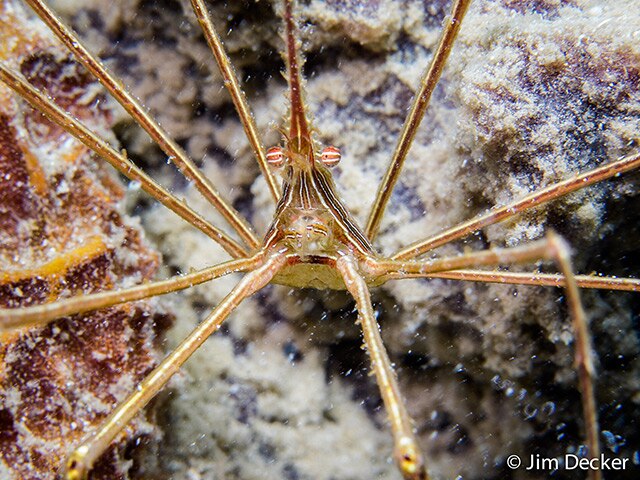 An accessory macro lens greatly expands the already good macro capabilities of the Canon G16. ISO 100, F8, 1/60

We would recommend the G16 or S120 cameras as an alternative to the Sony RX 100 II to someone who is more macro focused as the capabilities and options are very good in this area. Ambient light video is made very easy with the excellent one touch white balance. With it's limited movie controls, it's a great way for novice video shooters to get an easy start.
Pros
Finally, 60p video
Good out of the box macro
Still the best custom white balance color and execution in the industry
Cons
After all these years, still no TTL in manual
Video is still auto mode, but does have exposure compensation
Smaller sensor compared to Sony RX series, but still larger than most other cameras
Mirrorless Cameras In Depth
Mirrorless Camera Vital Statistics
Olympus
E-PL5
Olympus
OM-D E-M5
Olympus
OM-D E-M1
Resolution

16.1 MP

16.1 MP


Image Size
4608x3456
4608x3456
4608x3456
Sensor Size

4/3" (17.3x13mm)

4/3" (17.3x13mm)

4/3" (17.3x13mm)

ISO Range

200-25600

80-25600

80-25600

Frame Rate (Stills Burst)
8 fps
9 fps
10 fps
Movie Resolution

1080p

1080p

1080p

Movie Frame Rate in full HD
30p
30p
30p
LCD Size

3"
460K px

3"
610K px

3"
610K px

Sync Speed

1/160

1/160

1/320

RAW Format

YES

YES

YES

Camera + Housing Price

Starting at $1347

Holiday Package: $1500

Starting at $3060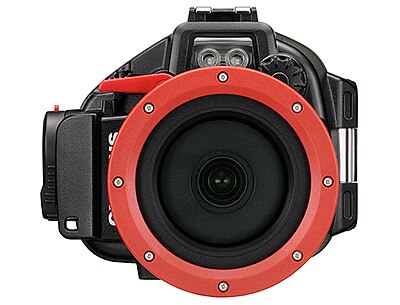 Best Entry-Level Mirrorless:
The Olympus PEN Series
Camera & Housing starting at $1347
Olympus changed the underwater compact camera world forever with their launch of the PEN series of cameras with underwater housings which we first
reviewed in 2010
. Now in its fourth generation, the PEN is better than ever with the new
E-PL5
. The 16MP sensor of the
E-PL5
comes from the Olympus
OM-D E-M5
, which performs excellent in low light and higher ISO's. We love the PEN cameras for their quick autofocus, snappy performance, and great image quality. Continuous shooting speed has been improved to an amazing 8 frames per second. Raw files delivered by both the
E-PL5
are rich and detailed. Startup time is quick, and shutter lag is non-existent. Shooting with a PEN feels like using an advanced camera. With the Olympus housing at $747, this is the most affordable interchangeable lens underwater camera system in our lineup.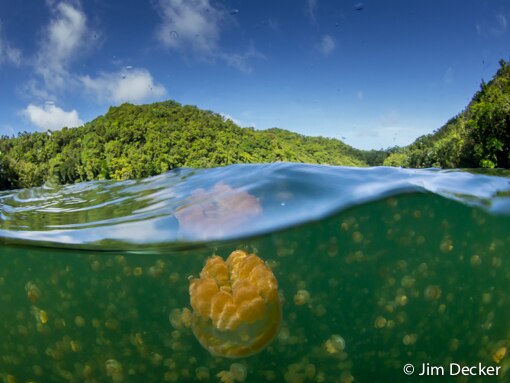 While shooting splits with a small dome is challenging, having 8 frames per second made getting the shot a lot easier. We were also impressed with the high ISO performance. Olympus PEN E-PL5. Taken with the 8mm Panasonic Fisheye. ISO 1600, 1/160, f18
In addition to wet lenses, a wide variety of lenses for the Micro 4/3 system make the PEN series a platform that you can build on for the future. This is one of the major advantages of choosing an interchangeable lens camera over other compacts. The PEN cameras support a large selection of lenses from both Olympus and Panasonic, covering a variety of focal lengths. Custom ports for micro 4/3 lenses are available from Zen Underwater that work with the Olympus branded housings, including versions for the
Olympus 9-18
,
Panasonic 7-14
,
Panasonic 8mm
, and
Panasonic 45mm Macro
. These are our four favorite lenses to shoot underwater, so it's great to have them all covered.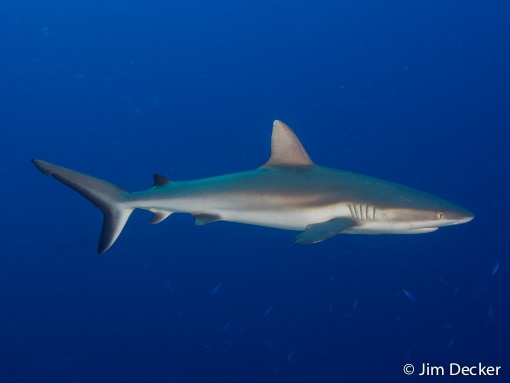 The Olympus 9-18 lens wide angle zoom lens is a great lens for shooting pelagics by allowing you to shoot a tighter shot when you can't get super close. Olympus PEN E-PL5, Olympus 9-18mm lens, ISO 200, 1/125, f8
One of our favorite features of the Olympus PEN cameras is the ability to customize them. On all of our cameras, from compact to SLR, we like to separate the shutter function from focus. This way, we can acquire focus, recompose the image, and the camera is not going to "hunt" to re-acquire focus at the moment we choose to trip the shutter. Fortunately, the PEN cameras are equipped with customizable function buttons which can be programmed to be the equivalent of an "AF-On" button found on many SLRs.
Two custom white balance settings are available. Unfortunately it can only be captured in photo mode, but can be set in both video and photo modes. We preferred to change the record button function to Custom WB. While pressing and holding the record button, and the pressing the shutter, we were able to quickly capture custom white balance and then have the option of assigning it to one of the two presets. After capturing in manual photo mode it is easy to bump the mode dial over 1 notch to the video mode setting, and is an easier process than setting white balance in some of the larger SLRs.
The
E-PL5
is definitely capable of shooting some great video, and supports full 1080p HD resolution. Full manual exposure is available and is our preferred way to shoot video. While we've found natural light video works best in the shallows (about 30 feet), the
E-PL5
was able to white balance significantly deeper. At about 50 feet it would still consistently take a manual white balance, although the colors looked a little unsaturated and flat. With a little saturation in post, the color perked right up and looked great. Many cameras have problems executing a proper white balance below 30-40 feet without a color correction filter, so being able to do one with no filter at 50 feet, is a big bonus. If you know in advance you'll be dedicated to shooting natural light video for your dive, we recommend using a color correction filter with a manual white balance which will allow for more color saturation at deeper depths.
The Olympus PEN E-PL5 is great for shooting video, and delivers accurate white balance even at 50 feet.
The PEN is lightweight and easy to travel with, so much so that we often see customers "crossgrade" into a mirrorless system just to avoid traveling with the weight of heavier SLR housings. And the price is difficult to beat - for any class of camera. With such great low light performance, 8 frames per second, super fast focus, and no shutter lag, we feel this camera and housing combination is the best "bang for your buck" in underwater photography.
Pros
Sensor provides extremely good low light and high ISO performance
8 frames per second continuous shooting mode
Extremely snappy autofocus performance compared to any camera, compact or SLR
Cons
Ports on Olympus polycarbonite housings require some elbow grease to remove initially
Custom white balance deeper than about 40 feet should be done with a color filter
Slightly more expensive than the previous generation model, but still a smashing deal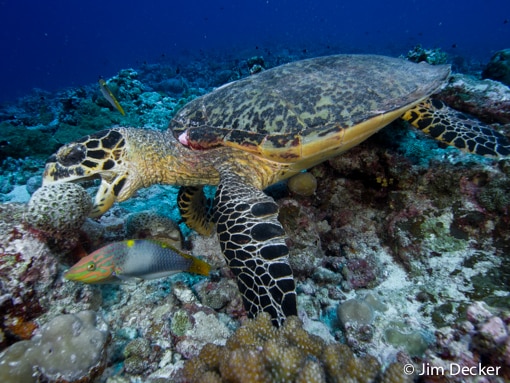 Quick focus and no shutter lag allow capturing the moment easier to do. Without any shutter lag, I was able to time the shot just as the turtle took a bite. Olympus PEN E-PL5, Olympus 9-18mm lens, ISO 200, 1/250, f9

Best Advanced Mirrorless Camera:
The Olympus E​-M1
Camera, Housing and Port starting at $3060
The new E-M1 improves upon the E-M5 by adding a more sophisticated autofocus system and greater customization of all available camera buttons. Although Olympus is still keeping the E-M5 in their OMD lineup, these new features alone make the E-M1 our pick for underwater use. The E-M1 is now the top camera in Olympus' mirrorless lineup.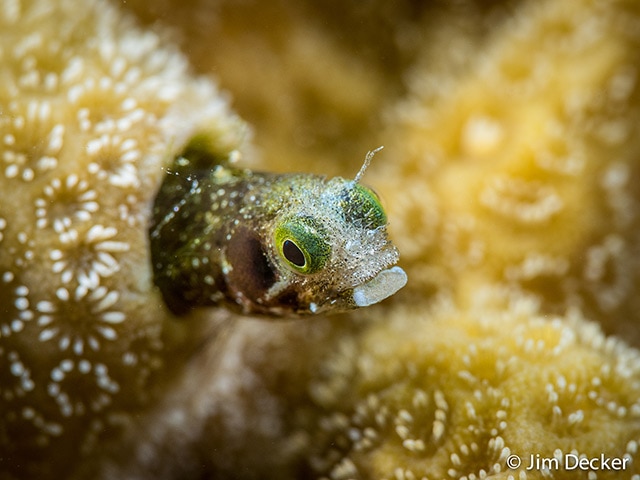 Images from the E-M1 are exceptionally sharp. Shot with the Olympus 60mm macro and a Subsee +10, focus was easy to see on the screen and throughout the viewfinder. ISO 200, 1/320, F8

Some of the more notable features carried over from the E-M5 is the 5 axis image stabilization, but there have been some significant updates to the E-M1. The biggest change is a max flash sync speed of 1/320. Other mirrorless cameras have max speeds of 1/160. Even most SLRs top out at 1/250. This is a huge advantage for dialing in the exposure on your background. For wide shots, you can get darker blue water backgrounds and pull in the exposure on sunball shots easier. For macro photography, a high sync speed allows one to more easily knock out any ambient light and just have light from the strobes on the subject, and also accomplish black backgrounds in the daytime.

Other improvements are 10 frames per second with a 41 image RAW buffer, and improved AF function and speed (if it could actually get any better than E-M5). The viewfinder is now as large as a full frame DSLR viewfinder and the resolution is 2.36 million pixels, making it one of the highest resolution EVFs on the market. Those who have vision issues will have no problem dialing in and seeing this viewfinder for critical viewing.

The 2x2 switch is an underwater photographer's dream in fast action. In 1st position, the dials operate shutter speed and aperture. In 2nd position, the dials operate white balance and ISO. No need to hit multiple buttons to make those adjustments, just flip a switch, turn the dial, shoot. And like the E-M5, when changing the ISO it shows you an EV meter so you can tell if you've got the ISO in the range you need without having to pop out of the ISO settings screen to where you are at on the meter.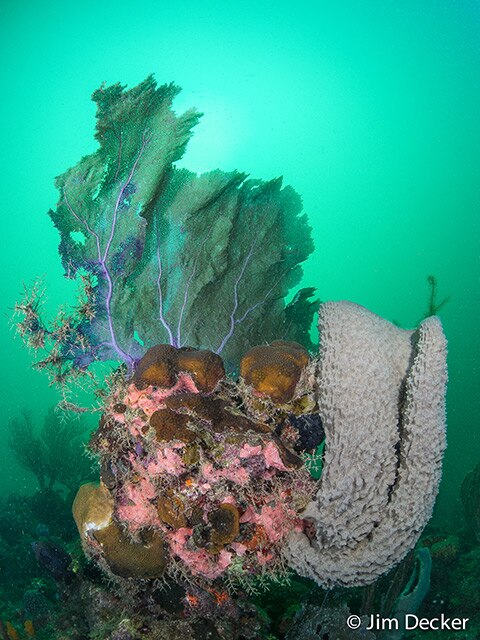 The small size of the E-M1 and the Panasonic 8mm fisheye lets you get in tight spots inches from your subject, so even in horrible vis you can pull off backscatter-free wide angle shots. ISO 200, 1/125, F8
The customization of controls on this camera are insane. Almost any button can can be reassigned to another function. One of the major disadvantages to the Olympus
PT-EP08
housing for the E-M5 was that you needed to sacrifice one of the 2 assignable function buttons to the fish mode as this is the only way the flash can fire in the down position inside the housing. Now with the
E-M1
you can assign fish mode to one of the 2 custom buttons on the front of the camera, without sacrificing any of the importantly placed custom function buttons on the
PT-EP11
housing for the
E-M1
. For the
PT-EP11
housing, I prefer to move the AF-ON activation to the Fn1 button, which is more ergonomically located than the AF on button.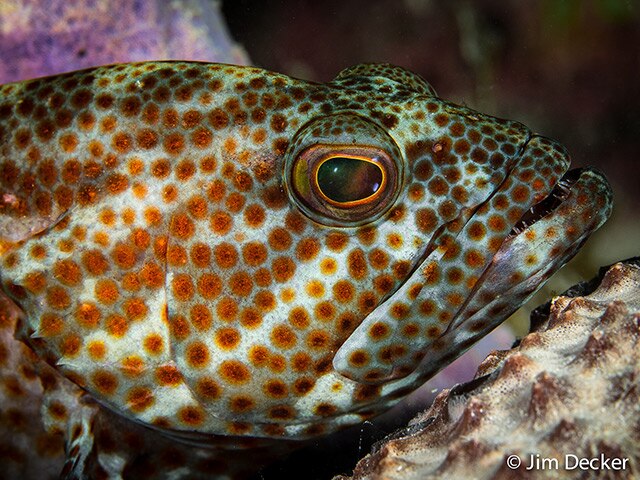 The Olympus 60mm macro lens is a versatile macro lens, being able to capture fish portraits like this grouper, down to super macro critters. The sync flash sync speed allows ISO 200, 1/320, F8
The camera has 4 custom white balance presets. With all the customization options, you can now assign custom white balance to one of the function buttons and have a true 1 touch white balance. After executing the white balance, you can then assign it to one of the 4 presets. The ease of process is unmatched in any of the Canon or Nikon SLR cameras. Having 4 presets at your disposal is more than any SLR except for the top end flagship models costing over $6000. We can only hope other camera manufacturers take note and include more presets in the future. One downside to executing a custom white balance is that it can't be done in video mode. You can pick one of the presets to use in code mode, but you cannot execute. For that you need to move over to photo mode.
Macro shooting with mirror less cameras is still a bit more of a challenge than shooting with an SLR. The longest macro lens available is the
Olympus 60mm
. While this lens is super sharp, the relatively short focal length equates to not much working distance, especially when using a wet diopter like a
Subsee +10 lens
. SLR's have almost twice the working distance, which is better for more skittish critters.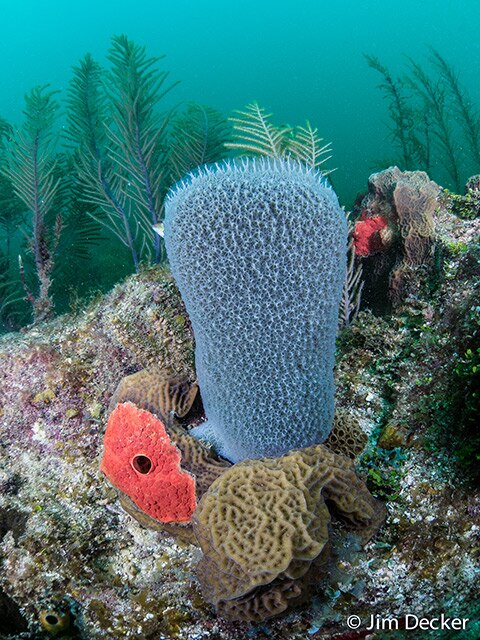 F8 1/100 ISO 200
Images shot with prime lenses look exceptionally sharp. Olympus removed the low pass filter on the sensor and added a new image processor in the
E-M1
, and the results are sharpness that meets or exceeds that from SLRs.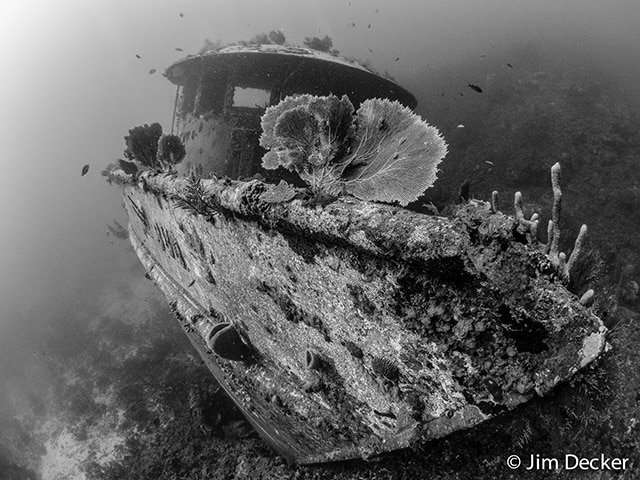 F8 1/160 ISO 400

Movie mode is unchanged from the E-M5. You still have the ability to shoot full manual video. We're a little disappointed that the video frame rate wasn't increased to 60p, but you can still get some great footage from this camera.

Overall, this is the best mirrorless camera we have seen to date.

Pros

Performance, sharpness, and image quality on par with or exceeds SLRs.
Best control set of any camera in this review, beats out most other higher end cameras.
1/320 flash sync speed
Cons
Larger body design leads to larger housings.
Custom white balance can't be executed in video mode.
Still waiting for longer focal length macro lenses for more working distance.

Still An Amazing Advanced Mirrorless Camera:
The Olympus E-M5
Camera, Housing and Port Holiday Special $1500
The Olympus
OM-D E-M5
brings professional level quality in a small package. Don't want to lug around an SLR, but must have excellent image quality and camera performance? Then the
OM-D E-M5
is for you. This camera has even made the professionals sit up and take notice. With its diminutive housing size and great low light capability, the
OM-D E-M5
is the ultimate travel rig, a great system for chasing after pelagics. The E-M5 features all of the advantages of the PEN series, and much more. When shooting with the
kit including the 12-50mm lens
, it is completely weatherproofed - perfect for shooting on the decks of boats and other wet situations. The camera's dual dials offer ergonomics and usability rarely seen in a compact system. Unlike the PEN series, you can directly access both shutter speed and aperture at the same time with dedicated controls. ISO can also be assigned to a function button. When you are changing ISO, the meter stays active so you can see your shutter speed, aperture, and EV value as the ISO is changed. This is huge for advanced shooters who tend to live in manual mode and need to make quick ISO changes in the middle of fast action situations.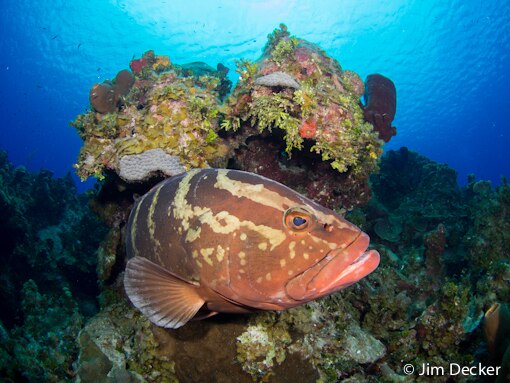 The OMD-EM5 allows for excellent image quality with smooth transitions in blue water backgrounds and plenty of surface detail. Taken with the 8mm Panasonic Fisheye. ISO 200, 1/200, f8
The E-M5's 16 Megapixel sensor is truly impressive, delivering gorgeous files even at higher ISOs. It's a great match for the excellent lineup of Micro 4/3 lenses available from Olympus and Panasonic. This camera can also deliver some great looking video, but will generally require the use of a color correction filter below about 30 feet. If you can dedicate a whole dive to ambient light wide angle video, you can get some very impressive results with great color. The video files hold up well in color correction in Final Cut X, so you can push it a little bit before introducing too much noise in post.
The E-M5's breakthrough five axis image stabilization makes a gigantic impact on delivering steady footage - definitely a feature that will make SLR shooters jealous. Stable video is a hard thing to do underwater and we'll take all the help we can get. This same stabilization also makes it possible to shoot stills at unheard of slow shutter speeds if you have a static subject. The stabilization is in the body, making the stabilization completely independent from the lens. Right now this is the best stabilization we have seen yet in a camera we have taken underwater.
Great lens selection and the high sensitivity, low noise sensor provide excellent image quality. Custom white balance works best in shallow water, and the addition of a Magic Color Correction Filter works great for deeper shots.
Two options are available for diving with the E-M5; the
PT-EP08
housing from Olympus, and the
NA-EM5
housing from Nauticam. Both housings offer an interchangable port system, giving you several options for lenses. The Nauticam housing is crafted from aluminum, quite small, and is aggressively priced compared to the company's other mirrorless housings. The
NA-EM5
housing allows the use of an electronic strobe connection, which is great for shooting rapid sequences of images as you are not relying on the camera's flash to recycle.
Most people who have picked up an E-M5 agree on one thing - this is a fun camera to shoot. Backscatter CEO Jim Decker had a chance to take the Olympus
OM-D E-M5
for a spin at the Digital Shootout last year, and he liked what he saw. Be sure to check out his impressions over on the
The Digital Shootout website
.
Pros
Performance and image quality on par with SLRs
Dual dials make it easier to adjust shutter speed and aperture independently
Great wide angle options
Cons
External flash requires housings to be larger than they could potentially be due to necessity of fiber optic connection
Electronic viewfinder still not as usable as a dedicated SLR prism-based viewfinder
Macro lens options do not offer long working distances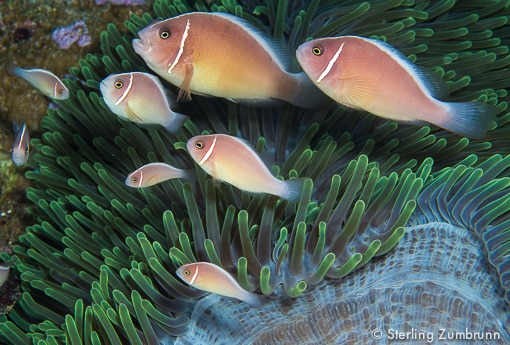 The 45mm Panasonic Macro lens is sharp and versatile optic that allows shooting slightly wider macro scenes all the way down to tiny subjects. Olympus OM-D E-M5, ISO 200, 1/160, f11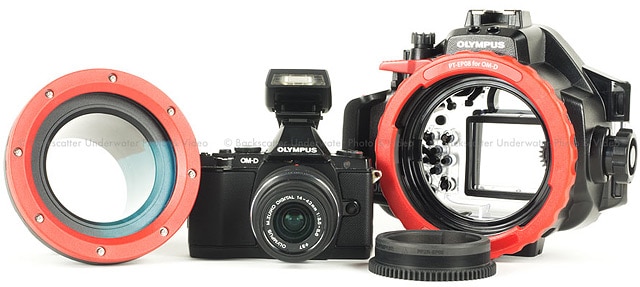 There's still limited quantities of an incredible
OMD E-M5 package
: the E-M5 camera, 14-42mm II lens,
PT-EP08
underwater housing, PPO-EP01 lens port and 14-42mm zoom gear. Don't miss this opportunity to get professional quality imaging in a small package, and at an affordable price!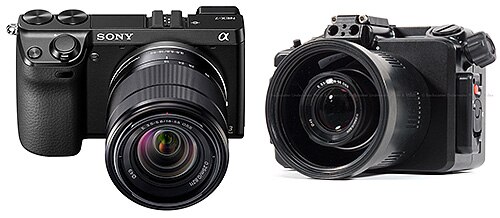 Runner Up:
The Sony NEX Series
Camera, Housing and Port starting at $2740
Sony has developed a really compelling alternative to the Micro 4/3 system, based on an APS-C sized sensor found in many SLRs. This large sensor delivers outstanding image quality, resolution, and low light capabilities, while the cameras themselves maintain a very small footprint.
The
NEX-6
and the
NEX-7
are the latest iterations of Sony's camera bodies for the NEX series with the
NEX-7
still holding the title of "powerhouse" of a camera featuring a 24 Megapixel sensor and Sony's "Tri-Navi" system that allows independent adjustment of Shutter Speed, Aperture, and ISO when using manual mode. The Nauticam
NA-NEX7
housing gives complete access to all of these controls in a very ergonomic layout. Both cameras shoot an impressive 1080p/60p video, but unfortunately the white balance suffers at depth.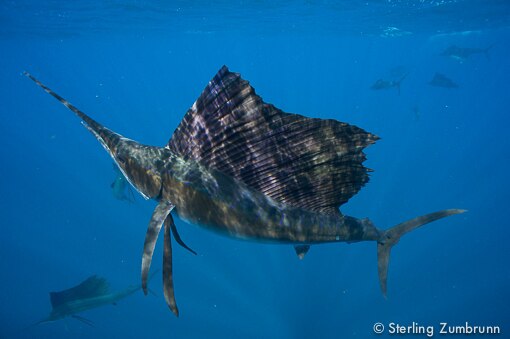 The NEX series is the ultimate rig to swim with when chasing pelagic animals. Its tiny size makes it incredibly streamlined in the water, and its large sensor size delivers great performance at higher ISOs. ISO 800, 1/400, f6.3
The NEX series offers some great lens choices, though not as diverse as Micro 4/3. The 18-55 kit lens offers a great range to shoot everything from semi-wide scenics, fish portraits, and macro with the use of an adapter that allows the use of close-up lenses such as the Inon 330. The
16mm pancake lens
is unique in that you can essentially get three options from one, all of which can be shot through the same dome port. The
16mm
can be shot on its own, for an equivalent of a 24mm mm lens on a full frame camera, or if you need to go wider, there is a wide attachment and a
fisheye attachment
. Both of these screw onto the lens. We were at first skeptical about this design, but after testing in a variety of settings, we found that the fisheye option delivers edge to edge sharpness that is just as crisp as options available for SLRs.
This sailfish video was shot using the NEX-5N and NEX-7 cameras and the 16mm pancake lens with the wide converter. The NEX-5N was used primarily for its superior video performance at higher ISOs. 60p video has more frames to work with, and is better suited to applying time remapping effects.
On the macro end of things, in addition to using a wet diopter with the 18-55 lens, there is also a
30mm macro lens
available from Sony that allows focusing down to 1:1. But lens selection remains the achilles heel of the NEX series, especially in macro. While the
30mm E-Mount lens
delivers excellent results for subjects such as fish portraits, its working distance is far too short to work well with skittish subjects, and doesn't lend itself to use with external diopters.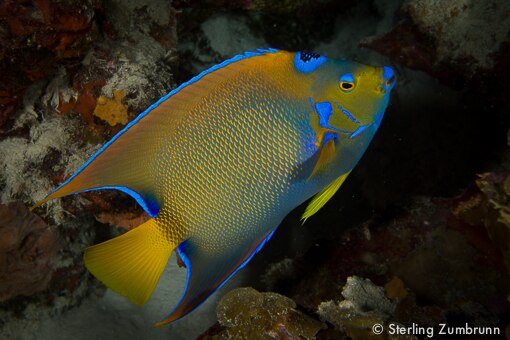 The Sony 30mm Macro lens is a great choice for fish portraits, but for smaller subjects, its working distance is extremely short. Sony NEX-7, ISO 100, 1/160, f7.1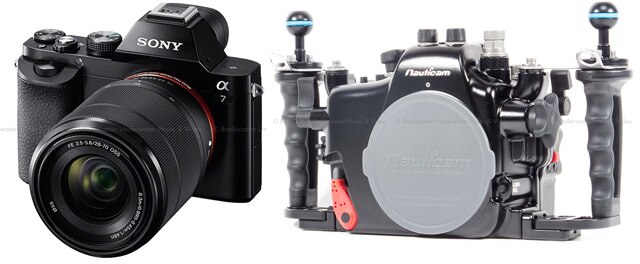 Full Frame Mirrorless:
Sony A7​ Camera with Nauticam ​NA-A7 Housing
Camera and Housing starting at $4550
Sony A7 camera $1700
Sony A7s camera $2500
Sony A7R
camera $2300
Nauticam NA-A7
Housing $2850
While many underwater image-makers are still shooting the relevant Sony NEX cameras, 2014 saw a change in nomenclature for this series of cameras from Sony. No longer called the NEX line, they are now referred to as Alpha, or 'A' for short. These mirrorless marvels still offer the superb image quality of the NEX cameras we all grew to love, and you can still use your interchangeable E-Mount lenses on the 'A' cameras, or your Canon lenses with an adapter. The Sony A7 offers three different models, all full frame sensors in a compact camera body fitting into the same
Nauticam housing
: the
A7
for 24 megapixels of full frame shooting better or equal to many DSLRs, the
A7s
optimized for the video shooter to capture 4K ultra high resolution, and the
A7R
which boasts a whopping 36 megapixels!
Our very own Jim Decker recently put the Sony A7s through its paces underwater. As a stand-alone rig or as a back-up rig for Canon DSLR shooters, the
Sony A7s
is a great full frame, low light performer in a small camera body.
Read his underwater camera review with images.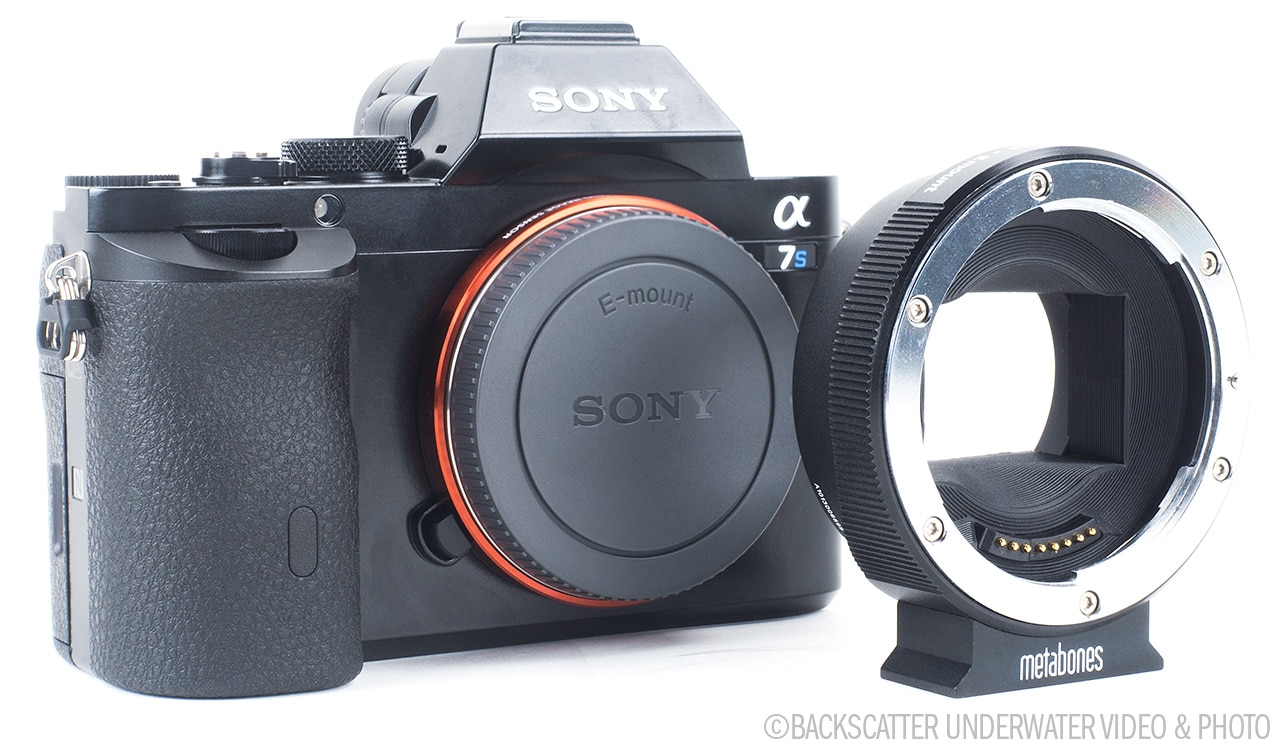 The Metabones adapter allows you to run all of your Canon glass with the Sony A7 Cameras!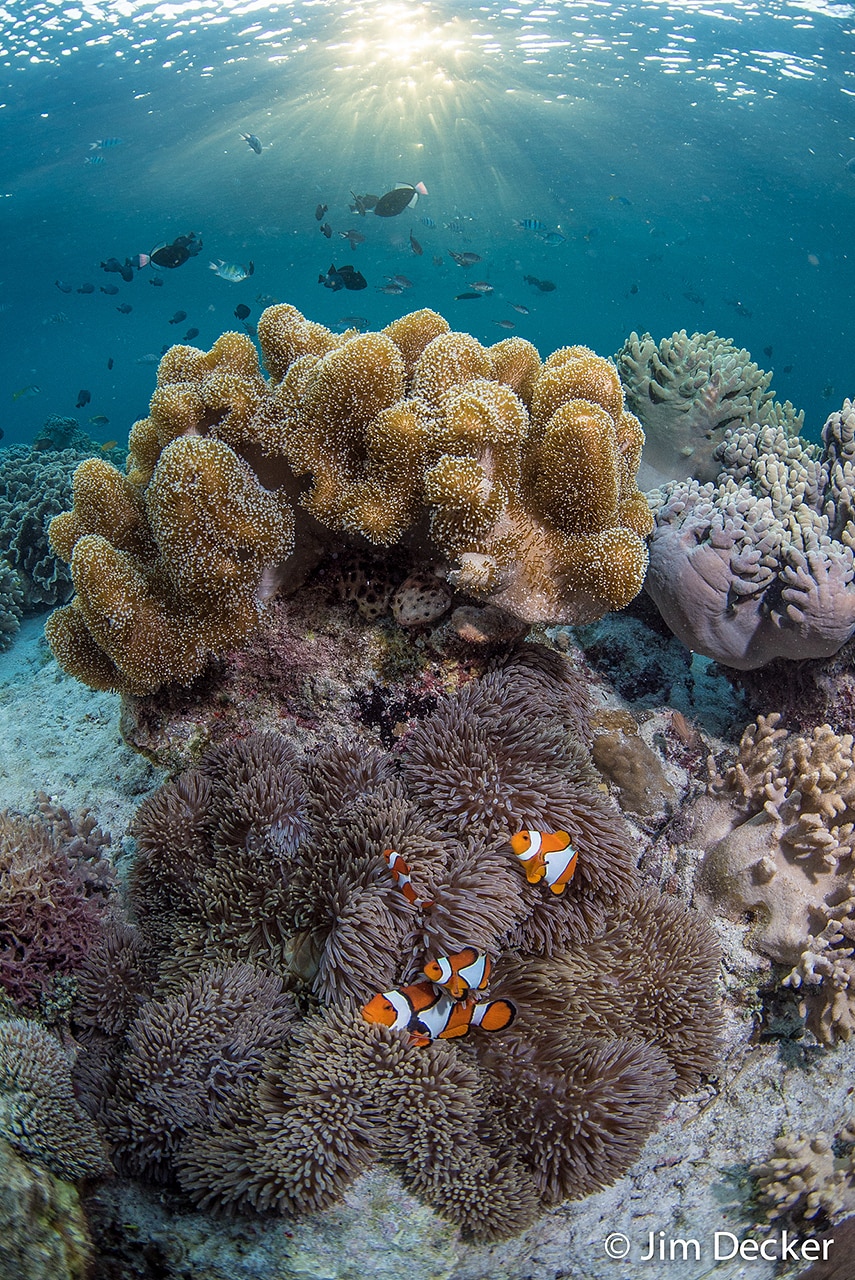 This image was taken a few minutes before sunset which required an ISO of 2500. Any hint of noise is virtually undetectable and the transition from bright to dark areas has no banding.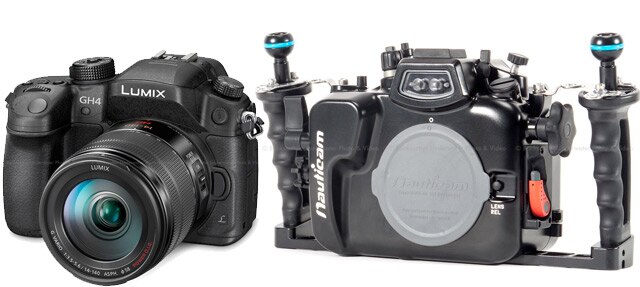 Cinematic 4K Video in a Compact Camera:
Panasonic ​GH4
Camera and Housing starting at $3695
Panasonic GH4 camera body $1700
Aquatica AGH4 Housing $1995
Ikelite Housing $1800
Nauticam NA-GH4 Housing $2250
Subal SGH4 Housing (Pre-Order)

The Panasonic GH4 can record video in Ultra HD at a resolution of 3840x2160 30p/24p or 4096x2160 24p. Standard HD resolution is only 1920x1080 making 4K four times the resolution of HD. This is why you might also hear 4K referred to as "quad HD". The GH4 is a very exciting camera as it goes head to head with the Canon EOS-1D C as a professional grade photo and 4K video system, but at a fraction of the cost. Both cameras offer the convenience of 4K recording direct to in-camera memory cards avoiding the bulky external recording units required on other cameras. The GH4 costs $10,000 less than a Canon EOS-1D C and is the only mirrorless camera that offers internal 4K recording. We feel the GH4 is a top pick for photo and 4K video enthusiasts on a budget or travelers that prefer a compact system. Read the Panasonic​ GH4 Underwater Review.

This Panasonic GH4 video was shot by Rusty Sanoian in Monterey Bay using the Nauticam NA-GH4 housing, 8mm Panasonic Fisheye lens and Olympus 60mm Lens with Nauticam SMC.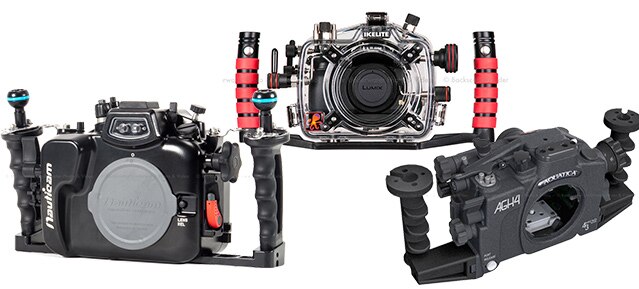 There are multiple housings available for the Panasonic GH4. The Nauticam NA-GH4, the Aquatica AGH4, and the Ikelite GH4 Housing.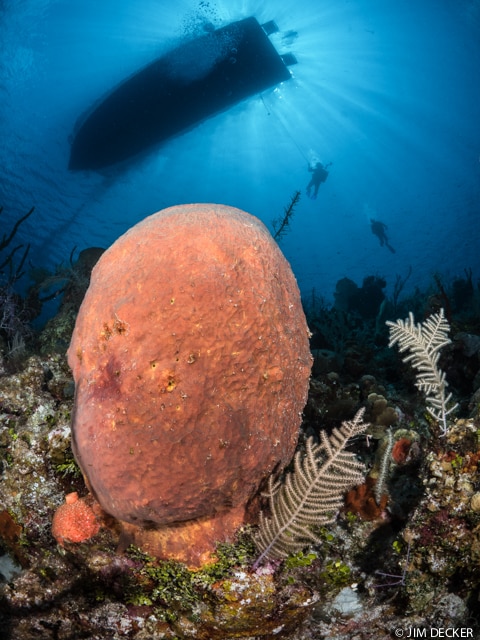 A faster sync speed of 1/250 allows the GH4 to capture sunbursts
and bright backgrounds and hold excellent detail.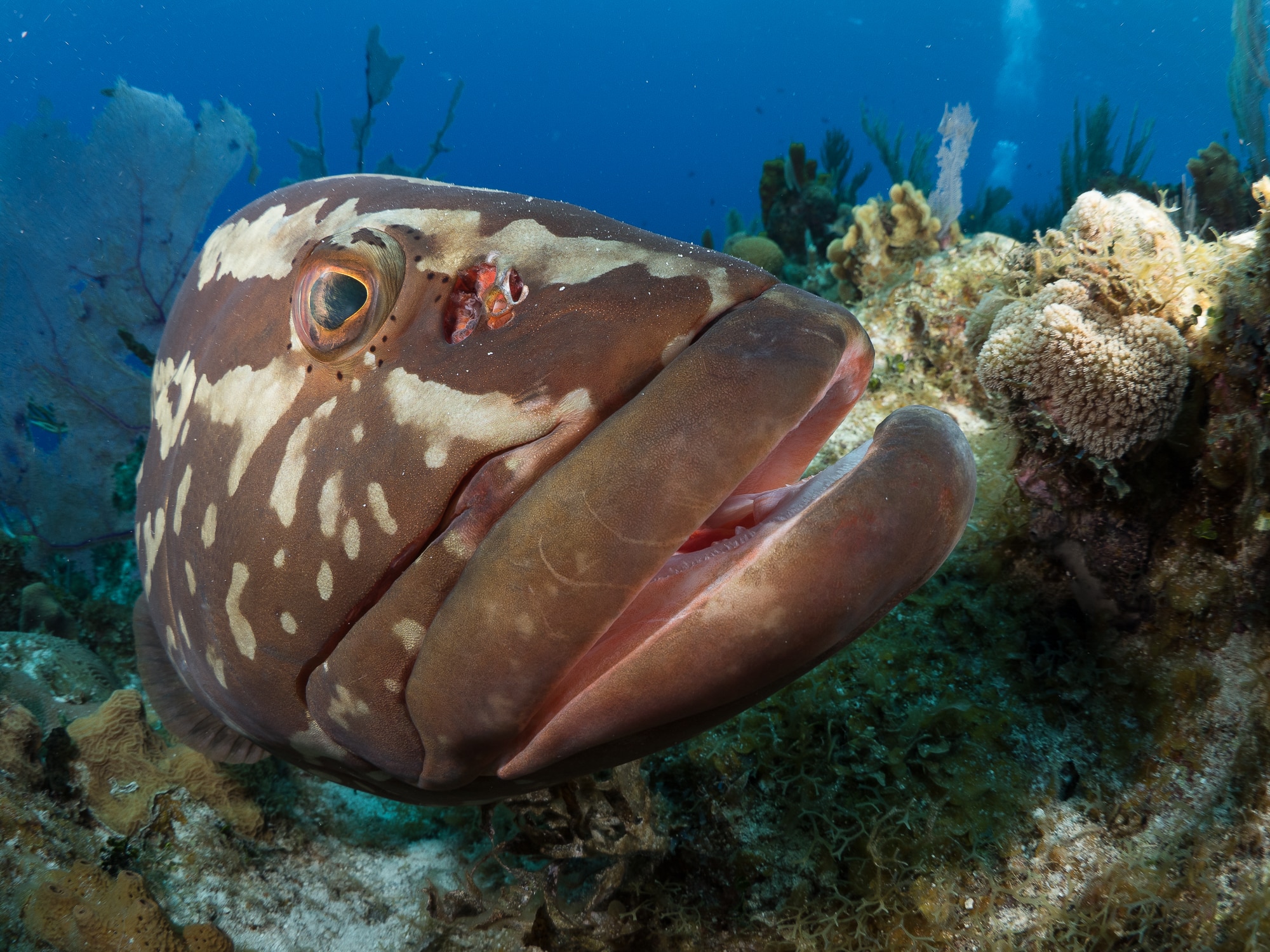 The small size of the Panasonic GH4 and 8mm lens lets a shooter get in super tight where other larger systems may not fit. © Jim Decker | DMC-GH4 | 8mm | ISO 200 | 1/125 sec at f / 8


For serious underwater videographers who don't want the bulk or the expense of a hefty ultra high definition rig, the Panasonic GH4 offers cinematic quality shooting in a travel friendly size that's easy on the wallet too. Capable of using both Panasonic and Olympus lenses, the GH4 is versatile in both wide angle and macro capturing. Our lens of choice for reef scenes and wide scenics is the Panasonic 8mm fisheye lens. For the ever-popular fish portraits, the Olympus 60mm lens will capture your macro swimmingly.

A note about macro shooting with compact and mirrorless cameras

For now, if you're a serious macro shooter who prefers photographing the tiniest of creatures, or likes using our MacroMate, then an SLR is probably going to be your best option. The longer working distance of SLR macro lenses allows you to be further away from skittish creatures, allowing you to get shots that unfortunately can't be made with compacts. The mirrorless cameras offer more hope and we know that Olympus has some longer macro lenses in the works. Currently, there really is no better route than to go with an SLR if you're really serious about macro. There are reasons why the compact class hasn't taken over the entire underwater photography industry, after all. But the strides that have been made in recent years are very impressive indeed, and the gap is now the closest it has ever been.



We hope you have enjoyed this in-depth survey of the underwater compact camera market. At Backscatter, our team is staffed with active divers who get out and shoot with all of the equipment that we sell. Our sales staff have direct experience with the gear you purchase with us, and are just a phone call away if you ever need help. It's that level of expertise that we put into this annual roundup of compact cameras so that we can share with you what we've learned, and why we recommend certain cameras over others. Please support the development of more content like this by purchasing your gear from us.