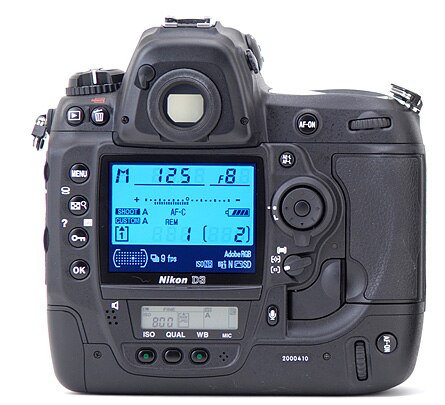 NikonD3: new high resolution wide screen monitor
My toes were on the edge...
I thought I was about to jump. I've been flirting with Canon. In fact I'd flirted so hard I'd made a plans to dump my Nikon gear within 6 weeks. My new underwater photography ideas need high ISO and my
Nikon D2x
was letting me down at ISO 400. I loved Nikon color, user ergonomics, and LCD display, but had lost hope as my needs drifted to higher ISO's. I played with a
Canon 1D mkIII
over the last 6 weeks and had fallen in love. Then yesterday Nikon delivered a preproduction D3 to my door. I'm unable to discuss image tests at this time, but suffice it to say that I've stepped away from the edge with a big new grin on my face. My next underwater camera will be a Nikon D3. Wow... Nikon is clearly back in the game.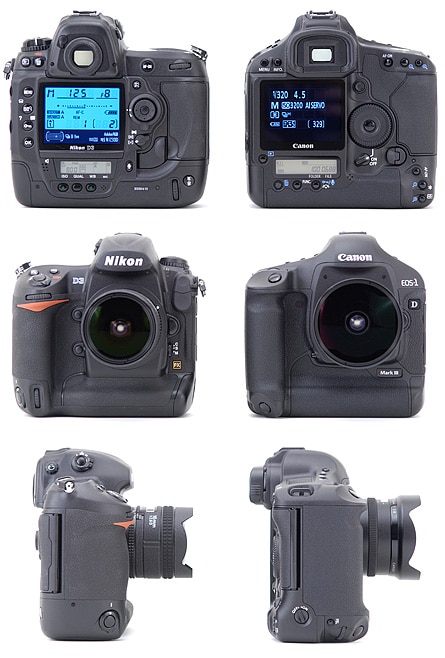 NikonD3 vs. Canon 1D mkIII
Nikon D3 underwater housing test fit
We installed the new Nikon D3 in both Subal and Aquatica
Nikon D2x
underwater housings. It was close, but the Nikon D3 will require housing manufacturers to modify both the main housing body and the rear plate. On both models, we had to remove the camera tray guide pins to accommodate the slightly wider base of the D3. The D3 prism is taller and extends further to the rear than the D2x. Thus, we couldn't install the rear plate on either housing.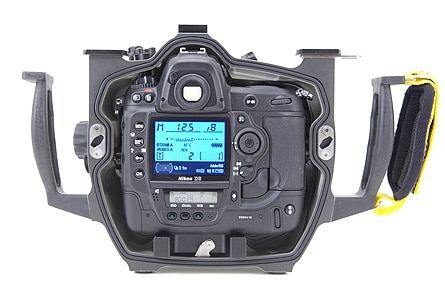 NikonD3 in Subal D2x Underwater Housing - rear view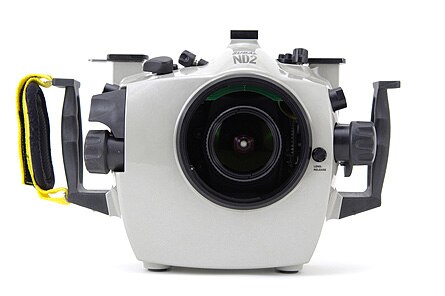 NikonD3 in Subal D2x Underwater Housing - front view
Successful Alignments
The shutter release and sub command dial worked perfectly on both housings. The Mode and Exposure Compensation buttons are higher on the D3, but both housings operated these controls. The Power On/Off/Light control worked intermittently and should only require a slight adjustment.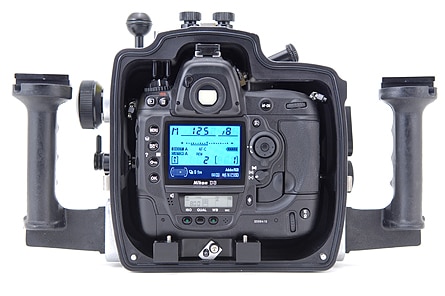 Nikon D3 in Aquatica D2x Underwater Housing - rear view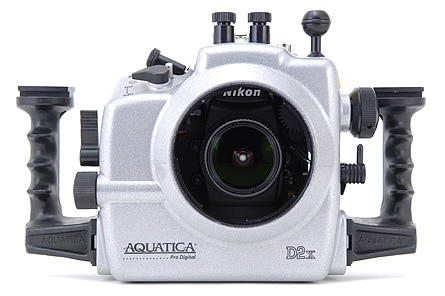 Nikon D3 in Aquatica D2x Underwater Housing - front view
Misalignments
The top left control cluster (BKT, L, Flash, Mode Dial) on the Nikon D3 is taller than the D2x and positioned slightly back. The Subal controls were almost too tight on this side and both housings will need new positions for these four controls. The MSC control is lower on the D3, but the lens release is close to the D2x position. Further, the tight design of the Subal will not allow it's existing hot shoe connector to install, but this is easily remedied with a new connector. It appears that the Aquatica lens alignment is slightly off, but this is just by eye and was not measured.
Unverified Controls
Since the Nikon D3 viewfinder extends further off the back of the camera, we were unable to install the housing rear plate or verify these controls. Regardless, the larger LCD monitor and repositioned controls on the back of the D3 will warrant a new rear plate.
NikonD3_liveview.jpg' alt="Nikon D3 Underwater - Liveview underwater"/>
Nikon D3 in Liveview Mode - should work for underwater macro
Liveview Shooting Underwater
The first point and shoot digital cameras used a large LCD monitor for composition and made photography much easier. Pro shooters have been begging for this feature on a large chip SLR camera. Sometimes it's impossible to have your eye against the viewfinder to get the composition and a LCD might allow you to float above the camera and still get a perfect image. The
Canon 1D mkIII
implementation might be fine for news reporter grab shots, but the high resolution LCD on the Nikon D3 is so refined that it might become the first camera to ever deliver critical focus to macro and scientific shooters. The LCD monitor on the Nikon D3 is clearly the best display I've ever seen on a digital camera. It's not so great that you'd avoid the viewfinder, but I'm certain it will reshape what is possible with a handheld SLR and will certainly provide a functional system for underwater macro use.
Upgrade vs. New Housing
It's theoretically possible for underwater housing manufacturers to upgrade an existing
Nikon D2x
housing to a Nikon D3 (or a D200 to a D300), but it would require a new camera tray, rear plate, and loss of controls in the front section. The design time they put into an upgrade effort is time not spent on a new fully featured housing. If they have existing stock of the original design, they'll be motivated for the upgrade path, but this is less likely with current manufacturing methods. Regardless of their existing stock of previous models, they must get a full featured housing to market as soon as possible.
Industry Perspective and Rants
As with underwater housing manufacturers, my business (Backscatter) pays it's bills from sales of new and used photo gear. New underwater photographers assume that folks like myself and manufacturers want planned obsolescence. This might be true in mainstream (above water) industries, but not the custom underwater imaging industry. We're crushed to learn a new camera design requires major revisions, consume significant engineering resources and delay sales for months. For example, if the
Nikon D300
dropped into an existing D200 production unit, everyone in the underwater photo industry would be popping bubbly and planning their next vacation right now and not looking at a very big hill to climb this fall. We all celebrate change for better quality and user experience, but change pains underwater housing designers just as much as the end user. In it's underwater heyday, Nikon was the only manufacturer dedicated to underwater and had a full team of engineers working on cameras and optics. Today small plastic point and shoot housings are prolific and jobbed out to contractors for less, but pro level SLR solutions are designed mostly by tiny teams of 1-5 engineers with small budgets. Change is good if you have the resources to take advantage of the situation. Change is bad when the industry changes faster than your resources. I know many underwater housing engineers and salespeople that would love to hear that the next camera model will fit the old camera model. It's not underwater photographer vs. housing manufacturer. It's all underwater photographers vs. topside camera manufacturers.