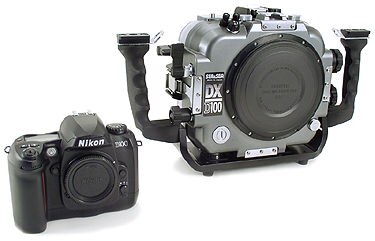 Testing Grounds: The Digital Shootout - Bonaire
I had already boarded the plane to Bonaire and it wasn't in my case. Ron Pavelka, the new GM at Sea & Sea, was trying with all his might to get the first
DX100
housing to me in time for my departure for the Digital Shootout, but the housing was still snuggly packed in a cargo plane somewhere above the Pacific. Sure I had plenty of gear to shoot, but I had my heart set on putting the
DX100
through its paces in the crystal blue of Bonaire. I knew it would have no problem with macro, but I really wanted to see how it performed in the digitally challenged areas of highlight detail and smooth bluewater backgrounds.
Dan Baldocchi, of Light & Motion, and I were leaving early to get everything setup for the Shootout. I had plenty to keep me busy, but my mind kept sinking into the downer of just missing the chance to use the new housing. After a few days, I went to the Bonaire airport to greet the second wave of Shootout staff and tapped my toes waiting for them to clear customs. Once I recognized their travel weary faces and got the thumbs up that the
DX100
had indeed made it on the plane I quickly threw their bags in the van. Once we made it back to Captain Don's Habitat, I was looking for help unloading the bags and realized I had left them all at the airport curb. :-)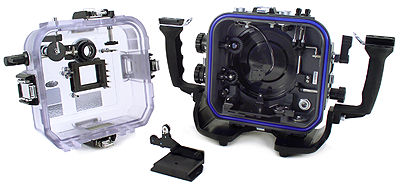 Sea & Sea DX100 Housing
I had played with a display housing a few weeks earlier at DEMA, but this was a production model. I didn't recognize any differences between the two housings other than a lack of greasy fingerprints on the new model. Overall, loading of the camera and operation in the field went very smoothly. Below I have identified key features and my user opinion.
Installing the Camera
As with previous Sea & Sea SLR housings, the camera is mounted to a removable quick release tray that requires one to align the MSC focus control with the gear driven actuator on the tray. The instructions were back in California, but who reads those anyway. I quickly discovered that you must remove the clear plastic LCD protector to allow the camera to install correctly. Sea & Sea also recommends that you remove the rubber eye cup prior to installation. Failure to do so will reduce your viewfinder image size and interfere with the mode control.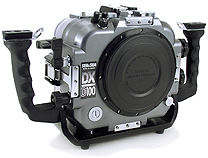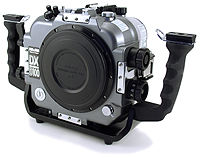 Controls
All of the controls were smooth and functional. Older Sea & Sea SLR housings suffered from a stiff sub command dial (aperture wheel), however the
DX100
was silky smooth and the new style focus lock was well positioned. Unfortunately, the general placement of the main controls requires you to remove your hand from the handle to make some adjustments. This design made it a little slower to execute shutterspeed and aperture changes on the fly. The housing does allow you access to all controls that I feel to be essential for underwater work except for meter pattern. I infrequently change meter pattern, but prefer to have the option at all times. The additional controls that are not available include depth of field preview, shooting mode (motordrive), and the focus area lock switch. Access to these controls is rarely needed, but it's nice to have if you accidentally install the camera with the wrong settings.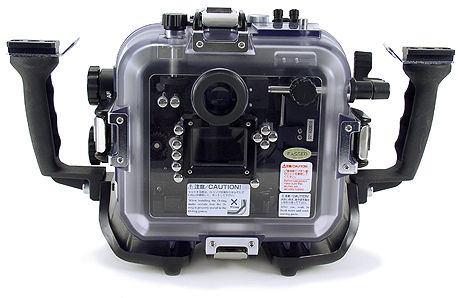 Viewfinder Size
Probably my only serious complaint is the incredibly small viewfinder image. With my low profile mask pressed against the housing, I still couldn't see the entire image area without moving my eye around the circumference of the finder. While this problem is certainly due to the small and dark N80 style viewfinder that Nikon designed into the D100 camera body, the housing really needs an optic designed to make the best of the situation. I found it to be adequate for static shoots, but difficult for fast action shooting.
Plastic vs. Aluminum
Overall, the
DX100
is a far departure from the existing Sea & Sea architecture. Whereas previous housings were compact and cast aluminum, this new housing is an oversized plastic shell designed to accommodate many different camera models. The factory will not need to design a new casting every time a new camera comes along, but simply change the placement of the camera tray and controls. This should allow Sea & Sea to be quick to market and also reduces the final cost.
Weightless Wonder
When I first jumped in the water something just didn't feel right. I've been diving for 20 years, but I was off balance in the water and feeling a little light. I had successfully avoided the bar on the way to the dock and was sure I didn't leave some lead in my locker. Then I realized it was the new housing. I had grown so accustomed to dragging around my overweighed F5 housing and the new
DX100
was just about perfectly neutral. I threw it into the water in front of me and watched it sink ever so slightly. If I let go of my F5 system, it will beat me to the bottom every time. Later, on my next trip to Guadeloupe Island, I was shooting without strobes and found the housing to be too positive. One will want to add about a pound or two of lead when shooting without strobes.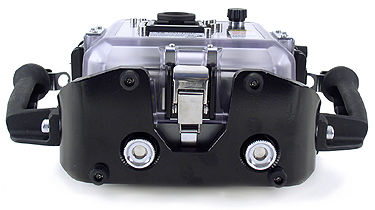 Latch System and Seals
Being a long-term user of Sea & Sea housings, I have always enjoyed the simplicity of two or three latches to secure a closure. The new larger design of the
DX100
requires the use of four spring latches. While they are easy to open and close, I found it a bit awkward to remove the rear plate from main body. I quickly discovered the best method was similar to a technique I used with the old Aquatica F3 housing. Begin by opening all latches and then close them without hooking the strike on the main housing body. This will prevent the latches from hanging up on the strikes when you attempt to remove the rear body. Once practiced, it becomes simple.
I was surprised at the size of the main body o-ring. Wow, it's FAT! So fat that it's a real dream to work with. Easy to remove, clean and replace. Although it's a comment on the housing's overall bulk, it's much nicer than the scrawny little strands we have become accustomed to and especially if you are suffering from tired old eyes.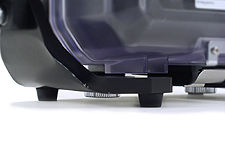 Little Rubber Bumpers
While it might be a small point to some, I like the little rubber feet that were thoughtfully installed on the bottom of the housing. If you frequent the rocking boats or swerving dive vehicles that most encounter, you might also appreciate these frictional components. Even your boat crew might thank you. If nothing else, it will keep a frequently used housing from looking like it was caught in the prop.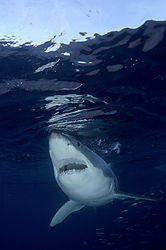 TTL vs. Manual Strobe Technique
The
DX100
housing is configured for manual strobe use and lacks the extra hotshoe pins required to shoot TTL. Personally, I find this to be insignificant since the D100 camera itself does not allow for TTL unless connected to a digitally dedicated Nikon land strobe such as the SB-80DX. Given the name D-TTL, Nikon's proprietary auto strobe system is only available for underwater you use a D-TTL enabled land strobe in a housing such as the Seacam model for the SB-80DX.
While some fear loosing their TTL system, I find it easy to adapt to and see it as the real advantage of shooting digital. While you might have less of a chance to get a grab shot, you have ultimate control over your strobe exposures. Just like having a Polaroid proof underwater, you simply shoot, review, adjust, and shoot again. Personally, this is my primary reason for shooting digital over film.
For the Great White Shark image above, the low evening light required the use of a strobe. I was trying to pull in a little ambient light and was forced to shoot at 1/60th at F3.5 with the
Nikkor 16mm
lens. I performed a quick strobe test on a buddy in the shark cage that would approximate the distance that the sharks were passing. While it is a little hotter than I would like, TTL would have completely overexposed the shark. The manual control on the Sea & Sea
YS-90DX
strobe was very helpful in powering the strobe down to such a low output.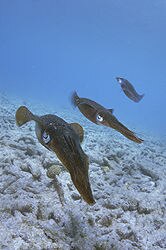 Lens and Port Selection
As I mentioned in my D100 review, the D100 is built around a smaller CCD sensor than standard 35mm film and crops the edges of all lenses by a factor of 1.5x. For this reason, I used the widest lens available, the
Nikkor 16mm
full-frame fisheye, for most of my D100 wide angle shooting. The 16mm produced the effective focal length of a 20mm lens when used on the D100. I also used the Nikkor 17-35mm zoom for smaller subjects (small reef scenes to softball sized subjects). Sea & Sea's large fisheye dome port worked very well with each of these lenses. When the 17-35mm lens was used, I added an extension ring (Extension Ring 40) to extend the port from the housing body.
When shooting a full-frame film system it is critical that you match the exact port extension with each lens for optimal corner sharpness. Since your corners are effectively cropped with the smaller digital format, this potential problem area is eliminated from the frame and your port selection becomes much less critical. For the
DX100
housing, I still recommend Sea & Sea's larger Fisheye Dome over the much smaller Compact Dome when using lenses 20mm or wider.
When shooting macro, I would recommend both the
Nikkor 60mm
Micro and 105mm Micro lenses. When shooting film, I shoot the 105mm almost exclusively. Once you add the cropping effect to the 105mm lens it becomes a 160mm lens. While this is fantastic for small skittish critters, it can force you to back up too far for larger subjects such as reef fish. Backing up will put more water between you and your subject and produce images with decreased sharpness. For this reason, the 60mm lens (90mm effective) becomes a much more versatile selection. I recommend the Sea & Sea Custom Flat Port for both of these macro lenses. It provides the option of installing both a manual focus and auto/manual selector gear. With these two gears, you can change between auto and manual focus during the dive. I feel manual focus is a must for extremely small subjects. The 105mm lens will also require the use of the Extension Ring 40.
Housing Price $1950 (without ports)
Overview
Just as Sea & Sea was the first to get out a D100 housing, their choice of construction may just maintain their lead as the first to market on newly released digital SLR's. Their choice of plastic will also keep the prices down. If you are like myself and plan to upgrade your digital SLR as the technology advances, you might find the Sea & Sea to be the most economical way to keep up with the times. The most expensive investment continues to be my bag of lenses and box of housing ports. This relatively inexpensive housing would offer an easier justification to upgrade bodies within a year or two. Simply transfer you lenses and ports to the next significant body and housing offering that comes along. Keep your assets... well, uh ... liquid. If you're already a Sea & Sea housing owner you'll be happy to know that all of your ports and gears will transfer over to the
DX100
.
PROS
$1000 less than Light & Motion and Subal.
First D100 housing available.
Neutrally buoyant with strobes and arms.
Good control selection.
Nice feet.
CONS
Large size.
Positively buoyant without strobes.
Small viewfinder image size.
Purchasing a Housing
Our initial supply of housings will be limited through spring of 2003. If you would like a housing for early summer diving plans, please let us know so we can place you on our priority list. We are also maintaining a stock of D100 bodies and accessories. If you have any questions on digital SLR systems please don't hesitate to drop us an email or call 831-645-1082. We are open 7 days a week.
DX100 Housing Rental / Demo
Due to the limited availability of these housings, we are only renting the
DX100
for local day use. Once housings are in full supply, we will open the
DX100
to our regular rental department.
Specifications
Housing Model: Sea & Sea
DX100
Fits Camera Models:
Nikon D100
Dimensions: Body 10"W x 8.5"H x 5.75"D, with handles 15"W
Weight: 5.5 Kg / 12.13lbs.
Buoyancy: Positive without strobes / Neutral with strobes
Depth Rating: 200 ft.
Body Material: Front Shell: ABS Resin, Rear Shell: Polycarbonate
Color: Gray / Black / Clear
O-ring Seal Type: Main: Face Seal, Port: Bore Seal
List of Controls: Power On/Off, Shutter Release, Main Command Dial, Sub-Command Dial, Shooting Mode Dial, LCD Illuminator, Flash Sync Mode, Exposure Compensation, Focus Mode Selector, Exposure Bracketing, Flash Exposure Compensation, AE/AF Lock, Monitor, Menu, Thumbnail, Protect, Enter, Delete, Multi Selector
Controls NOT Available: Meter Pattern Selector, Focus Area Lock Switch, Secondary Shooting Mode Dial Controls (Single Frame, Continuous, Self Timer), Depth of Field Preview, Speedlight Lock Release, Lens Release, Viewfinder Diopter Adjustment
Moisture Alarm: Yes, LED
Internal Strobe Useable: No External Strobe Connector: (2) Nikonos Style (Manual Only)
TTL Compatible: No
Warranty: 1 year
Document Info
Title: First Dives with the Sea & Sea
DX100
Housing for
Nikon D100
Date: 12/1/2002
Author: Berkley White
Location: Bonaire / Guadeloupe Island
Equipment: Sea & Sea
DX100
Housing,
Nikon D100