The Sony RX100 is our favorite underwater Point and Shoot camera of the year featured in our in-depth article The Best Underwater Compact Cameras for 2013. Be sure to check out the full article to see how the Sony RX100 stacks up to other underwater cameas on the market today.
Sony has created one of the most exciting compact cameras in years with the RX100. This diminutive camera is a remarkable piece of engineering that delivers outstanding stills and full 1080p video in a sleek, elegant package. Featuring a very large sensor size, the Sony RX100 has the best of all worlds, with class leading performance and extremely high image quality. Thanks to that large sensor size, the RX100 sports a stunning resolution of 20 megapixels and still maintains great low-light performance.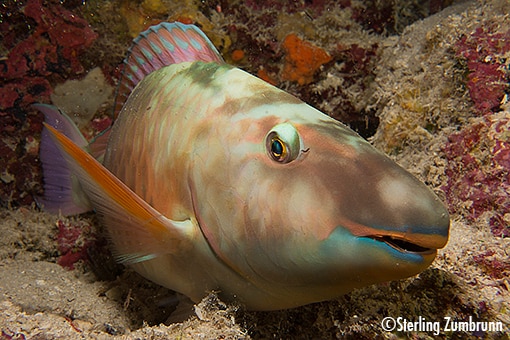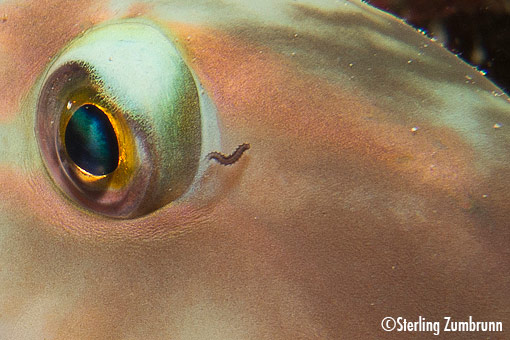 The stock lens of the Sony RX100 is equivalent to 28-100mm on full frame camera. This performs admirably for a wide variety of subjects, such as fish portraits. The cameras's 20 megapixels resolves an astonishing amount of detail, as shown in the 100% crop.
ISO 100, 1/160, f7.1
Ergonomically, the Sony RX100 resembles the tried and true designs from the Canon S series, featuring a ring around the lens that can be programmed to control aperture, zoom, focus, and more. Similar to the
Canon S110
, the camera also has a rear dial that can control other functions, so the shooter can independently control shutter speed and aperture in manual mode. Unlike the S110, TTL flash exposure is available while shooting the camera in manual exposure mode. The lens is 28mm equivalent at the wide end making it a great match for accessory lenses such as the outstanding
FIX
UWL-28
Compact Wide Lens. This lens allows an extremely wide angle 165 degrees of coverage, and is quite sharp across the frame.

Three housing options are available for the RX100, the
Ikelite Underwater Housing for Sony Cybershot RX100
, the
Recsea WHS-RX100
, and the Nauticam NA-RX100. The
Ikelite Underwater Housing for Sony Cybershot RX100
represents an affordable option for housing this camera, and the Nauticam NA-RX100 is our favorite for its balance of price and outstanding ergonomics.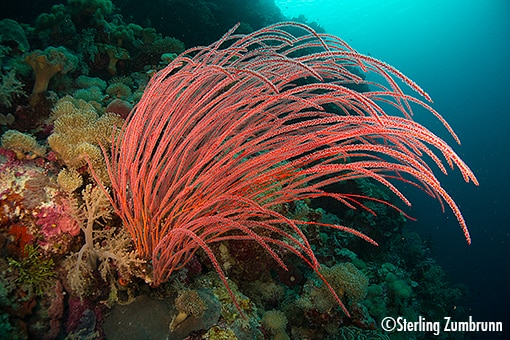 The Sony RX100 performs very well when using the FIX UWL-28 wide lens, allowing very close focus, thus eliminating water between you and your subject. This image was shot with Keldan Luna 8 video lights, requiring a higher ISO which the RX100 handled nicely.
ISO 400, 1/160, f5.6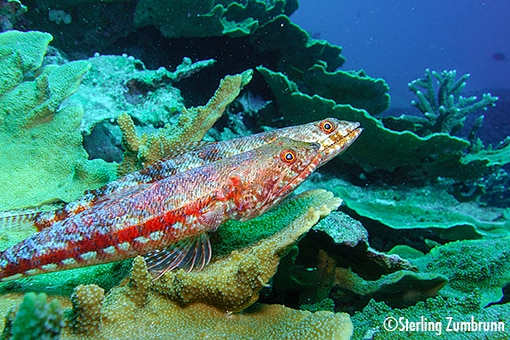 After years of SLR shooting, using wet lenses was one of my favorite features of the Sony RX100. Removing the UWL-28 wide lens to go semi-wide when photographing more skitish critters like these lizardfish while on the same dive gives an unparalleled level of versatility. ISO 400, 1/160, f8
The Sony RX100 does not have a dedicated Macro mode, and must be zoomed all the way wide in order to achieve close focus. This provides a reasonable option for shooting small criters, but most users will find themselves hitting up against the limits of the camera's internal magnification. Fortunately, accessory lenses such as the
SubSee Plus 5
and
SubSee Plus 10
can be added to the front of the housing in order to achieve closer focus. One downside of the Sony RX100's large sensor is that focus must be much more precise. But the RX100 makes it a simple matter to switch between auto and manual focus, so it's possible to lock focus and then move the camera in order to achieve maximum sharpness. Fortunately, the high resolution screen makes it easy to see critical focus. The camera's front ring can also be configured to drive "fly by wire" manual focus adjustments, but this requires long turns in order to cover the camera's full focal range. Like Sony mirrorless cameras such as the
NEX-5N
and
NEX-7
, The RX100 features focus peaking which can be a useful aid when dialing in manual focus. In general, sharpness in the corners when shooting macro is a bit disappointing. But given the Sony RX100's incredible 20 megapixels, there is plenty room to crop.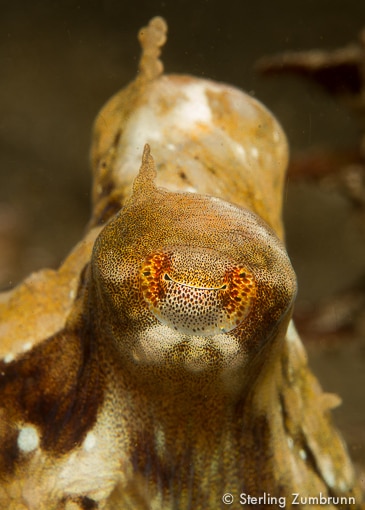 The built in macro capabilities are somewhat limited on the RX100, but using a SubSee Plus 10 diopter, you can get quite close to your subject.
ISO 100, 1/125, f11
On the video side, the Sony RX100 is an extremely interesting camera. With a class-leading 60p frame rate at the full 1080p resolution, the camera's specs make even an SLR shooter jealous. The footage can be slowed down to half speed at 30p, and with in-camera optical stabilization, the RX100 can deliver some extremely smooth looking footage. Video capture can be initiated when shooting in any still camera mode, but the RX100 reverts to Program mode and picks the best settings for the current situation. A dedicated movie mode allows complete manual control of shutter speed and aperture, though this must first be configured in the menu. Unfortunately, not only is one-touch white balance missing, custom white balance must be executed while the camera is in a still mode, and then can be assigned once back in movie mode, which is a bit cumbersome. One of our favorite ways to set white balance is to dial in the Kelvin temperature to the maximum of 9900, and then customize the tint based on the depth we are shooting. This worked pretty well, and delivered good colors, especially with lights. The Sony RX100's video performance is so exciting, that Nauticam developed a special version of their housing, the
NA-RX100V
, to allow the attachment of an
external monitor
to allow a larger and more detailed feed from the camera.
The Sony RX-100 delivers impressive results when shooting video, especially when used with a powerful light source like the Keldan Luna 8 Video Lights. Built in optical image stabilization paired with a 60p frame rate makes for a powerful combination.
Our friend Nick Jackson took this awesome manta footage with an RX100 in a Nauticam NA-RX100 housing at Misool Eco Resort, in Raja Ampat, Indonesia. The rig is very small and easy to swim with, making it easy to keep up with large pelagic animals.
All in all, the Sony RX100 is one of the most interesting cameras of the year. Considering the performance it offers though, we think it's the breakthrough the compact camera market has been waiting for. For the shooter that wants to go as streamlined as possible, with manual control, and the best quality available today, the Sony RX100 is our favorite point and shoot camera of 2013.
Pros
Large 1" sensor for superb image quality and low-light performance
Stunning 20 Megapixel Resolution
Class-leading 1080/60p video with optical image stabilization
Cons
In camera-macro is limited; doesn't focus as close as other cameras in its class
Large sensor leads to shallower and less forgiving depth of field
No way to execute custom white balance in movie mode, must jump to photo modes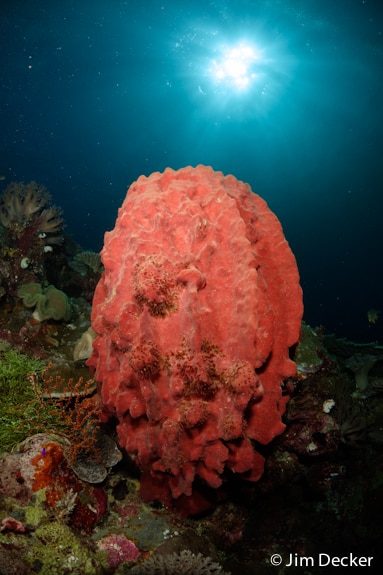 The large sensor, super fast flash sync speed, and excellent image quality makes it possible for the Sony RX100 to capture SLR-like sun ball shots. Shot with the Fisheye Fisheye FIX UWL-28 wide angle lens. Sony RX-100, ISO 400, 1/2000, F9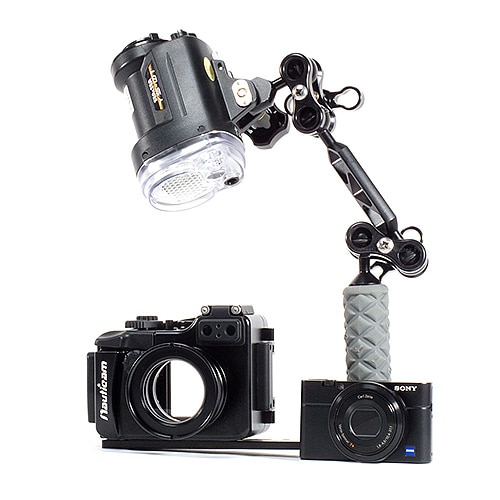 Backscatter is your expert source for taking the Sony RX100 underwater. From housings, to accessory lenses, to complete lighting packages for shooting stills or videos with the RX100, we have you covered. Click on the links below to check out the camera, housings, and our custom packages or give us a call to speak with one of our specialists to configure the ultimate Sony RX100 underwater rig.
Sony RX100 Camera
$650
Ikelite Underwater Housing for Sony Cybershot RX100
$400
Recsea RX100 Housing
$899
Nauticam NA-RX100 Housing
$950
Backscatter Recsea RX100 Housing, Camera, and Strobe Package
$2275
Backscatter Nauticam RX100 Housing, Camera, and Strobe Package
$2326
Editor's Note: In late June 2013, Sony announced a new version of the RX100, the RX100 II. Rather than replace the RX100, the new model has been launched alongside it with more advanced features and a higher price point. Significant new features include improved low light performance, a dedicated hot shoe, and a tiltable LCD screen. Manufacturers will continue to build housings for the RX100, and they are looking at developing redesigned housings for the RX100 II, as the dimensions of the new camera are slightly different from the original. As soon as we get our hands on the RX100 II, we will update this article with our findings.