Black & White Conversion - Lightroom Tutorial
Q:
It was such an exciting moment when I took this shot, but the picture itself looks dull. How can I make it more dramatic?
A:
Convert it to Black and White, and knock out the background to add intensity and drama.
There are tons of ways to get Black and White images, but to make the picture great, it must have at least some pure black and pure white. Using only Lightroom, I'm able to completely drop out the background while keeping the subject properly exposed. This technique works best with a blue water background and a subject lit with at least a teensy bit of strobe. It's an amazing transformation.
(Runtime: 7 minutes, 03 seconds)
Software Covered:

View the Quick Fix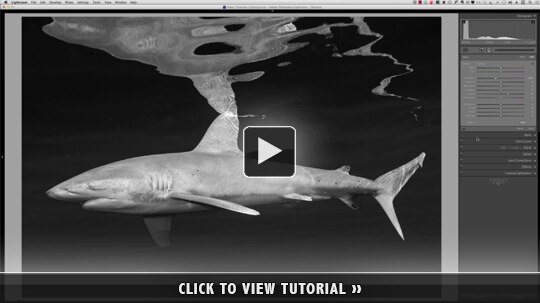 View Before and After of the Image (click image to enlarge)


GoAskErin
, is a feature brought to you by Backscatter - Underwater Photo and Video. Erin Quigley, our Lightroom and Photoshop guru, reveals her favorite tips and techniques in our bi-monthly series of online video tutorials, using images chosen from viewer submissions.

Erin Quigley
is a Adobe ACE certified digital imaging consultant specializing in customized workflows and editing strategies using Adobe Photoshop and Lightroom. She is an award-winning underwater photographer and video editor, and creator of GoAskErin.com, which provides one-on-one instruction, custom video tutorials, and Photoshop and Lightroom resources specifically developed for underwater shooters.