SAVE 40-50% ON OUR FAVORITE UNDERWATER GEAR!

---
This holiday season we're offering some unbelievable deals on the hottest gear every underwater photographer wants! Whether you're shopping for essential GoPro accessories, cameras, underwater housings, or incredible lighting packages, we have gifts for every budget, to make your underwater image-maker smile from ear-to-ear!
SMOKING HOT DEALS

---

With 2500 lumens, a 90 degree beam, and 60 minute run time, the Light & Motion
Sola 2500
is the perfect companion for a GoPro or a compact camera system. Originally $699 this light is available for a limited time for only $399!
MSRP $699.00
Sale Price $399.00
You Save: $300.00
LIMITED SUPPLY


The
Sola 2500
Dual Video Light Package is an excellent combo for the GoPro and other compact camera systems. With dual video lights, you will be able to cover a larger area with very even light. This package will sell-out fast, so don't miss this awesome deal!
MSRP $1,554.98
Sale Price $799.00
You Save: $755.98
LIMITED SUPPLY


TOP LEVEL MIRRORLESS CAMERA SYSTEM PRICED AS LOW AS A COMPACT
The Olympus OM-D E-M5 Mirrorless Camera and Underwater Housing Package is perfect for someone who wants to get into a pro level camera at an entry level price. We've referred to this deal as the best "bang for your buck" in underwater photography. Don't let the price point fool you; this system has been one of the top mirrorless cameras in our annual Best Compact Cameras review. The E-M5 boasts 16 megapixels, 5-axis image stabilization, and shoots 9 fps continuous in RAW. And now with lens ports from AOI, a full range of lenses are now compatible with the Olympus OMD housing at a very affordable price. This is a system that will grow with you. There is only a very limited supply left, and we can't get any more at this price once this deal sells out.

Package Includes:
Olympus EM-5 Camera
Olympus PT-EP08 Underwater Housing
14-42mm Lens
Zoom Gear
Lens Port
MSRP $2,800.00
Sale Price $1,299.97
You Save: $1500.03
LIMITED SUPPLY

OUR FAVORITE GEAR LESS THAN $100

---
UPGRADE YOUR GOPRO WITH THE ALL NEW FLIP4
3 Filter Kit
includes the SHALLOW (5-20 feet), DIVE (20-50 feet), and DEEP (50+ feet) filters to cover any depth. Flip between any 2 filters on the same dive with the touch of a finger.
Only $99.00

FLIP FILTERS SINGLE OR DOUBLE HANDLE TRAYS & JOBY GORILLAPOD
Stop torturing your family and friends by making them watch shaky GoPro videos! Not only is stable underwater video a pleasure to watch, but it's also the sign of an experienced videographer. Included with the dual handle tray is a tripod hole that allows you to mount a Joby tripod for acquiring super steady footage. Add stability to your shooting with these:
OUR FAVORITE GEAR LESS THAN $400

---
GOPRO WIDE ANGLE AND MACRO ON THE SAME DlVE!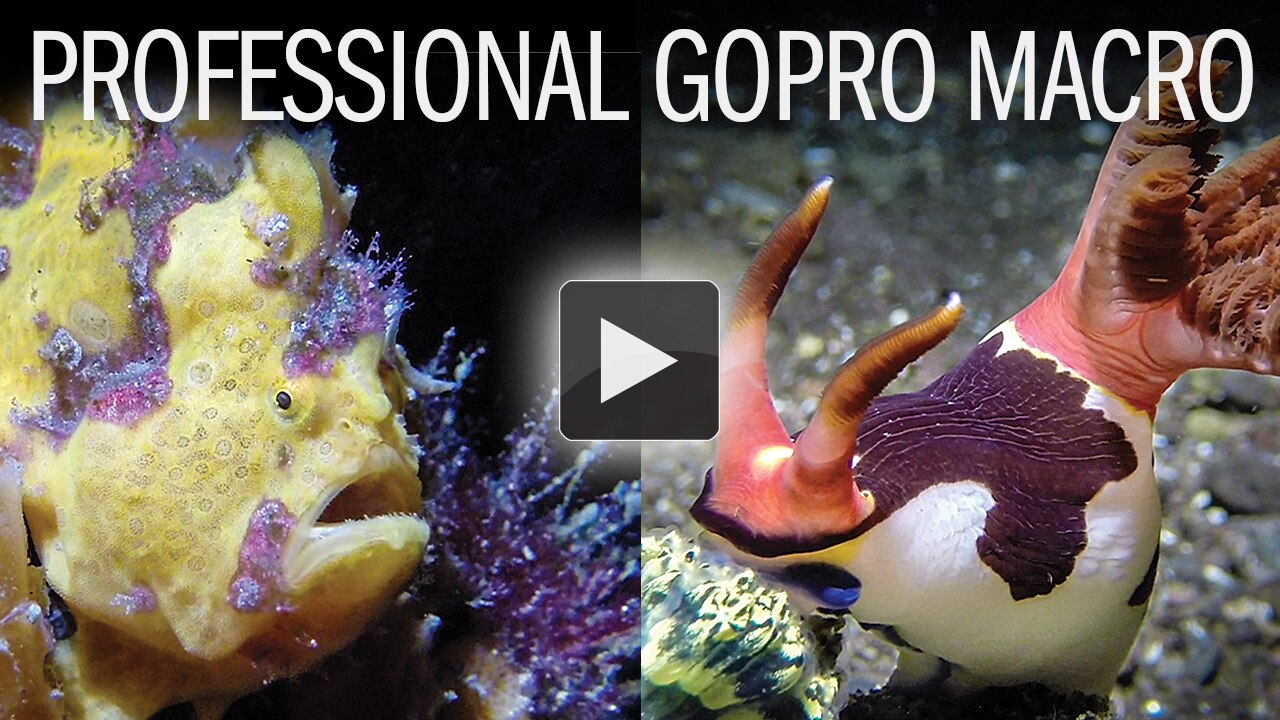 The FLIP4 Pro Package includes:
FLIP4 Dual Flip Frame
SHALLOW, DIVE and DEEP Underwater Color Correction Filters
55mm Filter Holder
Protective Neoprene Pouch -

FREE
When you purchase a FLIP4 Pro Package, compatible with GoPro Hero3, Hero3+ and Hero4, you'll get a FREE a protective neoprene pouch!

MSRP $203.95
Sale Price $179.00
You Save: $24.95

The
GoBe Action 700 Dual Video Light Package
is an excellent combo for the GoPro and other compact camera systems. With dual video lights, you will be able to cover a larger area with very even light. The
GoBe 700
lumen lights will work great in both day and night dives. Make sure you take advantage of this package!
MSRP $476.98
Sale Price $399.00
You Save: $77.98


Snoots are a great way to add more drama to your macro pictures and rekindle your love for all things small in the ocean. The
10Bar Snoot
will narrow the beam of your strobe, concentrating the light on just the subject and not the surrounding reef. Aiming a snoot can be challenging so 10Bar added a laser pointer to see where the strobe light will land while you're framing your shot.
OUR FAVORITE GEAR LESS THAN $1000

---

THE MOST POWERFUL COMPACT STROBE AVAILABLE
We have
tested
the
YS-D2
against the other strobes currently on the market and the
YS-250
is the only strobe to marginally beat it. With easy to use controls, running on
4 AA batteries
, and compatibility with both
electronic
and
fiber optic
sync cables, it is easy to see why the
YS-D2
is the new favorite among underwater shooters.
MSRP $719.95
Sale Price $649.95
You Save: $70.00


OUR TESTER'S CHOICE FOR BEST COMPACT MACRO CAMERA
Get amazing macro images with the Olympus TG-4! This is the first of the Olympus Tough series cameras to shoot in uncompressed RAW formats. But what the TG-4 is really known for is crazy close-up to the smallest sea critters--all without the need for an accessory macro lens. The camera is waterproof on its own to 50 feet; put it in a housing and it's waterproof to 150 feet! Add the GoBe 700 wide video light for incredible macro still images and video. It's THE perfect starter rig for the budding underwater photographer, especially the one who likes the small critters of the ocean.

TG-4 Camera $349
PT-056 Dive Housing $299

Or get the Package: Best Value!

Package Includes:
Olympus Tough TG-4 Camera (Waterproof to 50 feet!)
Olympus PT-056 Underwater Housing
GoBe 700 (wide) Video Light
YS light and cold-shoe mount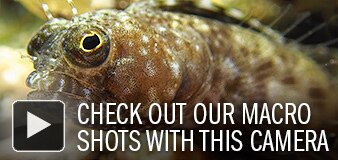 MSRP $917
Sale Price $849.00
You Save: $68

The Nauticam Wide Lens has the best overall sharpness, corner sharpness, and resolution that we have ever seen from a wet mountable lens. The design is truly full zoom through and is removable in water for close-up and macro shots. It yields a 130 degree angle of coverage with a 28mm equivalent lens. We're even seeing amazing results when used with the full frame
Sony a7R II
and
Sony 28mm
f/2 lens. See videos and photos with the Wet Wide Lens in action.
MSRP $1,075.00
Sale Price $995.00
You Save: $80.00

OUR FAVORITE INTERMEDIATE / ADVANCED SYSTEMS

---

OUR FAVORITE OLYMPUS MIRRORLESS CAMERA WITH THE BEST CONTROL SET AND PROFESSIONAL LEVEL IMAGE QUALITY
The OM-D EM5 MkII is currently the top of the line mirrorless camera from Olympus. The control set very closely resembles that of the EM-1, which we thought was one of the best control sets of any camera, period. In addition, the 16 megapixel sensor combined with razor sharp Olympus lenses, yields excellent image quality that will rival cameras from the SLR category.
Read our review
of this camera for more information.
SAVE EVEN MORE WITH OTHER OLYMPUS CAMERAS AND LENSES


Click on the chart below to see all of the sales Olympus has to offer.


| Cameras | Lenses | Lens Bundles |
| --- | --- | --- |
| | | |

HI RES PHOTOS, LOW LIGHT PREFORMANCE, SUPERB 4K VIDEO
The
Sony a7R Mark II
is a full frame mirrorless camera that shoots
42 MP stills, 4K video,
and has great
low light
capability.
Read our review article
to see photos and 4K video from this revolutionary camera.
Need help navigating the many options in setting up a complete camera system? Call one of our underwater imaging experts to help!
| | | | |
| --- | --- | --- | --- |
| | | | |
| Sony a7R Mark II Camera | Aquatica A7r II Housing | Nauticam NA-A7II MkII Camera | Subal Alpha 7 II Housing |
| $3,198.00 | $2,699.00 | $2,750.00 | $3,668.50 |
| | | | |

OUR FAVORITE NIKON DSLR
If you're a DSLR still photographer, the
Nikon D810
is our hands down favorite with stunning resolution and very low noise. With 36 megapixels of full frame resolution and no optical low pass filter, images are razor sharp with plenty of resolution for cropping. Despite its high-resolution sensor this camera produces beautiful noise-free images at high ISO settings and has the highest dynamic range of any SLR available today.

OUR FAVORITE CANON DSLR
If you shoot photo and video on the same dive, the
Canon 7D
Mark II is our favorite crop sensor DSLR. The
Canon 7D
Mark II does not require a filter to capture perfect underwater white balance allowing easy changes from photo to video mode. While the video coming out of the camera is broadcast quality and highly impressive, the stills performance is top notch as well. Shooting 10 frames per second in RAW and super fast focus rounds out this Swiss Army Knife of the camera world.
---
FREE STANDARD SHIPPING ON WEB ORDERS OVER $200
Important Shipping Dates:

Tuesday, December 22nd - Last day for UPS 2-Day Air Shipments to be delivered by December 24th

Wednesday, December 23rd - Last day for UPS Next Day Air Shipments to be delivered by December 24th. Cut off time is 3:00pm Pacific Standard Time.
More details about Free Shipping »


EXTENDED HOLIDAY RETURN POLICY
Not sure what your underwater photographer wants? No worries! All items purchased in December are eligible for our special holiday return policy, extending our normal return window until January 8th. Our expert staff will help your shooter select something else.
NOT QUITE SURE WHAT YOUR SHOOTER WOULD LIKE? A GIFT CERTIFICATE IS THE PERFECT GIFT!
Backscatter credit is as good as gold for the picky person on your list. Our expert staff will help them decide what item best meets their personal needs and shooting goals. Click here to purchase a gift certificate.



GIVE THE GIFT OF DIVING IN 2016!

---

WIDE ANGLE UNDERWATER PHOTOGRAPHY BOOT CAMP - BONAIRE
starting at $2399 per person
, double occupancy
Apr. 30th - May 7th, 2016
Wide-angle photography is one of the more difficult techniques to master underwater. Our simple approach demystifies what can be an intimidating skill to learn. Both in the classroom and underwater, our instructors teach how to combine proper camera, lighting, and postproduction techniques in order to produce consistently better wide-angle shots. The instructors will assist each student individually underwater, helping them to shoot, review and adjust their shots. This "In water instruction" will consist of shooting specific setups alongside our experts.


THE DIGITAL SHOOTOUT
starting at $2399 per person
, double occupancy
June 18-25, 2016
Take it seriously or take it slow, the Digital Shootout is an underwater photography/videography vacation designed to take the shooter in the group to the next level. If you're a new or an intermediate shooter, the Digital Shootout is our fast track to better underwater imaging. It's also our most popular trip for shooters with an interested, but not die-hard, image-making travel partner. Spend the morning diving together. Afterwards, the partner can hang out at the beach or make afternoon boat dives while you attend the afternoon seminars. Circle back with the group each evening at the slide-show bar party for critiques with the pros. Most of our repeat guests consider the Shootout events the ultimate working vacation. In six days of seminars and diving, the Digital Shootout team will help dial in your underwater system and shooting techniques. Enter your best images in the final contest to win trips, gear, and more from our great sponsors.
Since 2001, the Digital Shootout has pulled together the most advanced staff of underwater experts for a week of learning the latest in gear and shooting techniques. Our on-site staff includes the top-level experts at Backscatter, Aquatica, Nauticam, Light & Motion, Canon and more. If you have a new camera, want to become more self-sufficient, or just want to try out cutting edge systems, this week will fast track your skills and will offer one-on-one time with the best gear experts in the underwater industry. Don't miss this once a year opportunity to learn and explore in a very supportive environment!



WAKATOBI EXPEDITION
starting at $5,199 per person
September 19-30th, 2016
Situated on a beautiful tropical island in the remote and peaceful Wakatobi archipelago in the Banda Sea, Wakatobi Dive Resort offers what many consider to be the best reef diving in the world. Blessed with a house reef where you can begin your dive only 60 feet from the dive center, Wakatobi is often described as a live aboard with a built-in beach! In addition to the spectacular house reef, there are several dozens of easily accessible dive sites offering incredible marine life diversity, color and natural splendor. In addition to excellent diving on pristine reefs, GoAskErin will be available for one-on-one and small group sessions based on interest covering popular Lightroom and Photoshop training topics throughout the trip.