shop » video » package deals

FLIP4 Macro Addict Package for GoPro 3, 3+ & 4

This package is the perfect advanced light set for your GoPro camera system. With a dual handle tray and the powerful light, you can be sure to capture the best video a GoPro can get! This system is compatible with the GoPro 3, 3+ & 4.

Package Includes:

Add Video Lights to make it a complete package.

***Lights & Arms NOT Included with Package***

MSRP $353.80

Base Price $325.00

You Save: $28.80
YOU MIGHT ALSO LIKE
FLIP4 Macro Addict Package for GoPro 3, 3+ & 4
 

This package is the perfect advanced light set for your GoPro camera system. With a dual handle tray and the powerful light, you can be sure to capture the best video a GoPro can get! This system is compatible with the GoPro 3, 3+ & 4.

Package Includes:
Add Video Lights to make it a complete package.


FLIP4 Pro Package with SHALLOW, DIVE & DEEP Filters & +15 MacroMate Mini Lens for GoPro 3, 3+, 4


Watch this video to see comparisons between no filter, DIVE, and DEEP filters.
The all new FLIP4 - A complete filter and lens system for GoPro Hero3, Hero3+ & Hero4
Multiple filters for perfect color!
As hardcore GoPro users, we discovered that capturing the best underwater color requires the use of multiple filters. After hundreds of hours of testing, we've perfected a multi-filter system and integrated it into our world-renowned FLIP design. The all new Backscatter FLIP4 gives you multiple filters at the flip of one finger. Optimal color has never been so easy! Watch the sample video to see the multi-filter system in action.



A complete filter and lens system for GoPro Hero3, Hero3+ & Hero4
The FLIP4 System has the same professional craftsmanship of our previous models, with improved ergonomics. The FLIP4 offers the best color and most rugged design of any filter on the market.

Aircraft grade anodized aluminum construction
Easy to use flip mechanism for one finger on / off control
Simple installation with rugged clamp-on design
Unobstructed view of front LCD display
Easy front camera button access with thick gloves
Open the camera housing without removing filter
Fumble-free flip design means you'll never lose a filter
No vignetting in any underwater shooting mode
Includes SHALLOW filter optimized for diving between 5 and 20 feet
Includes DIVE filter optimized for diving between 20 and 50 feet
Includes DEEP filter optimized for diving beyond 50 feet
Includes 55mm threaded lens adapter
Includes +15 MacroMate Mini Lens
55mm threaded mount provides the ultimate filter solution; easily add our +10 close-up lens, polarizer, split neutral density, or any other filter to your GoPro for topside or underwater use
Snap lock a lens or filter with just one finger
The hinged design of the Backscatter FLIP4 offers the ultimate solution for above and below water shooting. Other designs use internal gel filters that require you to break the factory sealed lens and can't be removed for above water shooting. Other press-on filters can be removed, but are easily lost or damaged and frequently require multiple hands to install. Filters on the FLIP4 can be flipped out of the way with just one finger and lock into on / off positions with a positive snap.
SHALLOW and DEEP filters Included
A series of lenses and filters can be added to the Backscatter FLIP4. Choose from SHALLOW, DEEP, and GREEN WATER filters, as well as a universal 55mm threaded mount to add any lens or filter to your GoPro Hero3, Hero3+ & Hero4. Viva creativity!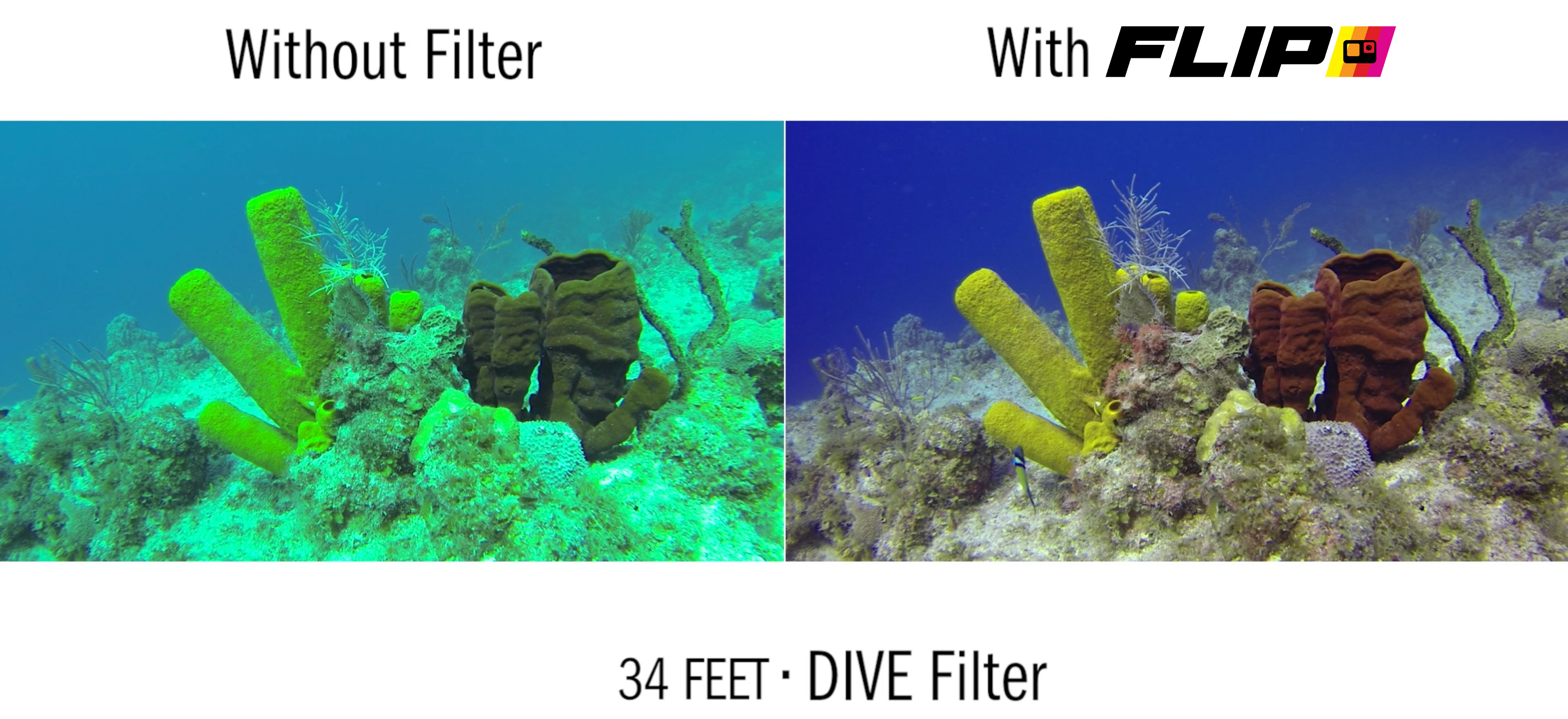 +15 MacroMate Included
Water corrected for maximum sharpness and magnification. We wanted to capture tiny reef animals in stunning detail with GoPro cameras, so we designed a water corrected macro lens for maximum sharpness and magnification. We adapted our award-winning MacroMate optics to deliver razor sharp images of golf ball sized subjects. Our twin glass lenses and O-ring sealed aluminum housing will provide you with the most rugged reliability and the sharpest macro images available for GoPro.



Fill your frame with golfball sized subjects

VIEW LARGER IMAGE
Why is our FLIP4 color formula the best? - Countless hours of in-water testing!
The Backscatter test team has spent months testing exciting new filter formulas in a variety of real world conditions around the globe. While it's possible for a manufacturer to select a filter formula by the numbers or a few test dives in one location, we know only an elaborate battery of controlled tests will produce the ultimate GoPro filter. Here's why...

"Blue water" is a moving target
Blue water comes in many flavors around the world. From the gin clear waters of the Bahamas to the blue-green waters of Indonesia and Papua New Guinea, each region has its own signature color. Add the effects of weather, tides, shallow depths, and deep depths to these regional variations and you end up with a very broad definition of "blue water." The Backscatter test team has shot countless hours of footage in all conditions around the globe to redefine the ultimate universal blue water filter formulas.

Not all GoPro cameras are created equal
We discovered early on that individual GoPro cameras can have a different color bias underwater. One camera might shift yellow and another camera might shift green. The Backscatter test team has gone to extraordinary lengths to evaluate multiple copies of both the Hero3, Hero3+ & Hero4 cameras in every situation with our new protype designs. We're confident our tweaked and re-tweaked formulas will not only best match "typical blue water conditions" but also harmonize with the variations in GoPro cameras.

The result - the Best GoPro filters available We didn't go over our R&D budget and timeline just to make the best filters for our customers. The team here at Backscatter has demanded the best filters for our personal shooting as well. We're confident that you'll agree the new FLIP4, SHALLOW, DIVE, and DEEP filters are well worth the wait. Most importantly, you'll get the best color out of your GoPro investment regardless of the blue water you find on your next dive.
Optical Grade Scratch Resistant Material
The FLIP4 filter material is resistant to scratches. It is similar to the optical acrylic used in eyeglasses. Most filter damage occurs during travel to and from the dive site. Youll discover that most accidental scratches will not show up in your videos. Acrylic polish such as Novus can be used to buff out any unsightly scratches.

Optional Greenwater Filter

Don't worry cold-water friends! We have a new green water filter that can be swapped for the side flip blue water filter. You'll be able to enjoy the combination of green water color correction and a top mounted macro lens in the kelp forests and lakes many of us call home.
Flip Filters Double Handle & Tray with GoPro Tripod Adapter
DOWNLOAD THE QUICK GUIDE


Get a grip on stability
Our custom aluminum handle gives you a comfortable foam grip and helps stabilize your shots.

Compact and lightweight
GoPro is all about small and our handle keeps your travel weight and size to a minimum.

Easily add a dual video light system
Add a dual video light arm system to the top of the handles for the ultimate system.

Use tripod or helmet mount
Our dual handle and tray includes a GoPro tripod mount, but is also compatible with helmet mounts for quick on off convenience.




Joby Gorillapod SLR Zoom Camera Tripod




Joby Gorillapod SLR Zoom - First Look & Details from Backscatter on Vimeo.





SLR-Zoom at a Glance
Designed for DSLRs with zoom lenses, camcorders or external flashes, weighing up to 3 kg | 6.6lbs.

Add an optional all head with quick release clip and bubble level for even more versatility! Setup quickly, fine tune adjust shots or easy switch between portrait and landscape orientations.

Securley mount cameras or tripod heads with universal stainless steel 1/4"-20 tripod screw or included 3/8" adapter.

Portable, lightweight and made from the best-in-class materials! Fits easily in your camera bag without adding extra weight, yet durable enough to withstand years of use.

Flexible, wrappable legs allow you to secure your secure your camera almost anywhere, indoors or out!

Rubberized ring and foot grips provide stability on uneven terrain, and grip securely when wrapping around branches or poles.


SLR-Zoom Specifications
Designed For
DSLRs with Zoom Lenses, Camcorders, Mics, Off-Camera Flashes
Max Weight Load
3.0 Kilograms
6.6 Pounds
105 Ounces
Product Weight
0.19 Kilograms
0.42 Pounds
6.7 Ounces
Product Dimensions
H:  25 cm | 9.8 in
W:  6 cm | 2.4 in
D:  6 cm | 2.4 in
Connection Point
¼"-20  standard tripod mount or  " with included adapter.
How to Use GorillaPod SLR-Zoom
Attach GorillaPod or Ballhead Quick-Release Plate
Start screwing the tripod or quick-release plate into the bottom of your camera. Use a coin to securely tighten down the screw. Make sure one GorillaPod leg or the quick release plate is in line with your camera lens for fast and easy setup.
Stabilize Left and Right Sides with Two Legs
Secure one leg to the left of your camera, and then secure one leg to the right of your camera. By positioning one leg to the left and one to the right, you prevent the camera from slipping sideways. The broader the stance of your GorillaPod SLR-Zoom, the sturdier it will be.
Prevent Camera from Moving Forward or Backward
The third tripod leg should be used to prevent the camera from slipping forwards or backwards due to the weight of your camera and camera lens. By positioning one leg directly underneath your lens, you prevent your camera from drooping, slipping or sliding forward or backward. The broader the stance of your GorillaPod on uneven surfaces, the more stable it will be.
Secure on Vertical Poles
Wrap one leg around the front of the pole, wrap the second leg around the back of the pole, and position the third leg in an arc directly below the lens with the foot of the tripod perpendicular the pole. This will counterbalance the weight of your camera. Take care to make sure your lens is supported when wrapping your GorillaPod around trees and poles.
Make Fine Tune Adjustments Using the Ballhead
Once the GorillaPod legs are secure, loosen the knob on the SLR-Zoom Ballhead. Fine-tune the position of your camera to perfectly frame your subject with one hand supporting your camera and one hand on the adjustment knob. Be sure to glance at the bubble level to make sure your shot is level. Once the correct position is achieved, tighten the adjustment knob to secure your DSLR.
Attach a Flash to Your GorillaPod
You can also mount your off-camera flash to GorillaPod SLR-Zoom via our SLR-Zoom Flash Clip. GorillaPod SLR-Zoom provides the extra set of hands you need to light your next photo shoot, indoors or out. Because it can wrap itself almost anywhere and you can easily adjust the light's position, it is certainly more adaptable than a traditional light stand!
Spike Feet for Stability on Rough Terrain
When paired with your GorillaPod SLR-Zoom, our spike feet provide an even sturdier anchor on difficult terrain. They are perfect for shooting with a zoom or macro lens, especially in windy conditions or when your GorillaPod SLR-Zoom is placed on soft surfaces like dirt or snow.
Backscatter FLIP4 Filter Installation Guide for GoPro from Backscatter on Vimeo.


SKU: bs-gprc2-pkg