CLICK HERE TO VIEW THE VIDEOS AND PHOTOS

WWW.THEDIGITALSHOOTOUT.COM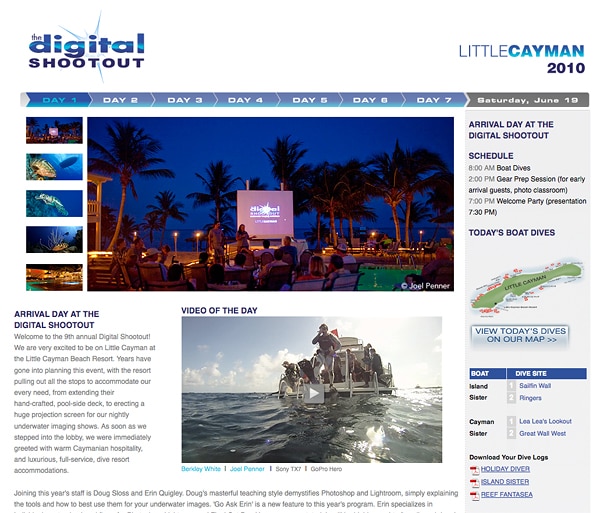 DAILY VIDEOS, PHOTOS, STAFF THOUGHTS, DIVE MAPS, AND MORE!

WWW.THEDIGITALSHOOTOUT.COM
Little Cayman---The Digital Shootout
June 19-26, 2010

For complete details, please see
www.thedigitalshootout.com
.
VIEW IMAGES AND VIDEO FROM THE 2009 DIGITAL SHOOTOUT
Take it seriously or take it slow
The Digital Shootout is a photography vacation designed to take the shooter in the group to the next level. If you're new or an intermediate shooter, the Digital Shootout is our fast track to better underwater photography. It's also our most popular trip for shooters with an interested, but not die-hard photographic travel partner. Spend the morning diving together and the partner can hang at the beach or make afternoon boat dives while you attend the afternoon seminars. Circle back with the group each evening at the slide show bar party for critiques with the pros.
Most of our repeat guests consider the Shootout events the ultimate working vacation. In six days of seminars and diving, the Digital Shootout team will help dial in your underwater system and shooting techniques. Enter your best images in the final contest to win trips, gear, and more from our great sponsors.
Professional photographer staff:
Berkley White
www.backscatter.com
Berkley White is the founder of Backscatter, a regular contributor to diving magazines, and is regarded as a top instructor for his unique ability to simplify technical subjects for his students.
Doug Sloss
www.oceanmagicproductions.com
www.uwphotoshop.com
Doug Sloss is a professional underwater photographer and serves as the Field Editor for Scuba Diving Australasia where he regularly authors his column The Photo Shop. He has taught hundreds of people how to shoot underwater photography and edit their images, and has taught hundreds more through his popular movie-based DVDs. His latest release Photoshop CS4 for the Underwater Photographer guides shooters of all levels through the essential and creative workflows needed to produce beautiful images.
Professional video staff:
Dan Baldocchi
Dan is an underwater video expert and will be leading the video section of the Shootout. He will offer seminars on HD video cameras, housing set up and use, and shooting techniques.
Mary Lynn Price
http://divefilm.com/
Mary Lynn is a video journalist, underwater videographer, and pioneering video podcaster based in San Diego. Her seminars will focus on story boarding, editing techniques, and sharing your finished video.
Demo Gear & Tech support:
We're there for you in you need us. As always we'll bring along additional camera systems, spare parts, accessories, and trained technical staff to assist you in case of "technical issues". We'll keep you shooting all week long.
Standard travel package includes:
7 nights accommodations at the Little Cayman Beach Resort
6 days of 2 tank boat diving
Breakfast, lunch, dinner daily
2 complimentary cocktails nightly
Airport transfers
Taxes & service charges
Plus access to all Shootout seminars, demo gear, contest entry, and help from the pros!
Price: $1999 per person, double occupancy, Pool view--$2,315 Ocean view
Add $400 for single occupancy
Additional days: Includes room, meals, and 2 tank boat diving
Pool double $239
Pool Single $289
Ocean double $284
Ocean single $337
Not included:
Airfare to Little Cayman (LYB) $500-$1000 est. (depending on route and carrier)
Nitrox
Extra purchases
` ------