Meet us at the Long Beach Scuba Show - May 15-16, 2010

Get your hands on the gear!
The Backscatter staff is looking forward to meet our thousands of customers in the Los Angeles area. Please stop by our booth, meet our friendly staff, and get a full tour of the latest in underwater photo and video gear. From point & shoot to professional, we'll be displaying our favorite options for all budgets and will walk you through the details.

Photo Seminar with Berkley White:
Berkley White is an internationally recognized professional photographer and the founder of Backscatter, the Digital Shootout, and UnderExposures. Berkley is a renowned gear expert, but mostly enjoys sharing his knowledge in an easy to understand style with new photographers. Don't miss this opportunity to learn the basics or a few new tricks of the trade from one of the leading underwater photographers.
3 Simple Tricks for Wide Angle Underwater Photography
1PM, Saturday, May 15, 2010
Wide-angle photography can be a challenge, but Berkley will share a few simple tricks that will give photographers the technique to get consistant results and unique images.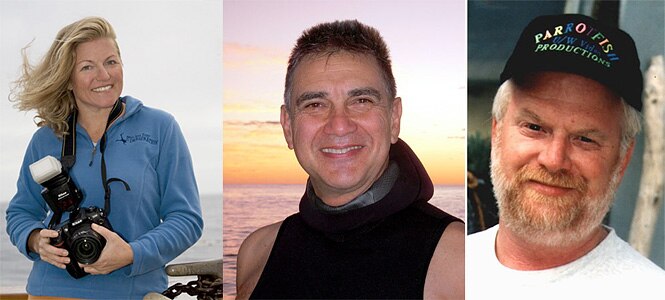 More Seminars by Backscatter friends Annie Crawly, Ken Knezick, and Josh Kaye-Carr.
Don't miss these other Backscatter recommended seminars!
Saturday, May 15, 2010

11AM
How to Make Great U/W Photos with Point and Shoot Cameras
By Ken Knezick

12PM
Understanding Photo Composition and Negative Space
By Ken Knezick

1PM
Wide-Angle U/W Photo Tips and Tricks
By Berkley White

4PM
Video Basics: Top 10 Shots You Need to Master
By Annie Crawley


Sunday, May 16, 2010

2pm
Macro Underwater Videography in High Definition
By Josh Kaye-Carr

3PM
Creating Video From Point and Shoot Still Cameras to HD Video Systems
By Annie Crawley

This video documents the events from last year:
Show Details:
May 15-16, 2010
Long Beach Convention Center
300 E. Ocean Blvd.
Long Beach, CA 90802

For full details
click here to view the show site