Jacques Cousteau is said to have called the Wakatobi Islands - then better known as Tukangbesi - an "Underwater Nirvana", and that title certainly seemed apt for Backscatter's 2014 Wakatobi Photo Expedition. Topside, idyllic weather and calm seas prevailed for our entire 12 day trip, and underwater we were visitors on some of the fishiest reefs I've seen anywhere in the world.
The name Wakatobi is an amalgam of its four main islands - Wangi-Wangi, Kaledupa, Tomia and Binongko. The seas surrounding the southeast Sulawesi district received national marine park status in 1996 and Wakatobi Resort has since garnered attention from conservationists and avid scuba divers drawn by its incredible underwater diversity, expansive reefs, and luxurious, eco-sensitive accommodations.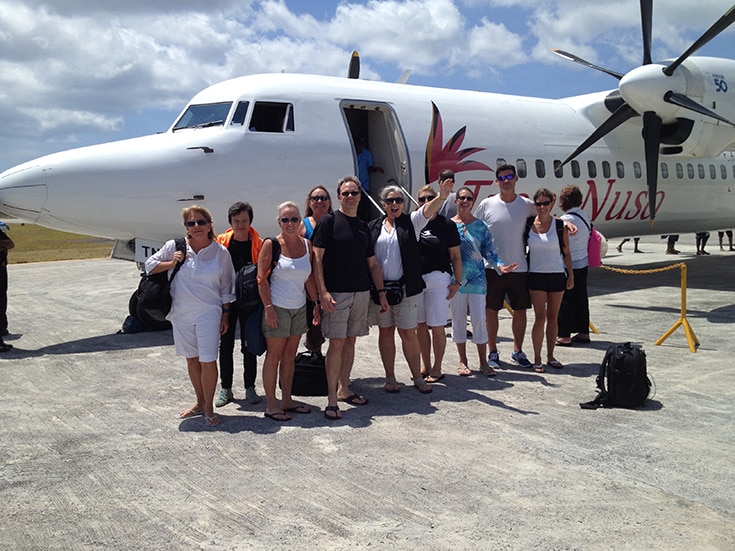 From left to right: Kim Frye, Karen Honeycutt, Pam Henning, Kristy Peacock, Jim Decker, Erin Quigley, Terri Roberts, Ellen Rierson, Miles and Jennifer Nurse. Not pictured: Jennifer O'Neil, Rob and Karen Smith, Jim and Karin Laurel, Jon and Eva LaFollette, Sean Alexander and Youyi Zhang.

Travel to and from Wakatobi resort is via a two-hour private charter flight that departs from Bali's brand-new domestic air terminal, with snappy VIP service that makes checking in your crazy amount of luggage relatively painless. One caveat - because Bali is a busy international airport with only one runway, the charter's exact time of departure can be hard to pin down in advance. You may not know if you're going to depart early morning, late afternoon, or anything in between. It's always wise to arrive a day in advance, and to schedule international connecting flights for a day after your scheduled return to Bali from Wakatobi. Wakatobi staff does their best to keep all guests updated on flight times, but sometimes even they don't know the skinny until a day or two before.
After arriving at Wakatobi's airstrip in Tomia, you're given a brief orientation about the resort, after which you and your bags are driven in air-conditioned comfort through the village, then transported by boat to the resort. Once there, you're escorted to your bungalow, luggage to be delivered post-haste.
It doesn't take long to figure out that Wakatobi is an extraordinary resort. It's the kind of place where you kick your shoes off in the first few moments after arriving, and don't put them on again for the rest of your trip. I was a amazed at how quickly everyone on the staff knew our names, and how we liked our coffee, our cocktails, the placement of our BDC on the tank. Every detail is thoughtfully conceived to make your stay a completely enjoyable experience. It's luxurious without being fancy. After a little unpacking and exploration, I headed down a sandy path through lush foliage towards the restaurant for lunch.
The food at Wakatobi is excellent. There's always a fabulous buffet, and requests from anyone with a special diet or food allergies are managed easily. At night there's a special cart that serves up regional delicacies, and the desserts are so good that some people (not me!) started hoarding them before ever touching a bite of their main course. An limited but well-chosen wine list and the skills of mixologist Dehdi completed the gastronomic picture.
I must admit that my open air shower and a massage at Wakatobi's traditional spa was more than tempting after a long day of travel, but the camera room beckoned loudly and I obeyed. I couldn't wait to get my camera gear set up and into the water.
The Wakatobi dive operation is the beating heart and lifeblood of the resort, and centrally located within it is the brightly lit, air-conditioned camera room. It's not easy to find room for the amount of camera gear typical of a Backscatter expedition, but Wakatobi staff went out of their way to make sure everyone had enough work space, and dry towels for the gear after every dive. Top-notch! Power strips and adapters are plentiful, available in either 110 or 240.
The locally constructed dive boats are stable and beamy, about 60 ft. long, with super easy access to and from the water. All of Wakatobi's boats have large camera tables and a bathroom, and our boat, the Wakatobi VI, never had fewer than 3 crew and 5 well-trained guides. It's one of the most comfortable and service-oriented day boats I've ever been on. I'm still craving the soothing ginger tea our guide Kaz served us between dives. The dive sites are mostly 10-20 minutes away from the resort, with a few more distant destinations well worth the longer (45 min-1 hr) ride. I could have dived Blade or Lorenz's Delight, which are a couple of the furthest away, every day. Dive time on the boat is limited to a generous 70 minutes, and the dive operation is very good at dropping groups at different times, spreading the groups out along the site to minimize crowding on the reef.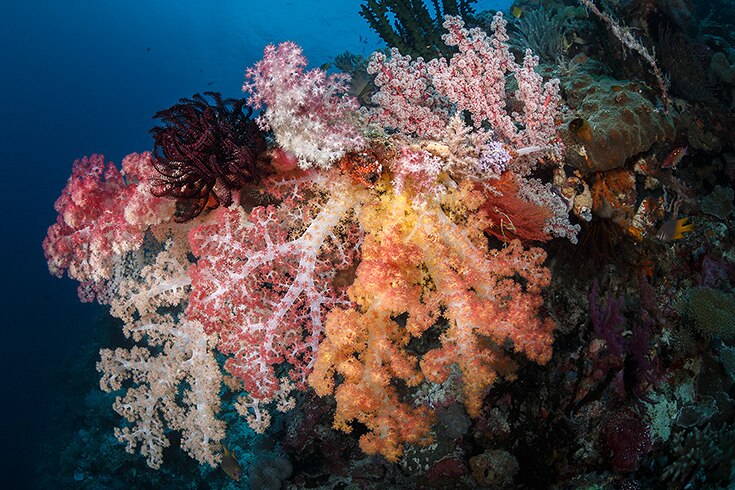 All around the islands the sea extends out in a shallow shelf. The shelf gives way to long, unbroken walls covered with some of the world's best hard and soft corals. Pinnacles, ridges, ledges and overhangs abound with life. The shallows on most dive sites are spectacular coral gardens, sparkling with dappled light and teeming with colorful reef fish. An agreement made with local fisherman prohibits fishing within a certain distance of the reef, and it's obvious that Wakatobi's reefs have benefited greatly from the pact. Many macro enthusiasts stuck with their close-up lenses for the entire trip, but opportunities for wide-angle shooters abound, and it's the rare dive site that doesn't have something for everyone.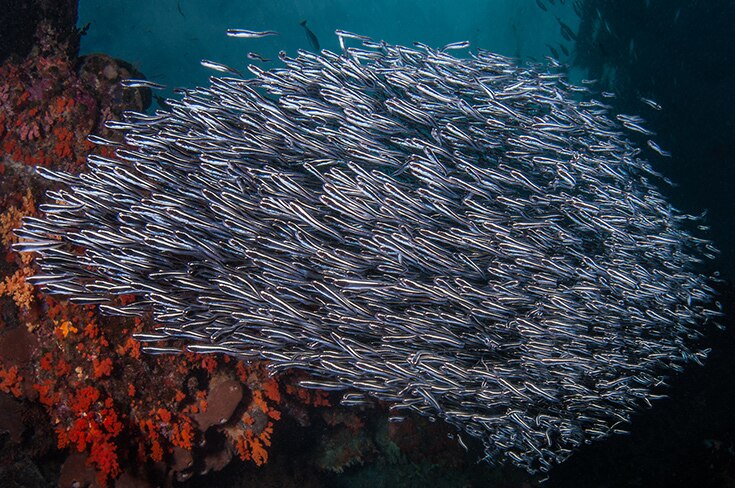 Wakatobi's famed house reef is also a marvel. Quite a few guests repeatedly skipped boat dives to squeeze in extra dives on the house reef. There's no time limits for dives on the house reef, but timing is critical, since the current can really howl past the front of the resort. I love to jump in on a peppy little current to get soft corals blooming and fish action going, and taxi boat services are always available to drop divers up current for a leisurely drift back. My favorite spot was directly under the jetty pier, where an enormous school of striped eel catfish mingled with resident banded sea snakes, weaving around through sunbeams and stone pilings like a scene from an Indiana Jones movie.
Another favorite spot was directly on top of the jetty pier, where our group often lounged at the picturesque Jetty Bar. Each sunset was more gorgeous than the last, and it - not the refreshing adult beverages - was often the main attraction at Happy Hour. The banded sea snakes are also an attraction topside at the Jetty Bar, since it's rumored they sometimes crawl up through the deck to warm themselves on the pier.
Throughout the trip Backscatter CEO Jim Decker repeatedly saved the day by repairing guest's camera gear with his impressive supply of spare parts and tools that he never leaves home without. His knowledge of underwater camera gear is encyclopedic. Early in the trip, Jim gave a seminar on shooting techniques, which was followed a couple of days later by my own seminar on Lightroom and post. After dinner each night, anyone needing to get gear help, shooting tips, Lightroom training, or one-on-one image critiques brought their laptops to the table, and we were often the last people in the dining room, still working on photos or video as they were closing the place up.
On our last night at the resort, we ran a slideshow that showcased the truly gorgeous images captured by the 2014 Backscatter Wakatobi expedition group. Stills and video alike played back the dazzling colors and richness of Wakatobi's reefs. Watch the slideshow of images from our guests.