Backscatter Underwater Photography Expedition to Alor & Komodo 2013 - Trip Report
Backscatter Expedition Trip Report
By: Jennifer Penner
Expeditions to two of the most sought after locations on the planet for underwater photography… a live-aboard trip to either Alor or Komodo would be a holiday of a lifetime. Traveling to these regions with Backscatter Underwater Video & Photo aboard the Damai II is an underwater photographer's dream come true!
THE DAMAI II EXPERIENCE
Christened in 2010, the MSY Damai II is the newest in the Dive Damai fleet. Spacious luxury aptly describes this traditional Indonesian vessel, whose crew is well versed in hospitality. Here's what you can expect: All the latest navigational and safety equipment, two fast skiffs to quickly motor you to the dive site and back, large cabins with en-suite bathrooms, many times daily housekeeping and laundry service, freshly prepared, delicious meals and snacks, extra large dive deck with individual rinse stations, a camera room where you won't bump elbows with your neighbor, comfortable salon, sun decks for gathering and relaxing, sunset massages to ease the kinks from your diving muscles and a knowledgeable, professional, friendly crew dedicated to making your holiday on their boat a trip of a lifetime.





One of the many beautiful sunsets aboard the Damai II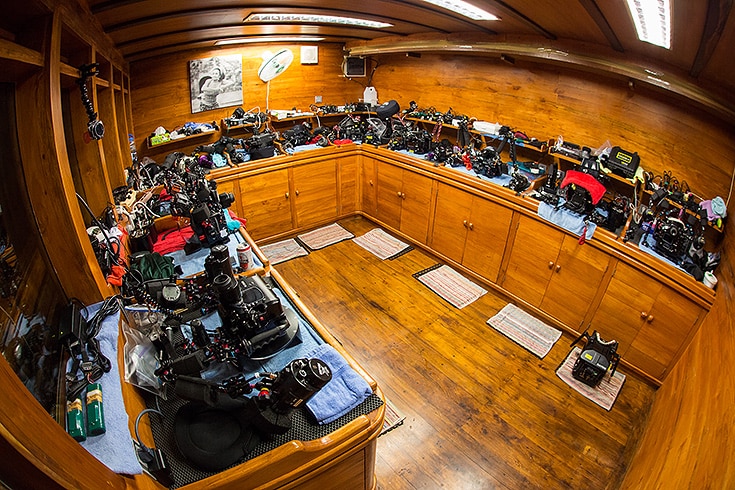 The camera room maxed out by the Backscatter group!





Witnessing Mother Nature.


Alor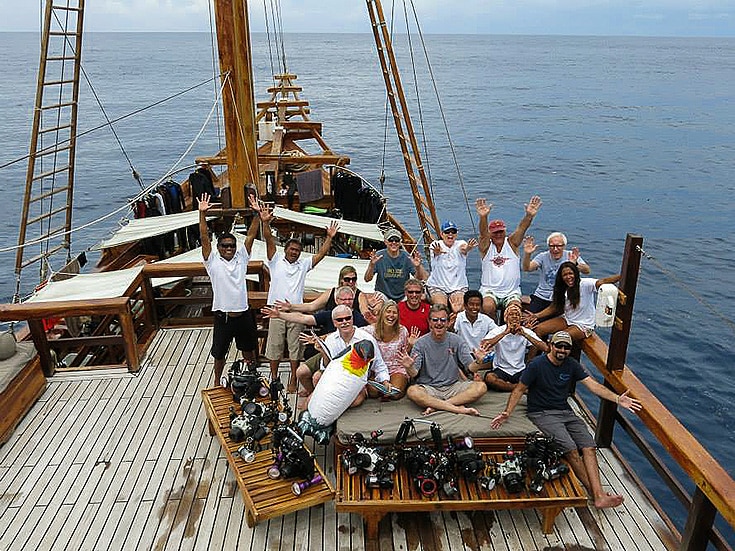 A
rriving in rainy Maumere, the Backscatter group, led by Berkley White and Erin Quigley, motored east where they enjoyed the fishy and beautiful corals of Soangi, Watuile, Lapan and Alor islands. No trip to Alor is complete without spending time in the water with the children of Alor and their handmade coconut goggles! Next stop, Baengabang for an outta this world critter hunt! Final stop on the tour was the volcanic island of Komba, where the guests were able to witness Mother Nature up close. Indonesian culture was also shared through daily Bahasa language lessons and a cooking class for those newly addicted to sambal at every meal.
Based on guests' interest, Berkley and Erin gave tips to improve both shooting techniques and post-processing image editing. By the end of the cruise, all guests had improved their image making and had several selects of underwater memories to share with family and friends.
ALOR GROUP SLIDESHOW

Komodo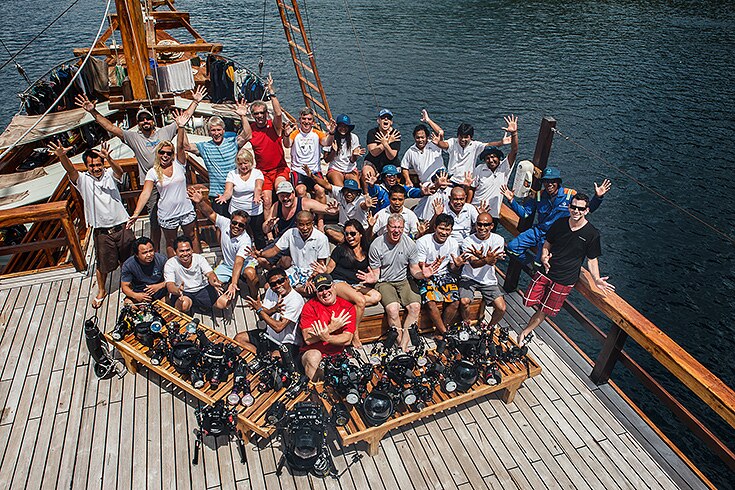 T
hanks to social media, the next group arrived in Maumere anxiously hopeful that their itinerary would also include the active volcano, Komba. Again, it did not disappoint as we watched it erupt from the skiffs in the late afternoon until dusk. Heading west toward Komodo, we stopped along the way to enjoy the dive sites Batu Bolong for a sloping reef bursting with colorful corals and fish, then Manta Alley where both reef and pelagic mantas danced their graceful routines. Horseshoe Bay in Komodo National Park became our home for the next 5 days. Whether your preference is wide-angle scenics or you're a macro critter hunter, the dive sites in this area did not disappoint. Lush, vibrant, fishy bommies, slopes and walls are home to thousands of marine life species here. And of course, the topside encounters with the Komodo dragons were a huge highlight of the expedition. Always available, Berkley and Erin continued to provide feedback and instruction to those wishing to improve their shooting chops and/or image editing skills, ending the trip with a final night's slide show of guests' favorite images.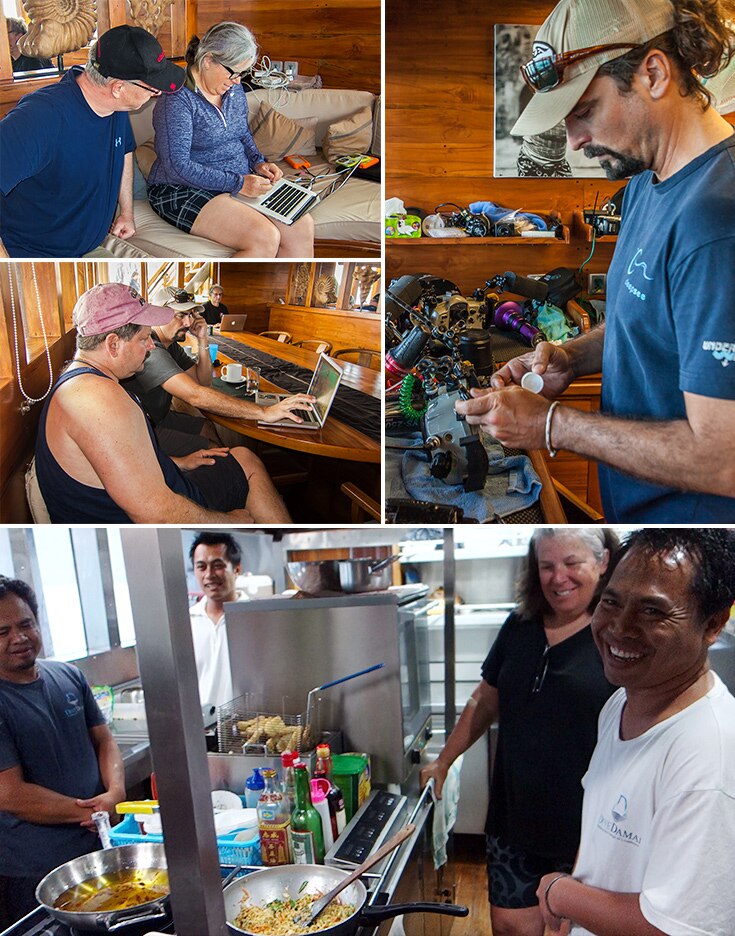 Daily Bahasa lessons continued with more advanced vocabulary and phrases, and the topic of this trip's cooking class was the guests' hands-down favorite, Mie Goreng. In the camera room, TWO underwater systems were saved from partial-to-full flood by installation and use of The
Airlock
, a vacuum system for your housing that will insure it is leak-proof before you jump into the water. Flood avoidance keeps guests happy and shooting the entire trip!
KOMODO GROUP SLIDESHOW

WHY TRAVEL WITH BACKSCATTER?
Backscatter's owner, Berkley White, has fostered relationships with owners of the most highly regarded live-aboards and land-based dive resorts over the last 20 years. Weather and dive conditions permitting, the travel itineraries and dive site selection will always give you the best possible photographic opportunities for the region. Traveling with a Backscatter Pro will give you direct access to their knowledge of techniques for better shooting, experience to make in-the-field repairs that are sometimes necessary, spare camera systems and parts to keep you shooting for the entire trip and even workshops to learn post processing image editing.
Backscatter offers two types of trips: workshops and expeditions. Workshops are learning trips where there is great diving, but the focus is honing your skills (photography, videography, post processing and editing). All diving and shooting skill levels are welcomed for our underwater photography workshops. Expeditions focus on diving and shooting in some of the planet's most sought after locales. Advanced divers and shooters are best suited to these expeditions.
Join us for an upcoming workshop or expedition!
We hope to see you under the waves!