BACKSCATTER FLIP3 FILTER SYSTEM FOR GOPRO HERO 3

A complete filter and lens system for GoPro Hero3
The all new
Backscatter Flip3
System has the same professional craftsmanship of our previous models, but features a smaller size and optional second flip filter on top. Outfit your
GoPro Hero3
with both a shallow water and deep water color correction flip filter and even a sharp macro lens for detail shots on the reef.
Aircraft grade anodized aluminum construction
Easy to use flip mechanism for one finger on / off control
Simple installation with rugged clamp-on design
Unobstructed view of front LCD display
Easy front camera button access with thick gloves
Open the camera housing without removing filter
Fumble-free flip design means you'll never loose a filter
No vignetting in any underwater shooting mode
Optional top flip deep water filter, macro lens, and 55mm threaded filter mounts (coming soon)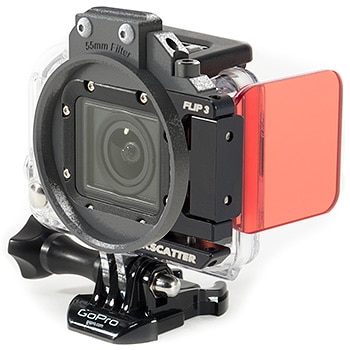 Optional top flip for second filters and lenses shipping February 2013
A series of top mounted flip lenses and filters can be added to the
Backscatter Flip3
. Choose from deep water filters, green water filters, a custom macro lens for razor sharp close-ups, and a universal 55mm threaded mount to add any lens or filter to your
GoPro Hero3
. Viva creativity!
LEARN MORE OR PLACE AN ORDER:
Backscatter Flip3
Color Correction System
BACKSCATTER FLIP2 FILTER FOR GOPRO DIVE HOUSING (HERO 1 & 2)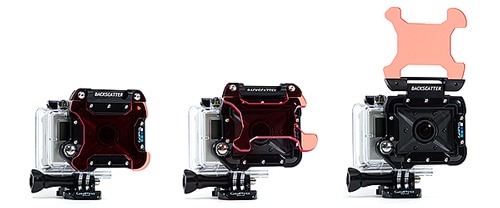 Due to popular demand, the
Backscatter Flip2 Filter
will remain in production for Hero1 and Hero2 cameras inside the GoPro Dive Housing. After extensive testing, we're confident that our flip-up filter solution offers the sharpest images, best color, ultimate flexibility, and most professional laser cutting and anodized aluminum finish available. The Backscatter Flip Filter offers an ultra thin anodized aluminum mount that allows users to quickly flip-up or flip-down the filter for land and water use. The housing adapter locks securely in place without modifications to the stock
GoPro Dive Housing
, is easily installed by the user, and does not vignette in any shooting mode. This filter will be available through Backscatter dealers worldwide.
Advantages of the GoPro Dive Housing and Backscatter Flip2 Filter:
Affordable upgrade to the GoPro Dive Housing ($49)
Aircraft grade anodized aluminum construction
Easy to use flip mechanism makes quickly removing the filter at the surface or at depth a snap
Simple installation using a single screw with included allen wrench
No vignetting in any mode, topside or underwater
LEARN MORE OR PLACE AN ORDER:
Backscatter Flip2 Filter for GoPro Dive Housing

ACCESSORIZE YOUR GOPRO SYSTEM: BACKSCATTER HANDLE, FLEX ARM, AND LIGHT & MOTION SOLA LIGHTS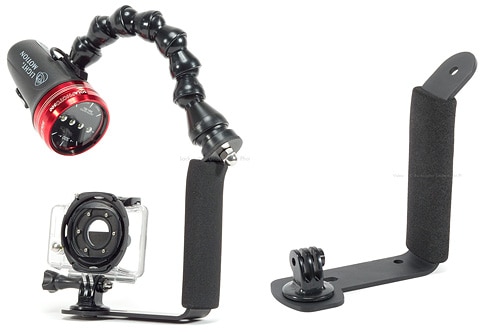 In order to combat the shaky footage that is inevitable from trying to hold such a small camera, Backscatter has developed an inexpensive ($39)
handle and tray
system that allows for easy mounting of various lighting systems. Featuring a comfortable foam grip, the
Backscatter Handle & Tray
system includes a tripod mount for mounting the GoPro directly, and also offers the option of using the quick release mount with adhesive that comes with all Hero 2 cameras. The Handle has a hole drilled out where an Ultralight or Locline mount can easily be installed, making it the perfect platform for adding a
Light & Motion Sola Light
to your GoPro system.
LEARN MORE OR PLACE AN ORDER:
Backscatter Handle & Tray
ORIGINAL BACKSCATTER CUSTOM GOPRO HOUSING DISCONTINUED - FILTERS WILL CONTINUE IN PRODUCTION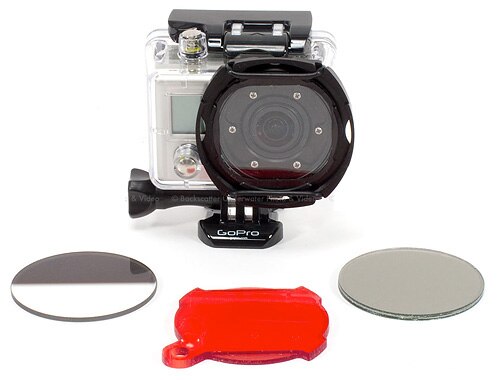 Backscatter is currently discontinuing production of its very popular
Custom GoPro Housing
, however we will continue supplying replacement filters. Thousands of our semi-professional customers prefer the additional flexibility of this housing's 55mm filter threads and unique o-ring mount for
polarizing
and
split neutral density
filters. However, our new
Backscatter Flip3
system for Hero3 cameras will also support these popular filters. This housing will also be compatible with Backscatter's soon to be announced macro lens. The
Backscatter Custom GoPro housing
is available in limited quantities through Backscatter dealers worldwide.
Advantages of the Backscatter Custom GoPro Housing
Custom machined aluminum mount and flat glass lens for maximum durability
O-ring retaining system allows mounting of flat filters with no vingetting underwater
55mm threads allow even more flexibility with filters, including mounting the upcoming Backscatter Macro Lens.

Questions on which GoPro is best for you?
We can help you select your first underwater camera or assist you in mounting a GoPro to your existing underwater camera system. Please call our expert staff. We know GoPro better than any underwater company.