Below is our shopping guide for 2010 holiday season. Whether you are purchasing an affordable compact camera system, or a high end DSLR system, all purchases at Backscatter come with lifetime technical support.
If you are not sure what your underwater photographer wants for the holidays, please feel free to contact one of our expert staff. We also have gift certificates available. And feel secure that your purchases are risk-free.
All items purchased in December are eligible for our special holiday return policy, extending our normal return policy until January 10.
All orders greater than $200 come with free 3-day shipping. The following are cut off dates for in stock orders:
Last day for standard shipping: Monday December 20*
Last day for 2nd day Air: Wednesday December 22
Last day for Next Day Air: Thursday December 23
Orders must be placed by 2:30pm PST to ship same day.
Compact Camera Systems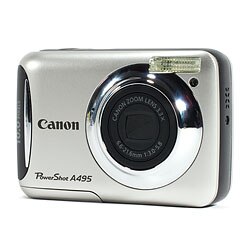 The Canon Powershot A495 Camera
($109)
Fantasea A495 Housing
($149)
With its streamlined silhouette and smoothly-curved edges, the Canon A495 has the compact sophistication and relaxed simplicity that make it a natural for beginners and everyone else who craves style and convenience. The 10.0 Megapixel resolution and 3.3x Optical Zoom make it easy to capture the action in dazzling color and brilliant detail. The DIGIC III Image Processor keeps it all looking sharp. A bright, bold 2.5-inch LCD makes shooting and playback a genuine pleasure.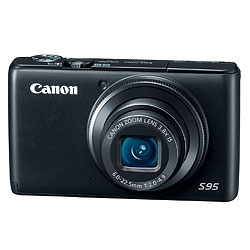 Canon S95
Compact Camera ($399)
One look at Canon's new PowerShot S95 will have you moving "upgrade my digital camera" to the top of your to-do list. The ultra-slim, ultra-intelligent S95 is loaded with all a serious photographer's must-haves, including a bright f/2.0 Wide-Angle Lens and professional-style control ring for intuitive manual control. Canon's HS SYSTEM is on board for spectacular performance and image quality in low light.
And, new for a compact, the S95 incorporates Canon's Hybrid IS for blur-free shooting even close-up. You'll shoot stunning 720p HD video with stereo sound, then watch it immediately on your HDTV with the simple HDMI connection. If photography's your passion, now is the perfect time to step up to PowerShot S95.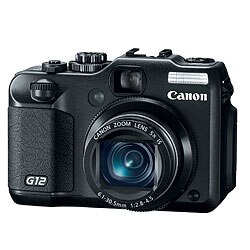 Canon G12
Digital Camera ($499)
Let the G Series Inspire You. Feast your eyes on an updated G Series digital camera: The G12. It's ready to impress the advanced amateurs who have always celebrated the G Series. The G12 is still loaded with powerful technologies that has made the G Series cameras so renowned, like the Canon HS SYSTEM, 2.8-inch Vari-angle PureColor System LCD, and RAW + JPEG image modes.
Now, this flagship camera paves the way with these new upgrades like 720p HD Video with stereo sound to get crystal clear footage, multiple aspect ratios, High Dynamic Range, Electronic Level, Tracking AF, a Front Dial and much more to give you even more creative control than before!
The Olympus PEN system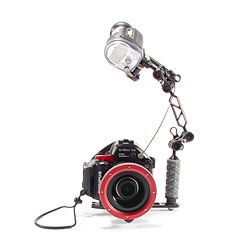 The
Backscatter PEN Package
($1749)
PEN Camera and Housing only ($979)
The
Olympus PEN E-PL1
represents one of the most exciting systems of 2010. Bringing the responsiveness of an SLR to an airline-friendly compact form factor, the PEN represents an entirely new class of cameras. Read all about it in our
in depth review
. The
Backscatter PEN Package
, is a complete solution which includes everything you need to start diving with this exciting camera.
Compact Video Systems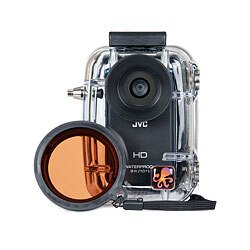 Ikelite JVC Picsio GC-WP10A Compact Video Package
($460)
Image stabilization and an 5mp digital still mode really set this camcorder apart from other cameras of its kind. The GC-WP10A accepts SD, SDHC and SDXC memory cards so there's virtually no limit to the amount of video and still images that can be recorded without downloading to a computer.
Dive into underwater videography with this incredibly compact and simple to use package. The Compact Video housing is high quality, built to last, and backed by Ikelite's long-standing reputation for excellence. A full line of accessories allows you to really get creative with your underwater video.
Strobe Sets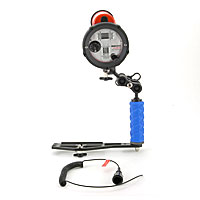 Backscatter
INON D-2000
Universal Strobe Package for Digital Housings ($769-815)
Inon D-2000
Universal Strobe Package for Digital Housings. We have built a simple but powerful strobe package that will fit most compact systems out there. If you have a Canon, Sony, Olympus, or other compact camera & housing, the
Inon D-2000
package will most likely work with it!!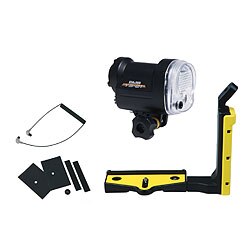 Sea & Sea YS-01
Strobe Grip-Stay S Package ($549)
The new
Sea & Sea YS-01
Strobe Grip-Stay S Package features a circular beam angle of 100 degrees x 100 degrees and a guide number of up to 20. The YS-01 is a new compact-type slave strobe that can be used for all applications from wide-angle to macro photography.
This kit includes the strobe, fiber optic cord, mask set and a tray/arm kit.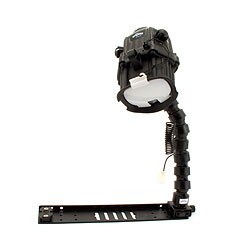 Fantasea Remora
Single Strobe Pro Set ($298)
The
Fantasea Remora
Flash features 4 different pre-flash settings, to cover the needs of all compact digital cameras in the market, including Nikon, Canon, Sony, Olympus, Fuji, Kodak, Panasonic and more.
Video and Dive Lights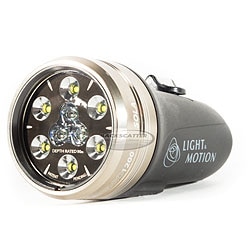 Light & Motion Sola Video Lights
($379-699)
Light and Motion is once again re-inventing video lighting with its all-in-one video and compact dive lights. At 1/4 the weight and nearly twice as bright as the leading rechargeable dive lights, Sola will change your night diving experience forever.The new
Sola 1200
is just as powerful and 1/3 the weight of our Sunray 1200. Sola video lights deliver power and ease of use unmatched on the market.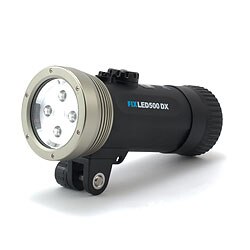 Fisheye FIX 500 DX Underwater Video and Focus Light
($299)
The Fisheye
FIX LED 500 DX
Underwater Video & Focus Light is very bright, producing 500 lumens from 4 high luminance white LEDs! It also has a 400 foot (120 meter) depth rating, and now features an easy to open Aluminum diecast rear battery cap.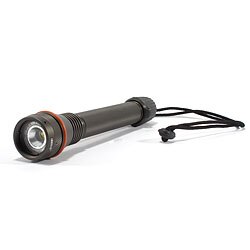 INON LE550-W Focus Light
($229)
The
Inon LE550-W
focus light provides a powerful 550 lumen LED light with a wide 75 degree beam pattern suitable as a focus light for photography or as a video light.
Accessories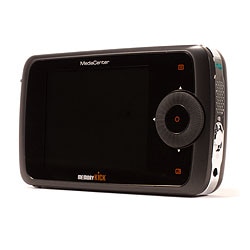 Memory Kick Portable Backup Systems
($299-429)
The MemoryKick Si is the most advanced portable Photo Backup, Photo Viewer, Video Player, MP3 Player, Card Reader, and complete Data Backup Solution.
Transfer any type of file (photos, videos, music, etc.) from memory cards at blazing fast speeds up to 40MB/s. Transfer both To & From the Memory- Kick Si and any of the memory cards and USB flash drives used today; or transfer direct from memory card to memory card or flash device.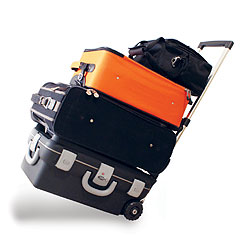 Porter Case PCi Camera Divider w CART
($242)
The new injection molded PCi Computer Case with CART is engineered as a hard side rolling wheeled US airline carry-on luggage case that easily rolls down the aisle of an airplane and will fit under many seats and/or in overhead compartments.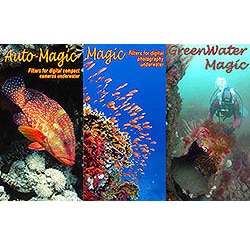 Magic Filters
for Digtial Underwater Photography and Videography($55-90)
Magic Filters
offer a new way of shooting for digital SLR photographers and videographers. They let us take it easy, to leave our strobes behind, and produce colorful underwater images with point and shoot, auto-everything, simplicity. These come in a convenient 3-pack.
Learning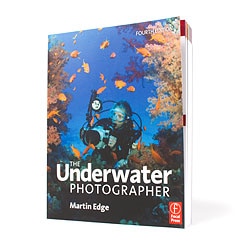 The Underwater Photographer by Martin Edge
($39.95)
The award-winning third edition of 'The Underwater Photographer' dragged the topic kicking and screaming in to the digital age and with the fully updated fourth edition highly respected photographer and tutor Martin Edge takes you deeper in to the world of Underwater Photography.
Practical examples take you step-by-step through the basic techniques from photographing shipwrecks, divers, marine life and abstract images to taking photographs at night. Brand new chapters cover not only highly specialist Underwater Photography techniques such as low visibility/greenwater photography, but also the digital workflow needed to handle your images using the latest software such as Lightroom.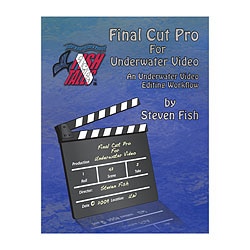 Final Cut Pro for Underwater Video Book & Digital Book by Steve Fish
($59.95)
This exhaustive step by step instructional book on Final Cut Pro also includes a CD. Topics covered include: the FCP user interface, creating soundtracks, professional editing techniques, filters,transitions, and program output options. Final Cut Book
Travel

Dumagete Macro Madness, March 5-12 2011
$1999
Dumaguete has some of the best macro critter diving to be had on the planet. On a single dive it's not uncommon to see all four species of ghostpipe fish, flamboyant cuttlefish, frogfish, crocodile snake eel, squat lobster, orangutan crabs, blue ringed octopus and more nudibranchs than you can shake a snorkel at!


Lembeh Resort, Indonesia, April 25-May 6, 2011
($2495)
Lembeh Strait is a name synonymous with "critter" or "muck" diving. Consistently rated among the top dive locations in the world, Lembeh is home to many unique and rare animals.
*UPS suspends their guarantee for all ground and 3 day select services from December 13 to 25. During last year's busy holiday season, we only saw one ground shipment not delivered on its scheduled delivery date. However, if you must have a guaranteed delivery, we suggest upgrading to 2nd day or quicker shipping.