Best Underwater Video Cameras for 2008 - Which Camera is Best for You?
Jump to page...
1. Which camera is best for you?
2. Entry Level Cameras
3. Ultra-Compact Cameras
4. Professional Broadcast Cameras
5. Red One 4K Professional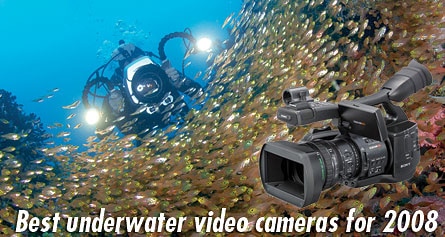 High Definition is the new standard:
While high definition is clearly the new standard from broadcast to home movies, the varying specifications of high definition cameras are far from standardized. High definition is technically defined by a minimum resolution, but a savvy user knows that file compression is just as important. To help you wade through the weeds, we have put together this quick guide of all our favorite HD cameras on the underwater market.
Which camera is best for you?
We all want the best image quality for the lowest cost and smallest size, but it's not that simple. To select the best system, you will need to think about your personal goals for image quality and control and weigh them against bulk and budget. For example, you might have an unlimited budget, but discover the burden of another checked bag or just swimming with something large in the water will focus your attention on the compact category. We have other clients that would give their left flipper to own a large pro rig, but find themselves financially best suited in our entry level category. Our professional clients might just need guidance on a system that best meets their format, optical, and control needs or might be best served with a rental package.
Browse this article and give us a call!
Please give this article a read and call us with your questions. In our experience, your final selection will be based on size, expense, and control. We are happy to help all skill levels of videographers find the best underwater system for their needs. All purchases from Backscatter include free set-up help and lifetime tech support!
Entry Level Cameras: $350 - $750
Just getting started in underwater video can be financially frightening. This is the camera and housing category for new shooters or the next generation of young artists on a limited budget. Most cameras in this category can shoot high definition video, but at higher compression rates than the cameras below. However, don't confuse these cameras with the poor quality video from digital photo cameras. Video from digital photo cameras are fine for YouTube, but look like poo on a real TV. This category of camera might not work for broadcast or the intermediate shooter, but will still look great when shared at fullscreen resolution.
Learn more...
Ultra-Compact Cameras: $800 - $1400
This is our most popular camera category due to its fine balance between image quality, size, and price. Most of our clients that select this category would like to use a camera in the next category up, but find size or price an obstacle. Thanks to custom housing designs, this series of cameras and housings are easy to slog through the airline system and swim through the water in current. This category of cameras are the best compact video cameras on the market and a few of the housing solutions feature pro level controls like manual exposure or white balance. We consider this the mini-pro category.
Learn more...
Professional Broadcast Cameras: $3000 - $9000
This category includes cameras accepted by broadcast media such as as BBC, National Geographic, and Discovery for underwater video. Our clients shooting theses cameras are usually employed by a broadcast company, independent film makers, or simply demand the best possible image quality and control in a reasonably affordable and manageable size. Cameras in this category are very high-end 3-chip cameras featuring the best image quality and more sophisticated control over exposure and white balance.
Learn more...
Red One 4K Professional Cinema Camera: $17,500 plus
We've given the Red One its own category for good reason. It is the first production camera below $100k to offer not just uncompressed high definition video, but resolutions more than double what we currently define as HD. The Red One has redefined the size, weight, and price threshold of professional cinema cameras and will certainly open the door to a whole new wave of independent film makers.
Learn more...