UPDATE 12/29/07:
Sea & Sea
MDX-D300
underwater housing detail photos are now live
click here.
Sea & Sea shipped us a
MDX-D300
housing for Berkley's December 31st, 2007 trip to shoot sailfish in Mexico. We took the opportunity to shoot detail images of the housing before his departure. First public viewing of these D300 sailfish images will be at the January, 21st meeting of
Wildlife Photographers of Silicon Valley.
(assuming Berkley is lucky with weather and animals).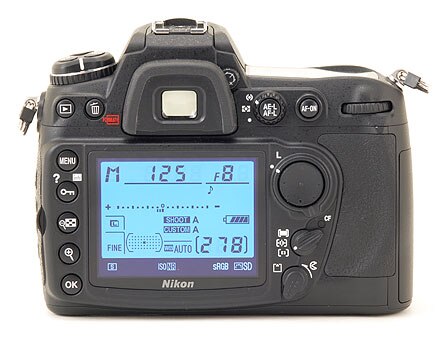 Nikon D300: The new evolution of Nikon is now shipping!
Nikon has just just evolved!
The new
Nikon D300
and D3 cameras are a significant milestone in Nikon technology. The fact that Nikon just shipped D300 stock on schedule has us wondering if were even dealing with the same company. Hats off to Nikon!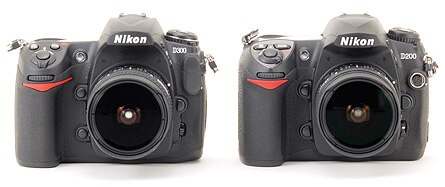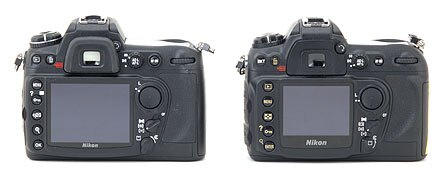 Nikon D300 vs. Nikon D200: same feel, larger and cleaner image
More pixels and much lower noise
The new D300 offers significant upgrades over the D200. It's essentially rebuilt from the inside out. The larger 12.3 megapixel sensor will allow greater crop potential, but more significant is the change from CCD to CMOS sensor technology. Canon has used CMOS for years and has enjoyed lower noise at higher ISO settings. The new CMOS sensor of the
Nikon D300
has surprising low noise for a 1.5x crop sensor. Our test shots on a preproduction D300 wowed us with incredibly smooth files at ISO 800 and higher. The ability to shoot smooth files at ISO 400 will allow us underwater shooters to use lower powered strobes and pull off cleaner images late in the day.
12 bit vs. 14 bit RAW files
The D300 will now record raw files at 14 bit. Jpegs shot in 8 bit offer 256 tones. Most SLR's record raw files in 12 bit which offers 4096 tones. Now cameras such as the Nikon D3,
Nikon D300
, Canon 1Ds mkIII, and Canon 40D offer 14 bit raw files which translates into 16384 possible tones. This is potentially a huge win for underwater photographers. More tones translate into smoother blue water gradients and better dynamic range on monochome (pelagic animal) images. Theoretically, 14 bit files should also produce better sunballs.
Huge 3.0 inch high resolution monitor
People with aging eyes (and perfectionists) will be thrilled by the new high resolution monitor and 100% viewfinder coverage. The 3.0 inch size is very welcome when checking exposures in the RGB Histogram mode, but it's the amazing resolution that really grabbed us. The D300 monitor is quite possibly the sharpest display we've seen on a portable device. Unlike the D200 and the new Canon cameras, the new high resolution Nikon screens will make focus verification incredibly easier... not to mention just reading the menus.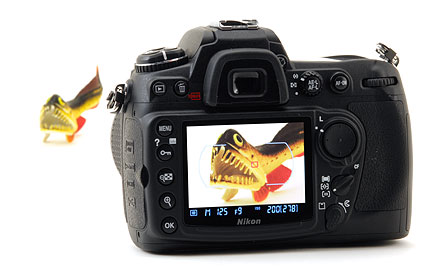 Nikon D300: new liveview shooting mode allows you to shoot with the LCD
LiveView for underwater photography
There's been much discussion regarding the use of live view for underwater photography. Until now, you could only compose an image with an SLR by looking through the viewfinder. Live view technology on new Nikon and Canon SLR's allows you to compose the image by looking at the monitor. Many of us that played with the first compact digital cameras enjoyed composing images at arms length. You could compose an image without straining your neck to peep through the finder all while keeping you body floating above the reef. Will live view replace viewfinder use? I'd say no, but with the high resolution screens on the D3 and D300, you could easily shoot a large percentage of macro images with live view. For some of our clients, live view will open a new door on productivity and image quality.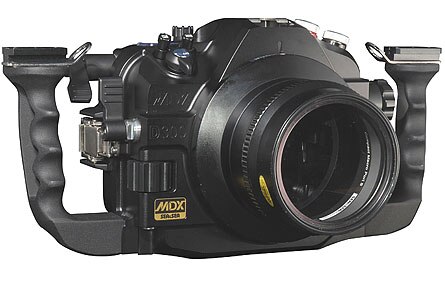 Sea & Sea MDX-D300 underwater housing for Nikon D300: available early January 2008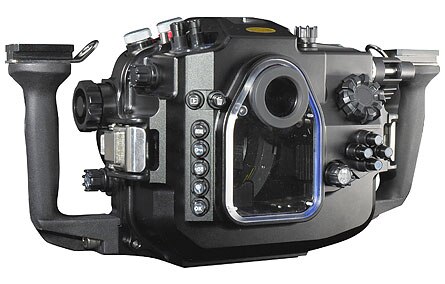 Sea & Sea MDX-D300 underwater housing for Nikon D300: The Backscatter Custom Shop will supply this housing with the Inon 45 viewfinder as an custom shop option.

Ikelite D300 housings for Nikon D300 might ship as early as December 2007
D300 underwater housings will ship in January 2008
Based on our current information, the first suppliers of D300 housings will be Ikelite and Sea & Sea which are both scheduled for a new year release. The clear polycarbonate
Ikelite D300
will include TTL circuitry for use with Ikelite strobes and will offer the lowest price on the market. The Sea & Sea
MDX-D300
housing for the D300 is machined from aluminum block and will be the first high end housing available for the D300. The
MDX-D300
offers significant user friendly features such as camera installation at an attractive price. Aquatica, Subal, and Light & Motion will release their D300 designs later in the year.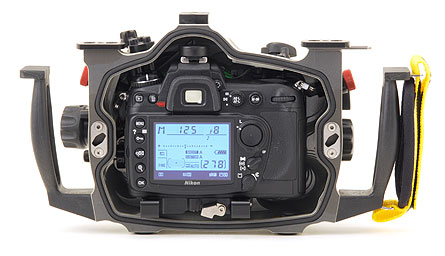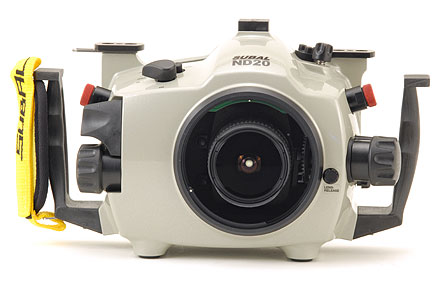 Nikon D300 installed in Subal D200
Making your D200 housing work with a D300 camera
In October 2007, we test fit a preproduction
Nikon D300
in most existing D200 housing designs (Subal pictured above). Unfortunately, it will be difficult (or impossible) for most manufacturers to retrofit a D300 into a D200 housing. The larger monitor will obviously require a new rear housing plate, but even a few of the top and side controls vary enough to warrant a new design. The larger shell of the Light & Motion housing makes it the most likely for an upgrade path, however they have not announced an upgrade option as of this writing.
Ordering your D300 housing
If you have a trip scheduled for early 2008 or prefer spending time with a new system prior to a trip, we'd recommend you select between the
Ikelite D300
and the Sea & Sea
MDX-D300
housings. Please
contact us
for more information.