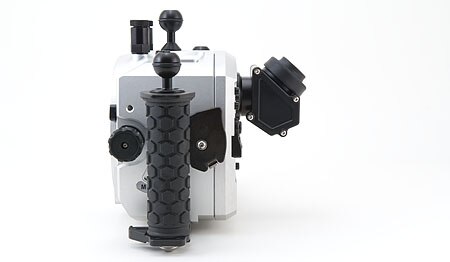 Our custom shop hot-rods the Titan D200
Nikon D200
owners have been celebrating as we've rolled out stock on the new Light & Motion D200 housing. We shot the first
Titan D200
prototype in Indonesia last year and have been waiting months for this high tech beauty to finally make it's release. Unfortunately, Light & Motion is still weeks (many weeks?) away from shipping their new magnified viewfinder, so we've customized a solution with the very nice
Inon 45
degree viewfinder. We've become so dependant on the new magnified viewfinders options that we had to rush our machinist (also a
Titan D200
shooter) to get a large viewfinder ready for our summer trips.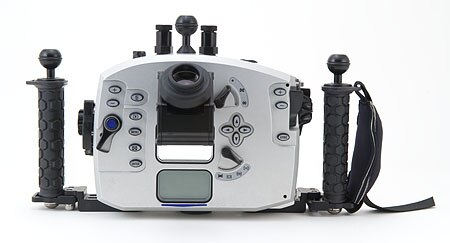 45 Degrees keeps you off the bottom
There are pros and cons to a 45 degree viewfinder. It's fantastic for macro work as it allows you to float off the bottom and look down into the composition. Staying off the bottom not only protects the reef, but also helps minimize the amount of silt you kick up while squirming for a good look. We've found it takes a little time to get use to when shooting wide angle. You'll need to work on your quick draw technique in a head down position, but it becomes more natural within 10 dives.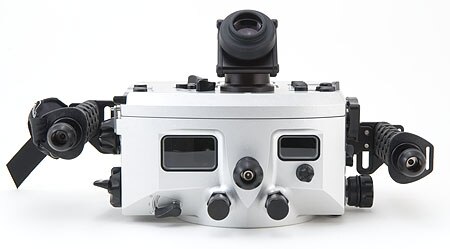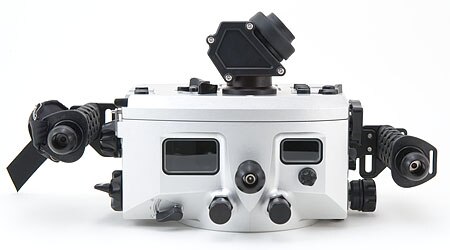 45 degrees keeps you shooting up
Shooting up is the rule for underwater photography and our engineer designed the
Inon 45
viewfinder adapter to maintain the click stop rotation feature of the original
Inon 45
viewfinder. With our adapter you can rotate the Inon viewfinder a full 360 degrees while underwater with a comforting click at 0/90/180/270 degrees of rotation. This feature is essential when shooting vertical images as it allows you to quickly rotate the viewfinder and feel the click stop without the need to watch the rotation.
Design Notes
We selected a design that maximizes safety and depth rating. It is easy to replace the
Inon 45
viewfinder with the original viewfinder in an emergency, but we did not design our
Inon 45
viewfinder option to be removed regularly for packing. We've pressure tested the
Inon 45
viewfinder on the
Titan D200
to 300 feet, but recommend the max depth listed by Inon of 250 feet.
Field Notes
We supply the
Inon 45
degree viewfinder with a protective eyepiece cap, but it's easily lost in the field. We recommend you get into the habit of turning the viewfinder down (optic at 6 o'clock position) prior to exiting the water. Otherwise the upturned viewfinder could invite the sun to melt your poor camera on the skiff ride home. This down turned position will also help prevent water spots from water trapped in the viewfinder eyecup.
To place an order
To insure a perfect fit we custom build each
Titan D200
/
Inon 45
combo to order. Presently we do not sell self install parts and only offer custom installation on new housing purchases or require you to ship us your housing. Please allow 10 days for custom install. Once we see enough Light & Motion
Titan D200
housings confirm tolerance standards for our internal 250 foot user-install rating, we plan to offer a self-install option.