Film VS. Digital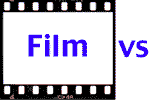 The number one question in our shop- "Is digital ready?" Here's our two cents on the matter from an underwater photographers prospective. We'll start with some very intriguing positive features of this new format and then move on to the not so positive and then to the down right aggravating.
Instant Feedback
Early underwater film photography required a heaping helping of experience to make a quality image. Technological advances such as TTL flash exposures, user-friendly SLR housings, and auto focus lenses allowed divers to capture fantastic images without shedding years of tears over the light box. Enter digital. Instant feedback oh yeah! Other than having David Doubilet as your camera assistant, there is nothing better than "what you see is what you get" photography. Subject too bright? No problem, just power down your strobe. Strobe missed the subject all together? No problem- adjust the strobe angle and make a composition correction while you're at it. Background too dark? Too easy- lower your shutter speed to let in more light. Whatever the problem, you will see it while your still blowing bubbles.
No Limits
Inevitably, the whale shark will show up after you exposed the last shot on a roll of film. With a digital camera, a large memory card, and the ability to delete bad shots, you're always armed and dangerous. You can easily fit over 40 high resolution images on a 128MB card and even more if choose a lower resolution setting. Shoot a series on a subject while it's still posing and delete the bad ones after it swims away.
Huge Depth of Field
We didn't see this one coming. As we began looking at our new digital images we knew something just felt different. Then it hit us. These images didn't just have more depth of field, they had huge depth of field over 35mm film. Since the CCD's in digital cameras are smaller than 35mm, they will trim up wide angle lens coverage, but pay you back in increased depth of field. For example, a macro shot taken on film with a105mm micro lens might only have 1/4 inch depth of field. This same composition with a consumer digital camera would offer what looks to be four times the depth of field. This is also a major advantage for wide angle photography in low light conditions. Shooting a film system at f4 would typically produce fuzzy backgrounds and edges. The same scene shot in digital will offer surprisingly sharp results.
High Sync Speeds
When using a strobe, most film cameras are limited to shutter speeds of 1/60th - 1/250th of a second. These limitations are due to their mechanical shutter design. The new consumer digital cameras don't have mechanical shutters and thus will sync at speeds up to 1/800th of a second. This is a huge advantage for shooting in bright shallow water where high f-stops would make strobes ineffective. Higher shutter speed options allow you to keep your f-stop at a more reasonable setting. These high shutter speeds are also great for freezing light rays and fast action.
Large Zoom Range
While there are a select group of zoom lenses that function well underwater, 35mm zoom lenses as a whole perform poorly underwater. These lenses typically suffer from limited close focus capability. The lenses built into the new digital systems offer a large zoom range with minimum focus ability to 8 inches or less. Armed with a new digital camera and a high quality aspheric housing port, one can take a 100degree wide angle shot and zoom into 1:3 macro shot without changing lenses. We don't know of a 35mm system that can match it in versatility.
Compact Size
With a few exceptions, digital camera systems are incredibly small and lightweight. These systems are packing features that challenge pro level SLR housings at a fraction of the space and weight. However, keep in mind that you might want to bring your laptop along for image storage and editing. Every inch and ounce counts as air travel gets more difficult.
Fire the Scanner Babysitter
If you've scanned a few slides, you know the hours it takes to get through a batch of film. Don't get us wrong; we love our Nikon Coolscan 4000. Sure we believe the sales literature that boasts a 4000dpi 16bit scan in only 38 seconds (hmmm?). These short clock times don't calculate finding the slide, pulling it out, dusting it off, setting scanning parameters, checking previews, and making adjustments before even hitting the scan button. You will certainly want to spend some computer time with your digitally captured images, but you'll skip the 38 minuteSooops, the mere 38 second scan time with each (yes, each) of your slides. You could spend that time on the other timetravel device- Photoshop.
Quality
Speaking of scanning slides, the question remains: how does a digital camera image compare to a scanned slide? Well, it really depends on how large a print you wish to make. The new 4 megapixel cameras will capture file sizes up to 12MB, whereas a slide scanned on a Nikon Coolscan 4000 can reach 130MB. Expensive drumscans will produce even higher file sizes. In general, the larger the file size, the more detail you can expect on a print. For underwater use, you will most likely set your digital camera at a jpeg compression setting in order to store more images on the card and reduce post capture processing times. These settings are typically named SHQ (super high quality) or FINE. At these settings, most users will find the print quality of 8in. x 10in. and 11in. x 14in. prints to be fantastic. The larger file sizes of scanned slides will certainly produce better results. However, when considering all of the benefits of shooting digital we feel that digital cameras are ready for primetime.
Soft and Unsaturated Images
Film shooters that perform their own scans are familiar with the soft look and shifted colors of scanned files. Every file from a scanned slide will require some amount of touch up. Digital camera images are really no different. A longtime film shooter will quickly note that their new wide angle digital \ images seem to have a flat hue in the blue water backgrounds. Most film shooters select a film based on its ability to produce brilliant blue backgrounds out of sometimes yucky blue water. Consider it an advantage or disadvantage, digital cameras tend to produce a blue water color that looks closer to actual conditions. Since the film hasn't altered reality, you will need to do so with a curves adjustment in Photoshop. Film shooters with little scanning experience will also notice a soft look to their new digital camera images. Those familiar with slide scanning will recognize this softness as part of the digital process. All scans and digital camera images require a small amount of sharpening in Photoshop. Simply apply the unsharp mask filter for an immediate improvement.
Sunballs and Lightrays
Well, here's one of the downsides of digital cameras. Like video, they have a tough time with high contrast scenes. A standard underwater composition style is to include the sunball in the background of the image. Unfortunately, the sun's intensity will blow out a large portion of the image and fail to record lightrays. This problem is only solved by keeping the sunball out of the frame or placing a subject in front of the sunball as a silhouette. By excluding or blocking the most intense center of the sun, this technique will record lightrays beautifully.
Slide Shows the next generation
If you are a slide film shooter, you probably enjoy seeing and sharing your images on the big screen. While it's possible to transfer your digitals files to slides, it's a fairly expensive process. Most digital cameras allow you to plug directly into a television for image display. This is a convenient method of viewing images, but the image quality is far superior on a computer monitor. We purchased a new digital projector and now use it to display all of our digital images (including scanned slides). With a bright lamp and a resolution of 1024 x 768 pixels, it projects brilliant images and is far superior to older digital projectors. It also does a fantastic job with video as long as you use the S-video connection. This new projection method allows you to keep your original slides safe from traditional problems like jamming, fading, and meltdown. Best of all you can use simple software to create professional presentations complete with audio tracks. Prices on digital projectors have dropped and will continue to improve as the rest of the world makes its transformation to digital imaging.
Slow Reflexes
Finally, the achilles heel of most consumer digital camerasSshutter delay and sluggish reflexes. Unfortunately, when you press the shutter release, the camera will not immediately take the picture. In addition to shutter delay, digital cameras suffer from a delay between shots and a slow transition from power OFF to ON. The reaction time of digital cameras is lengthy due to several reasons. First, it takes most cameras 4-9 seconds to just turn on and be ready to shoot. These cameras also tend to have a slow auto focus system. It can take 0.9 - 1.4 seconds for a camera to find focus. Once focused, it will take an additional 0.1 second to take the picture. If you are using the camera's built in strobe expect an additional wait time for the pre-flash exposure. If you're set to record view (review the image after shutter release), expect an additional wait time between shots. The higher the resolution setting you use, the longer this wait will be. Here in the following section we'll discuss how to best overcome these problems.
Slow Reflex Solutions
Now this delay may sound like quite a bit of time, but there are a few working techniques to reduce your frustrations. Before jumping in the water, power the system on and turn the monitor off. Turning the monitor off will save battery time, but will dramatically reduce your wait time when ready to shoot. You will only need to wait a second for the monitor to power back on. Secondly, never just press the shutter button. First depress halfway to capture focus. As long as you maintain this half depressed position, the camera will maintain focus and be ready to shoot with only a 0.1 second delay. Now you'll have a fighting chance to capture some action. With a little practice this will become much easier. Many cameras have a multiple frame mode that will allow you to quickly take up to 2 shots per second with a total of 8 frames. This lets you use the machine gun approach to fast moving subjects. Start the sequence early and remember that it will take the camera a while to process that batch of images.
Is digital the right choice for you?
If you're just starting with underwater photography the answer is an absolute yes. The instant feedback of digital imaging will shave years off the learning curve. Now that we've reached the four and five megapixel level, print qualities are more than adequate for most new shooters. Trying to decide if its time to ditch your trusty film camera? Well, you have a few things to consider. The number one complaint from experienced film shooters is the shutter delay. While it's not really a problem for most macro images, darting fish and marine mammals can be frustrating. Regardless of your photo experience, think about your goals with underwater imaging. Shooters looking for instant results, quick web posts, and prints of 11 in. x 14 in. and smaller will be thrilled with digital. Serious shooters looking for larger prints will have more to work with on a scanned slide. A few professionals are beginning to use digital systems and are selling digital files rather than slides. Our pro customers tell us that some magazines are becoming more comfortable with digital and are beginning to accept digital files. Watch our site for a new article featuring digital images that have been printed in magazines. At Backscatter we offer rentals and many dive trips and events for you to try out the latest digital equipment. Please take a look at the
Trips and Classes
and
Rental
areas of our website for details. Please contact us with any questions. We specialize in answers!