Olympus EM-5 Bundle Blowout Deal: Save $1500!
Originally published at The Digital Shootout
I spent quite a bit of time this week shooting the new Olympus OM-D EM-5 camera. The Olympus OM-D EM-5 is the new high-end Micro 4/3 mirrorless camera from Olympus. It boasts a new high sensitivity/low noise sensor, great ergonomics, and more dedicated buttons and dials. There are 2 customizable function buttons. Fn1 is on the back of the camera and I set that one up to be AF-ON, thereby disabling the shutter button from focus, as I normally do on any SLR I shoot. Fn2 is on the top behind the shutter button and I assigned that to ISO. ISO changes were a breeze when setup this way. Also a very handy feature when changing ISO is the camera lists your shutter speed, F stop, and your current EV meter reading, making it much faster to figure out which ISO is going to get you in range for your current exposure settings. This is super critical in video when you need to make quick ISO changes. Focus is SLR comparably fast with the Panasonic 8mm Fisheye, which is what I shot with all week.
The still images from the camera look sharp and have great color and smooth blue water backgrounds.

All shots here were with strobes with the camera set at the base ISO of 200. The TTL exposure was very accurate an only needed compensation on rare occasions. All shots were done with the Panasonic 8mm fisheye. The lens is tack sharp and the Olympus OM-D really shows lots of fine detail.
I also shot quite a bit of video. The Olympus OM-D EM-5 shoots in full 1920x1080 HD video in H.264 format. This is a welcome improvement over the very annoying AVCHD format which has a folder structure that if not maintained, renders the files useless. The video looks great from the Olympus OM-D EM-5, comparable to other SLR video. Even at high ISO, the noise is very low. Executing a custom white balance is still a difficult task, but improved over previous Olympus cameras. Custom white balance is able to take pretty easily around 15-20 feet. 20-35 feet isn't too bad, but sometimes the colors are a little off and multiple white balances are not consistent with each other. Past 40-50 feet the white balance strangely turns too red with the water coming out purple and unusable. When I put a Magic Filter in the back of the Panasonic 8mm fisheye lens, custom white balance became dead on accurate even at depths approaching 50 feet and beyond. This really brought ambient light video to life and the images looked stunning right out of the camera. I also shot with video lights in auto white balance, and the images looked great as well. Being that I had some files where the color was just slightly off, I was able to do color correction in Final Cut Pro X. The files held up very well under color correction, with no big hits in image quality or noise, despite some of the files being shot at 500-2000 ISO.
I shot both the Olympus PT-EP08 and Nauticam EM-5 housings. A big thanks to both Olympus and Nauticam for sending out prototype housings to us in time for the trip. Also a big thanks to Zen Ports for producing a prototype dome port for the 8mm lens on the Olympus PT-EP08 housing on short notice. The Olympus housing is made from plastic, but has a nice high end feel and reasonable ergonomics. The construction is very similar to the PEN series housings. All buttons are well labeled and within easy reach. The position dials require you to reposition your hand or take it off the housing all together to make adjustments to shutter speed or aperture. This is an unfortunate downside to the Olympus PT-EP08 housing. Nauticam improves on this and has true one hand operation of the shutter, shutter speed, and aperture all at the same time. The Nauticam EM-5 also has aluminum construction, but will bring a higher price point over the Olympus.
Overall the performance from this camera is eclipsing that of SLRs from just a few years ago and represents a big step forward in the mirrorless category.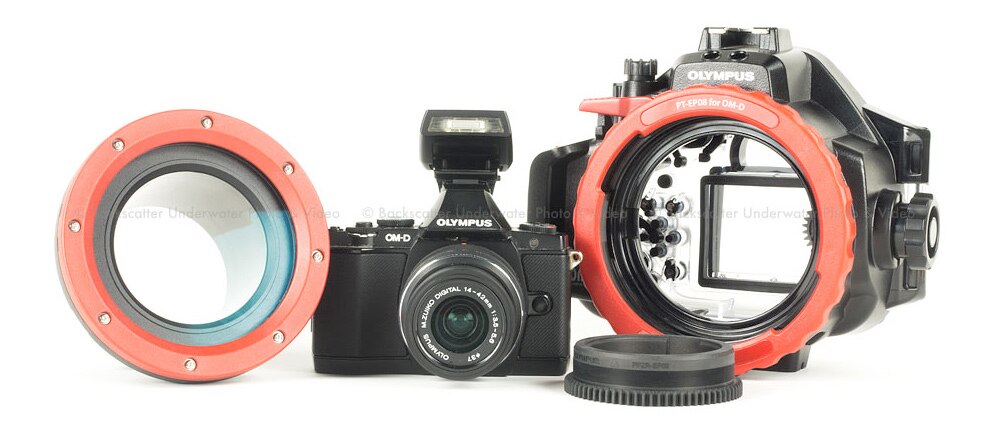 Olympus OM-⁠D E-⁠M5 Bundle
BLOWOUT DEAL - SAVE $1500.00!
The Olympus OM-D EM-5 Mirrorless Camera and Underwater Housing Package is great for the person who wants a powerful and professional camera system at a great price. Take your underwater photography to the next level with a system that will allow you to get pro level imagery in a compact system.
Package Includes: