Introduction
Recently I took the new Light & Motion
Blue Fin HD
on one of my commercial jobs. I was hired by J.F. White Contracting of Boston, to shoot one of their commercial divers training in an atmospheric diving suit called the Newt Suit. It's a submarine that you wear, allowing divers to work at depths down to 900 feet. I have shot and worked with a number of these deep water systems during the past 10 years and they are quite extraordinary to be around.
Typically, I'm shooting this type of job in the ocean, or in a large training facility. But this particular job required jumping into a 10-foot diameter pipe, created as a training environment for divers preparing for work in a 500-foot deep surge shaft near a dam and reservoir in the foothills of California.
In the past, I have relied heavily upon L&M housings for my work. I have found their products to be reliable, sturdy and well designed for both travel and shooting. One should never underestimate the importance of a housing's construction when you're doing a lot of traveling. I was the chief photographer for a National Geographic Project for nearly 5 years and I traveled extensively with all my equipment constantly. One thing you can't control is how your equipment is treated once it's with a shipper.
Here are a few of my observations with the Housing:
Shoot Set-up
Sony FX1 HDV Camcorder at 1440x1080 (60i) NTSC
Light & Motion (L&M) Bluefin HD Housing
Standard 80 degree flat port
Light & Motion HID Pro light system
Sony HDV Video Tape
Light & Motion Pelican Case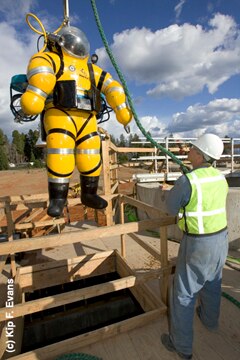 SET-up and Assembly
It took me about 15 minutes to set-up the camera the first time around. The mounting tray, interface plugs, and rear port fit together perfectly - construction that is intuitive and easy if you are familiar with L&M housings. I got into a rush on site and I was able to put the whole system together in a matter of minutes the second time around.
One great feature is the locking latches. It's always worried me with my older L&M housings, that I might bump or rub one of the latches open. Not to Fear with this beauty.
Weight & Transportation
A fully loaded Blue Fin Travel Package (with all the goodies) weighs about 45 pounds. It's a bit of a beast to lug around, especially if you have other camera gear with you. I used the L&M Pelican case with the custom foam and I manage to fit the housing and all accessories in without much difficulty. The case is quite large and it rolls nicely, as long as you're on a solid surface. If you have to carry it across the beach, or down a slope, it's a bit of a bear. The flipside of course, is showing up for a job with a professional looking camera system. It's not a HDCAM package, but most clients will take you seriously with this size rig.
A word of caution. You might be tempted to place your FX1 inside the housing to save space during your travels. I would recommend that you think twice before doing so. The tripod mount on the camera is not very strong and the plastic mount is prone to stress. I use to ship my VX1000 in my L&M Sting Ray housing in this manner from place to place and ultimately destroyed the camera. I also tried stuffing the housing with foam so that the camera couldn't move, but it still did. It's also a tremendous amount of shock to put the camera through. Even if the camera doesn't move, it's still getting bumped and bounced. If you have to combine the two for travel, place a couple of good foam strips in the housing and carry it on with you in a backpack or smaller case. I wouldn't check the camera with the housing. If you ship the housing via FEDEX or UPS, add additional protection below and above the housing. Although strong, the housing is still prone to vibration and movement while they are throwing your case on and off their trucks.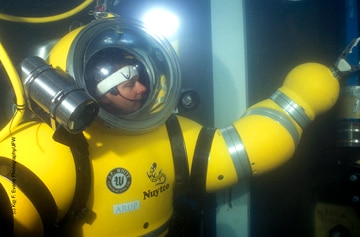 Balance & Trim
I used the internal weight system, to create a slightly 'front-heavy' set-up for what I was trying to accomplish in the tank. By moving the internal weights either forward or backwards, you can achieve almost any set-up you like. L&M did a great job with the adjustable weights and it gives you a lot of control without a lot of hassle. I did notice that the housing is easy to roll to the right depending on how you are moving.
In the water the camera was just slightly negative. I like shooting a slightly negative housing. I get better pans and tilts when I have to push the housing a little bit through the water. It always feels like a struggle with lighter housing, a little less control.
One of things I'm going to miss about the smaller size housings is the ability to shoot both still and video during the same dive. In the past, I've been able to clip my L&M housing to my chest and shot a roll of film during the same dive. The
Blue Fin HD
Housing is a bit too large for this and you would need to drag along a buddy or set it down on the bottom. Not a great idea with such an expensive piece of equipment. You can also consider one of the smaller HD cameras, which may allow greater flexibility for this type of diving.
Controls & Features
All the controls seem to be well placed and easy to locate and use. Auto Focus works pretty well, but I don't trust the camera's ability to auto focus in low light and I usually manually focus the camera. It is easy to turn on/off using the AF Off button. Zoom was decent and smooth, much better than my last housing. I shot the camera in manual white balance setting (located on left side of housing) and although it's a bit inconvenient to locate, it works well ' not to fault L&M.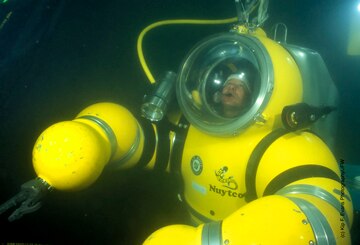 Lighting
This has always been a strength and weakness of L&M. I've had my share of problems with their lights and battery pods in the past. With the Blue Fin, things worked perfectly, but I would like to reserve judgment until I put the housing through a couple weeks in the ocean. Great set-up however and the lights are hard to beat when they are working properly.
Optics
I used the 80 deg flat port, which comes standard with the housing. The images I shot were sharp and colorful when view on a HD monitor, but I would be interested to see some final numbers on FX1 resolution with the camera behind the port. For a standard lens, it got me through the job with excellent results. A superior, but more expensive choice, would be the supper wide lens. I would highly recommend looking into this option if you can afford it.
Overall Impressions
A solid housing with excellent controls and features. Image quality is quite good and a nice upgrade from DV. If your considering the move up from DV to HDV, this is a solid option if you can afford some of the options. With 1440 x1080 advertised resolution, you will see the benefit as you burn DVD's for content delivery, even at 720x480. With the introduction of HD-DVD players (now available), it's only a matter of time before your content can be see at full resolution.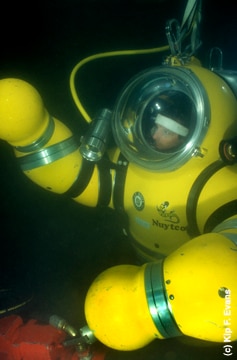 PROS
Solid construction Professional level design and features Great Layout of push-button controls Viewing port for LCD screen is great for macro Great integration with HMI lights Handles well in the water Pressure release plug
CONS
Large & heavy for travel Expensive for the average consumer Small viewfinder - need external monitor for real shooting